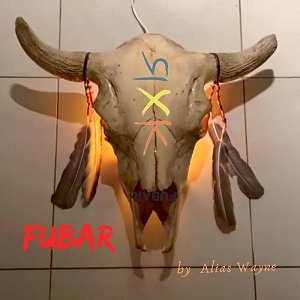 Rollicking strings dispense a quiet harmony with Ranzel X Kendrick's honey-sweet but quite distant vocal in the folky "Eight Ball in the Corner Pocket" which is both simple and bitterly complex in its emotional tinge, but much like the song's tracklist neighbor in the new EP from his Alias Wayne moniker, Fubar, "Window of My Soul," it takes more than a single listen to fully appreciate these complexities for how endearing they are.
"Window of My Soul" unfolds before us throughout its entire running time rather than all at once, and though it takes a moment to find its central groove, its pulsating rhythm entrances anyone within earshot well before we reach this mark in the track. Whether he's slowly peeling away the layers of an oddly countrified diatribe in "Father Song" or chasing after a melody as ghostly as anything you'd find in a quiet graveyard in the middle of the night on "Love One Another" of his latest record, Alias Wayne doesn't hold anything back from his audience in Fubar, and that alone makes this EP an interesting spin this May.
At a standard fifteen minutes or so, Fubar doesn't have the traditional construction of a super-ambitious extended play, but it comes together like an operatic wonder just the same. There's an unspoken sense of ironic storytelling that starts in "Love One Another" and begins to take a dominant hold of the poetic narrative in "Father Song." By the time we're trapped in the acoustic/horn arms of "Eight Ball in the Corner Pocket," this moodiness in the melody has become so influential over our interpretation of the tone that there's no shortage of ways for us to breakdown "Window of My Soul," the closing song and, as I see it, the premier climax of the record.
https://open.spotify.com/album/40NxpXkZNAttfvHygDFqHm
The musicality gets increasingly bizarre as we press on beyond the first track, and though "Father Song" and "Window of My Soul" are by no means so outside of the mainstream model that casual listeners wouldn't be interested in their harmonies, I think that describing either of these songs (and, for that matter, the entirety of Fubar) as being anything other than highly-involved listening would not only be inaccurate, but perhaps a disservice to the passion Kendrick put into this music.
It's a slight departure from the sound that he and this project started with, but if you ask me, Alias Wayne is taking a big step in the right direction in Fubar and introducing us to a side of his artistic identity that we hadn't seen or heard before. He's tapping into a lot of angst here that can be taken as both melancholic and rebellious depending on who's wearing the headphones, and in an age that has emphasized the singularity concept over this kind of a dynamic, it makes his new stuff all the more spellbinding a find. Only time will tell for sure, but right now I think Alias Wayne belongs on any credible 'artists to watch' list entering this summer.
Gwen Waggoner