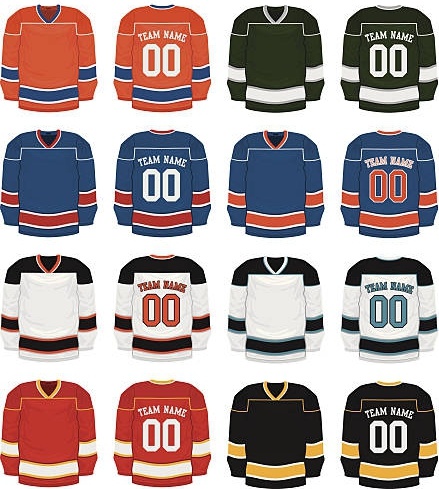 If you're a hockey fan, then you must know that there are just enough ways to show your support for the game. And your garb to the show is no petty way to do that. Hockey jersey fashion is a great statement of love from the fans, not just for the game but for the team they stand for. Here is why this wear class spans an interesting range of designs from the classic to the modern. If you're on the buyers' line seeking to get something that suits your fashion taste and statement of fandom, it might interest you to delve into the types to make a decision that keeps you happy in and out of the games. So, if you're in for it, then here is it straightaway! 
Table of Contents
1) Traditional Home and Away Hockey Jerseys
4) Winter Classic Hockey Jerseys
5) Stadium Series Hockey Jerseys 
1) Traditional Home and Away Hockey Jerseys
When it comes to hockey jersey fashion wear, the traditional home and away jerseys are the most popular. These jerseys feature the team's official colors and logo and are typically worn for every home game as well as away games. This jersey type is a must-have for any true hockey fan, as it allows them to show their support for their favorite team, no matter where they go.
These jerseys also come in a variety of sizes and styles, so they can be tailored to any individual's preferences. Whether you prefer a looser fit or something more fitted, there are plenty of options available to choose from. In addition, many of these jerseys come with patches or crests that can be used to further customize the look. 
The traditional home and away jersey is a timeless style that is both comfortable and stylish, making it the ideal wear for any hockey fan.
2) Alternate Hockey Jerseys
Alternate hockey jerseys are a fun and unique way to show your support for your favorite hockey team. These jerseys usually feature bold, eye-catching designs that are different from the traditional home and away jerseys. They often incorporate bright colors and interesting patterns, making them perfect for expressing your style. Alternate jerseys are usually released as part of special promotions or limited edition collections and are ideally a more casual wear option than a traditional jersey.
3) Throwback Hockey Jerseys
Throwback hockey jerseys are a popular way to add an extra dose of nostalgia to your hockey wardrobe. These jerseys feature classic designs from some of the most iconic teams and players from years gone by and offer a unique way to pay homage to some of the greats of the game.
Throwback jerseys can be found for virtually any team or player in any era, so it's easy to find a design that resonates with your style. Whether you're looking for the original New York Rangers uniform worn by Rod Gilbert, or the classic Boston Bruins jersey worn by Bobby Orr, you can find it in throwback form.
Another benefit of throwback hockey jerseys is that they often come as one-offs. This makes it easy to keep different from the crowd and show your passion for hockey history. Many throwback jerseys feature retro logos and colorful crests, among other distinctive details. 
If you're looking for a unique way to show your love for hockey, then a throwback jersey could be the perfect choice for you. There's no better way to honor the legends of hockey past than with a classic jersey from their time.
4) Winter Classic Hockey Jerseys
Winter classic hockey jerseys are just another unique series of hockey jerseys ideal for showing your loyalty and pride in the game. These jerseys have been used in NHL outdoor games since the 2008 season and feature classic designs from the past. They typically feature bold, team-specific colors, and are usually styled to give the vintage look from the early days of hockey. The bright colors and unique designs make these jerseys stand out and help you show your team spirit in an uncustomary way.
5) Stadium Series Hockey Jerseys
Stadium series hockey jerseys are a relatively new trend in hockey fashion wear, debuting in 2014. These jerseys are designed to celebrate the game of hockey by showcasing its most iconic teams and venues. Stadium Series Jerseys feature bold colors and designs, making them stand out among the rest. The best part of these jerseys is that they pay homage to some of the most memorable arenas in the NHL, such as Fenway Park, Wrigley Field, and Dodger Stadium. Furthermore, each jersey is unique and captures the spirit of the team it represents. So if you're looking to make a statement with your hockey wardrobe, then the Stadium Series Jersey is for you.
Conclusion
Keeping high-spirited and showing your love for the game are things you can be sure to have with any of the hockey jersey types. However, choosing which type of hockey jersey to wear is how you represent your favorite hockey team in the context of your personality. With vintage wear, you can express your fandom for legends and historic events. And modern hockey jerseys can be your way to make the hockey fashion more you by exploring its design customization options.