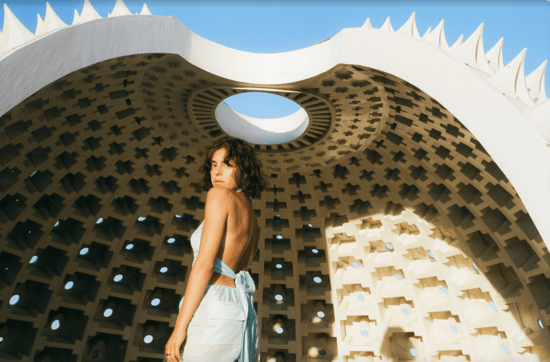 @skopemag news – thursday – may 25, 2023 @ 10 pm est
https://www.facebook.com/SkopeMag/
https://twitter.com/skopemag
https://www.youtube.com/@skopetv2
https://www.instagram.com/skopemag/
APP – Apple iTunes –
https://itunes.apple.com/app/id1465224822?mt=8
@skopemag APP – Google / Android –
https://play.google.com/store/apps/details?id=hr.apps.n207414718
Support @skopemag –
https://www.paypal.com/donate/?hosted_button_id=3APKAKT8K6ETW
SXMPRA & SKI MASK THE SLUMP GOD SHARE A RUTHLESS NEW TRACK, 'COWBELL WARRIORS!'
Originally a self-produced DIY cut made from SXMPRA's bedroom in Wellington, 'COWBELL WARRIORS!' straddles the line between underground Memphis-inspired Phonk rap and elements of hardcore and nu-metal. Alongside the new verse from SXMPRA, the legendary Ski Mask The Slump God adds a menacing feature in the infectious new track. A play on the gen-z phrase "keyboard warrior", the gritty track finds SXMPRA and Ski Mask's fast-paced flows speaking to the insignificance of doubters who criticize their grind cowardly from behind their computer keyboards.
Non-Urban Gold-Selling Mexican American Artist HARMLESS Shares Bilingual New Track "What U Want"
The visualizer is a throwback for Cano that, while fun, also pictures him at a time in his life before a tragic accident forever changed it. He explains, "It is clips from a video I made my girlfriend in high school. Every month we were together, I would make her a personal video. That month I decided to do… a dance."
Thai dark pop (Lady Gaga, David Bowie producer)
Singer/songwriter, producer, screenwriter and actor Roskamala is set to make her mark as a creative visionary with her thoughtful musical releases full of evocative storytelling wrapped in a unique sonic fusion. Born and raised in Thailand, Roskamala became an actress and fashion TV host. Realizing that her dream was to pursue music full time, the songwriter moved to the United States and teamed up with acclaimed Grammy award-winning producers Ghian Wright (Paul McCartney, Coldplay, Janet Jackson, Foo Fighters) and Robert L. Smith (Lady Gaga, David Bowie, U2) for her debut EP.
SATANIC TEA CO Release New Single "Shit Karma"
Frontman Crucifix comments: "This song is for the abused, the beaten and the violent revenge they seek. I want people to snap their necks while snapping necks blasting this track"
Today Alt singer-songwriter JAD tells us to "Say What U Want" on new bop
As a singer-songwriter JAD excels at having simple yet profound lyricism wrapped in an easy and infectious listen. As praised by Unheard Gems "There's an Elliott Smith-like quality to these lyrics in their ability to be vulnerable and moving in their simplicity"
His latest single matches that sentiment with a cheeky tune inspired by frustrating communication issues he experienced with another setting their expectations for his behavior in their head without being able to honestly explain why they had those expectations to him.
LYR release 'The Song Thrush and The Mountain Ash'
British poet, Simon Armitage describes LYR's documentary masterpiece of meticulously placed lyrics and exquisite sounds as "a record of an extraordinary period of social history" as he and bandmates, singer-songwriter Richard Walters and multi-instrumentalist and producer Patrick J Pearson release their latest track. A deeply-affecting record of human separation, during, before and after the earthquake of Covid, they reveal The Song Thrush and The Mountain Ash.
SOM asks fans for their own "Personal Jesus"… "Gorgeous" video premieres via Post-Punk.com
The original track was the lead single from Depeche Mode's groundbreaking Violator (1990) album and was also the band's second U.S. Top 40 hit. "It's become really clear that Depeche Mode means a lot to so many people that you might not think would love them," Benoit continues. "Fans have been sharing other Depeche Mode covers they like with us, talking with us about their favorite songs, and asking which other songs we covered. There's a curiosity and excitement around this collection of music, and the experience of this EP finding its place in the dark magical world of Depeche Mode has been really heartening."
SOM Confess Their Love for Depeche Mode in Intimate and Melancholic Video for "Personal Jesus"
Netflix & Nickelodeon Favorite, Maximilian Acevedo, Releases Playful New Song "ONFN"
Up and coming actor, musician and model, Maximilian Acevedo, has teamed up with LA based Thump Records for a new pop single, "ONFN", produced by Pierre Patrick who produced John Lithgow, Billy Crawford, Trina McGee, Take 5, and Leif Garrett on his Grammy Nominated Album. Maximilian delivers a playful title, abbreviated from 'One Night Fun Night'. The song is the first in a series of new music and videos that the young talent plans to record over the next few years.
Jack River Shares "Honey" Today Exclusively via FLOOD; New LP out June 16
"Honey" sits as part of a central suite of songs that make up Endless Summer, a fantastical utopian world entangled in tumultuous Sixties-esque production. Drawing you in with the twang of electric of guitar, "Honey" is akin to the first kiss of the summer sun, a smooth and embracing melody carrying a powerful undertone.
LandLand Colportage To Release LP for Achings on July 14th – Hear First Single Now!
Achings formed in the fall of 2018, almost by sheer accident. Singer-songwriter Rebecca Joy, having just started maternity leave, happened to overhear one of guitarist Justin Myer's guitar tracks. The synchronicity was instantaneous: "I immediately knew how the song should go- I heard it with total clarity, and wrote the accompanying melodies and lyrics on the spot, and Justin was thrilled with the results; we both were." That song was Abdication, Planet Earth.
Out Now: Underwire Debut Single – Gravity
Recorded at Massey School of Music amid lockdown mayhem in 2021, by the mighty Mike Gibson and engineer Robbie Pattinson, and mastered by esteemed producer Scott Seabright, 'Gravity' is a power house of dark matters, and the first of four tracks coming out over the coming weeks with assistance of label PlasticGroove HQ.
$uicideboy$ share new music and music video directed by Tristan Zammit
Each Friday in May, the group has shared a 4-song EP named after one of the four seasons: spring, summer, fall, and winter. Guest features on the Yin Yang Tapes include artists Ghostemane ("Bloody 98") and Freddie Dredd ("Provolone & Heroin"), marking the first time non-G59 artists have appeared on a $uicideboy$ track in over three years.
HAKEN launch official video for 'Lovebite', filmed live on European tour
Progressive rockers HAKEN are in the midst of a North American tour in support of their much acclaimed recent album 'Fauna'. In March & April, the band performed live in Europe alongside Between The Buried & Me, and today they are excited to launch a video for the track 'Lovebite', filmed live at their show in Paris at Alhambra on the 17th March.
Jimmy Whispers Shares "Ice Cream Truck/Stray Dogs" from Whitney-produced LP
On June 9th Jimmy Whispers will release his sophomore LP, The Search For God, 8 years on from the release of his celebrated debut LP. The debut LP from the one time Chicago scene staple, who legendary critic Jessica Hopper once called the city's "greatest homegrown musical enigma," was a mixtape of iPhone voice memos (Summer in Pain) that created a tidal wave of attention, seeing him perform at the Pitchfork Music Festival and earn praise from that outlet and places like Stereogum, Spin, BrooklynVegan, VICE, NME, Consequence and many others. In that context his new LP, which he recorded with his longtime friend Ziyad Asrar of the band Whitney, constitutes a fascinating step forward for the now Los Angeles-based artist, as it is his most polished work to date.
Rockshots Records – Metal Duo KRASHKARMA New Music Video "Survive The Afterlife"
Los Angeles duo KRASHKARMA is unveiling their latest single "Survive The Afterlife" accompanied by a music video in support of their forthcoming album "Falling To Pieces" due out on June 23rd via Rockshots Records. The song is about whether heaven or hell really exists, or if they're just inventions made by those who can benefit from them. The band explains the track further:
Outer Limit Lotus deliver a Post-Punk banger for Vampire and Ghouls
Outer Limit Locus are back with a new album – Norwegian post-punk, alternative gothic goodness.
The gothic sounds being met with new instruments of this song bring us into the alternative punk-rock world of 'Dazzling Darkness.' Outer Limit Lotus anticipates the upcoming single, "This is a party banger for vampires and ghouls, our love letter to everything gothic."
Julia D'Angelo Reveals Stunning New Single and Video for "Kathmandu"
Julia D'Angelo's music embodies a delicate avant-garde essence infused with a charming quirkiness, demonstrating her skill in seamlessly integrating conventional and groundbreaking elements to craft a distinct and harmonious sonic experience. While her artistic path initially unfolded in the realm of dance, Julia's ventures into music, acting, and film have been greatly influenced by this background. As a result, she frequently embarks on projects that flawlessly unite various art forms, showcasing her innovative and multifaceted creative approach.
nodisco. and John Splithoff Go Full R&B on "Blame"- Out Now!
nodisco. has made it clear pegging an artist to a specific genre isn't where it's at- with a sonic palette as vast as the ocean, the artist known as nodisco. (aka Chris Toufexis) is continuing to branch out following his 2021 release, Who Knew I'd Write Songs About You?
Lonestar Releases "I'm Already There" In Honor of Memorial Day
Lonestar, the highly acclaimed and multi-award-winning country group, have released the reimagined version of "I'm Already There" in honor of Memorial Day. The track marks the third single off their forthcoming album, TEN to 1 (due June 2), which features invigorating re-recordings of 10 of their #1 hits.
Divers release hazy & wandering new single 'Security'
Pulling together a myriad of different sonics, inspirations & feelings, DIVERS are today sucking fans into the vortex that is their dreamy & spirited new single 'Security'. Grooving, wandering drums back a hazy vocal from Scott McQuilten, meandering atop a pulsating guitar jangle & drifting synths. Somewhat ambiguous vocals push 'Security' into a land of pre-determined cryptic vagueness, with apologies from McQuilten littered throughout the chorus, possibly marking the start of a new period in their lives. Inspired by its double-meaning of safety or rejection, 'Security' provides a way for DIVERS to be both direct & in-direct, within the same moment.
VeeAlwaysHere ft. Ted Park release TODAY
"irl" is a hopeless romantic anthem for the new digital age. This song's upbeat, positive vibe along with "I don't need you to text me, I want you in real life" really makes dating a bad texter sound like an exciting adventure. VeeAlwaysHere wanted this song to be as hopeful as possible. While, it's definitely not easy to pursue a relationship with someone who doesn't reply to your texts often; he wanted this song to serve as reassurance to both parties. It's okay to not be on your phone all the time, it's okay to not respond right away – as long as we know what we are in real life and we can be together and enjoy each other's company. "This song is definitely about me! I'm so bad at responding to texts in a timely manner, and I'm not gonna lie, sometimes I get in trouble because of that… so I wanted to write this from someone else's perspective when they text me. It was such a fun experience to be in someone else's shoes for this and really try to live through the impatience, excitement, frustration and challenges of trying to date a bad texter like me haha"- VeeAlwaysHere
You can buy an iTunes subscription by clicking on the link – https://ggsel.net/catalog/itunes-10116