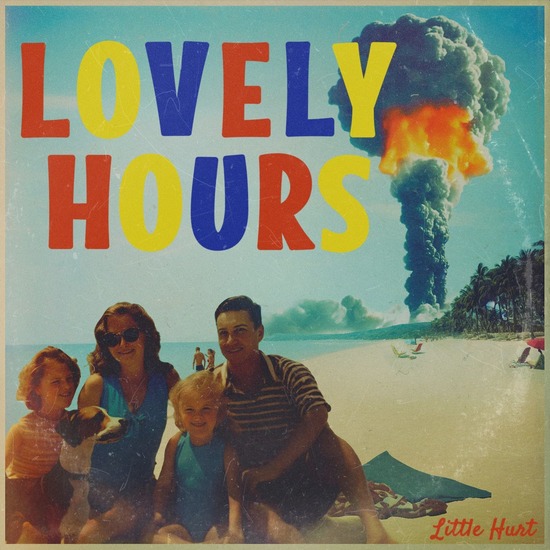 Little Hurt explores the ups and downs of love on the new album Lovely Hours. Darkly ruminative takes on failed relationships is a time-tested topic for popular music. Songwriters of various stripes have made it their bread and butter. Colin Dieden, however, proves himself capable of pouring old wine into new bottles. Lovely Hours' ten songs do not exclusively traffic in love affairs gone wrong and Dieden's jaded point of view masks a dyed-in-the-wool romantic The songs make it clear, however, that Dieden can rarely get out of his own way.
He doesn't have that problem when it comes to songwriting. The album's title song is one of the collection's strongest signs of an artist working near or at the peak of his powers. Fans of superior songcraft will find that Dieden's writing checks off every box. "Lovely Hours" is one of its ideal illustrations of how he gets there. Melody, message, and production values merge to deliver a well-rounded musical experience. 
It continues with the second song "Get Out of My Life". His remorseless lens misses none of the bumps, aches, and agonies of love in disarray. We're thrust into total disintegration from the outset, no preamble necessary, as Dieden drops listeners down in a scene of domestic strife with law enforcement at the door. He amps up the musical intensity as the track unfolds, but there are dynamics galore as well. It flies by at a blazing clip without ever careening out of control. 
"I Can Do Better Than You" is one of the album's peaks and Dieden knows it. It's why he chose this song as the first single and invested full-on effort with its companion video. The promo clip has a stripped-down quality that suits the song well.  Dieden's music studiously avoids any pretentiousness, and saturating the visuals with gaudy colors embodies the song's emotional intensity. The single is the last in a trio of all-out rockers kicking off the early part of Lovely Hours.
He tempers his approach for a while. "Pineapple Pizza" relies much more on groove than aggression. The stylish slide of the song has physicality, however, and syncs up well with Dieden's vocals. "See You Again" pulls listeners back from the rancor characterizing the album's earlier songs but doesn't entirely abandon their darkness. It has hope shadowed by trepidation. "Buttercup" drafts the talents of The Ready Set as a guest and it's a good combination. Dieden doesn't cede too much ground during such collaborations and this track about a guy just wanting his relationship to regain the promise it had at the start is one of Lovely Hours' most affecting tunes.
"Cooler If U Did" is a chameleon song. The track undergoes several transformations during its nearly three-minute running time from steady mid-tempo pop to stormy alt pop-rock. The alternating lines of attack never sound disheveled but inspired instead. It deals with similar themes to the album's unhappier songs, but the longing implied in the title gives it a twist lacking from other songs. Colin Dieden packs Little Hurt's Lovely Hours with an array of memorable moments. It's full of songwriting and performances capable of standing the test of time. 
Gwen Waggoner