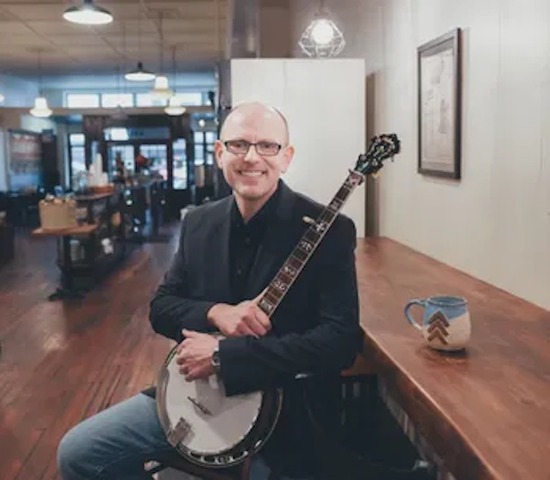 Meshing the best elements of both bluegrass and country music together isn't a new concept by any means, but in the new single "Three Arrows" by Daniel Grindstaff, the acclaimed instrumentalist, songwriter, and all-around darling of the critics brings together the aesthetics of these two genres in a way perhaps perfect for a new generation of listeners to embrace. Rather than trying to come up with something exceptionally pastoral or dark in tone, Grindstaff is giving himself over to the cosmetic end of the spectrum here, allowing for his play to fill in the margins whereas others would do the exact opposite. 
I love the dual string element in the mix, and although some might be quick to call it an indulgent attribute, it's nonetheless one that I don't find to be the least bit replaceable in the grander scheme of things. A little bit of excess is just fine when you're working it into the artistic narrative of a piece much in the way that Grindstaff is in this release, but compared to what a lot of his contemporaries would have done with this material, I believe it more or less essential to invite some decadence into the big picture. 
You can hear the influences this musician has appreciated throughout his life in "Three Arrows;" the Nashville Bluegrass Band, perhaps a touch of the old Appalachian songbook, and beyond – it's all compounding together for what could be the most cohesive and straightforward bluegrass-country crossovers I've listened to from an independent artist in years. You've got to give it to Daniel Grindstaff, as while a lot of players spend their time trying to replicate and imitate their heroes, he's found a way to carry on their legacy with just a little taste of the passion that we find exhibited throughout the whole of this song. 
https://open.spotify.com/track/6tR7tt69qA9ek8wMc9Vpio
Timing is everything in this kind of music, and there isn't a moment in which this artist isn't exploiting the rhythm of his arrangement with a heavy-handed attitude in "Three Arrows." I don't think there's as much bottom string play here as I might have employed were I tasked with recording the same song, but in terms of efficiency on the backend, this was probably the only formula Grindstaff could use to compensate for the heady indulgence we find on the frontend of the mix. Balance is key, but it's not the only focus he's got in this release. 
"Three Arrows" is a solid listen for fans of both classic country of an instrumental variety and moderate bluegrass/folk audiences in the mood for something pure this spring season, and while it's the first that I've sat down and listened to this player and gifted songwriter, there's enough in its guts to suggest that he's capable of even greater things if given the right setting and the plausible tools. There's a lot to Daniel Grindstaff's sound, but if you're looking for something completely and neatly packaged to introduce you to what his skillset is all about, this is a song that I recommend listening to immediately. 
Gwen Waggoner