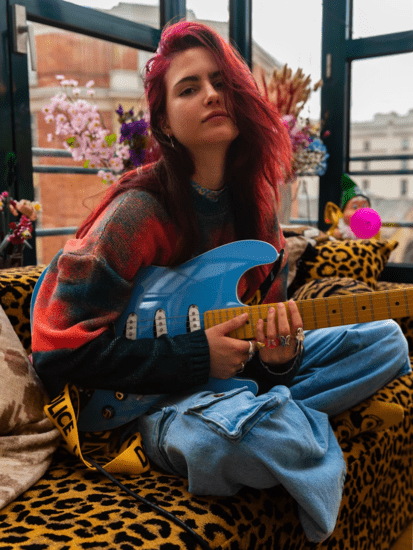 @skopemag news – wednesday – may 10, 2023 @ 11 am est
https://www.facebook.com/SkopeMag/
https://twitter.com/skopemag
https://www.youtube.com/@skopetv2
https://www.instagram.com/skopemag/
APP – Apple iTunes –
https://itunes.apple.com/app/id1465224822?mt=8
@skopemag APP – Google / Android –
https://play.google.com/store/apps/details?id=hr.apps.n207414718
Support @skopemag –
https://www.paypal.com/donate/?hosted_button_id=3APKAKT8K6ETW
UK-Emerging Singer Songwriter Gideon Foster Releases "Affirmation" New Single from Prophecy Out Now
Gideon Foster is a noteworthy, emerging singer-songwriter based in Yorkshire, UK, blending his philosophical outlook on life with a unique sound of his own. His love of music has led him down many different roads and genres, and while Gideon has drawn inspiration from many of them, he is not to be constrained by them, preferring to go with the flow.
Pacific Northwest-Based, Dream Pop Outfit Dirty White Shoes Drop Ethereal Video via V13.net
"Charisma and appeal are very much at play here in a significant way, with the duo exuding confidence in their talents, abilities, and vision. There's a dreamer aspect to this act, which really contributes to how likable they are. Sometimes, you just have to dream big, which is what Ascencio and Waller have done with Dirty White Shoes." -V13.net
Dirty White Shoes Premiere Their Music Video for "Cowgirl in the Rain"
HELLIGATORS Release New Single/Official Video 'Disgrace'
After three years of silence, Helligators are back with their new single, Disgrace. The song is an angst-ridden outburst towards all those people, institutions, mentalities and situations that only represent all the negative, corrupt, dishonest and dirty bullshit that happens in our day to day lives that sometimes makes us want to just F*CK SH*T UP! Rather than call for violence, it is a direct and unfiltered unveiling of these realities. A desire to defeat them through exposure. Because violence…is for losers!
Introducing Big Special and new single 'SH*THOUSE' – music from the Black Country | Playing The Great Escape
Made up Joe Hicklin (Singer) and Callum Moloney (Drums), the two-piece are fresh from supporting DEADLETTER, BENEFITS, and Handmade Festival, and are set to perform 3 shows at this weekend's The Great Escape, plus further sets at DOT TO DOT, 2000 Trees, and more.
Hämärä Unveils Lyric Video for "Isolation" from the Album "Ivory Tower"
Melodic Metal band Hämärä has released a brand new lyric video for their hit single "Isolation" from their album "Ivory Tower", re-released worldwide via Wormholedeath.
Introducing // mlbacard¡ – "KETCHUP"
Today, mlbacard¡ becomes an instant, an unequivocal new name to watch with her smooth yet melancholic debut song "KETCHUP." Penned during a tough moment suffering with immense sorrow, this instant new music gem was influenced by legendary acts, Portishead & Air. The song is available everywhere now via Believe.
Temple of Deimos and Nick Oliveri Release 'Death March' Collaboration EP
Temple of Deimos has been receiving positive reviews and great feedback on their latest album, "Heading to Saint Reaper," which was released a few months ago. The band's rendition of Led Zeppelin's "Dancing Days" was also included in the "Magick Sun & Mystic Moon" compilation released by Argonauta Records with The Obelisk partnership.
Tarah Who? – "The Collaboration Project"
The new Tarah Who ? album is full of unique compositions and collaborations with independent artists from all over the world. It's a very eclectic album that still remains as rock, grunge, punk, and strong in emotions and powerful lyrics. Produced by Tarah herself, Jason Orme (Alanis Morissette) and Norm Block (L7).
ICYMI: Bristol's Alt-Rock trio Krooked Tongue unveil second studio EP 'Deathproof'
The EP's previous two singles Lupines and Velociraptor were championed by the likes of Ones To Watch, Loudwire, Louder Than War Radio, Sirius XM and BBC Introducing Bristol and have seen the band go on to secure slots at festivals such as Icebreaker, Burn It Down and Estonia's Tallinn Music Week.
ASHNIKKO SHARES MUSIC VIDEO FOR "WEEDKILLER"
The new visuals immerse us in Ashnikko's self-written post-apocalyptic world as they burst onto the pop hook like an artillery barrage. Directed by Furmaan and Vasso, we witness Ashnikko's battle with the menacing Weedkiller robot, an enemy designed to symbolise Earth's environmental catastrophe and technological advancement.
Paul David Stanko Releases Soulful Ballad
"Artists are often driven by a deep need to express themselves and share their vision with the world," said Stanko. "But that can be a lonely and difficult journey. 'Artist's Prayer' is a song for anyone who has ever felt that struggle, and who looks to the divine for inspiration and guidance."
The single, which was recorded in Minneapolis. It is a poignant and powerful track that is sure to resonate with anyone who has ever felt the creative urge.
Paul David Stanko is a Minneapolis, Minnesota, USA based multi-instrumentalist and composer. In addition to performing with various musical groups around the Twin Cities, he serves as the Instrumental Music coordinator at Spirit of Hope UMC in Golden Valley, MN.
Duff McKagan honors mental health awareness month with new EP and video; first new solo music in 4 years
Duff McKagan is honoring Mental Health Awareness Month with today's premiere of This Is The Song, a brand new, three-track EP available today at all DSPs and streaming services. Produced by longtime collaborator Martin Feveyear (Mark Lanegan, Brandi Carlile), the EP's title track is joined by an official companion video premiering today on YouTube.
"THIS IS THE SONG was written in the middle of a panic attack," Duff McKagan says in a statement about the EP. "I couldn't breathe and couldn't see straight, and lately, I have thankfully found my acoustic guitar as a refuge. If I just hold on to that guitar, play chords, and hum melodies, I can start to climb my way out of that hole. For those of you who have never experienced something like this, count yourselves blessed. To those of you who recognize what I am talking about: YOU ARE NOT ALONE!"
YAWNING MAN: new track "Respiratory Pause" available
Californian desert psych legends YAWNING MAN share a soothing second single taken from their awaited new studio album "Long Walk of the Navajo", to be issued on June 16th via Heavy Psych Sounds. Listen to "Respiratory Pause" exclusively on Everything Is Noise…
Take a Long Breath In with Yawning Man's "Respiratory Pause"
OUT NOW: Folk Songwriter Marti West shares LP, Talking To Strangers (FFO: Simple Minds, Bon Iver, and The Tallest Man On Earth.)
English Choral Boyschoir Libera is releasing their new album Forever on June 23.
They are a global sensation across the last two decades. Their new album will be released June 23 followed by a world tour. Libera's rendition of The Beach Boys' "God Only Knows" is one of the highlights of Forever. "When I heard them sing, I said, 'It does remind me a lot of The Beach Boys'," Brian Wilson said about Libera's arrangement of the sweet harmonies in the song he wrote for the group's iconic 1966 Pet Sounds album, adding, "but actual boys – it took me to tears."
Forever also features new songs written by former members of Libera – an ensemble with many grateful alumni since it features the ethereal, time-sensitive beauty of young boys' voices – as well as the last works of the group's founder and guiding light, the late Robert Prizeman. Classical fans will appreciate Libera's versions of "Be Still My Soul" (from the hymnlike melody at the heart of Sibelius's Finlandia) and a choral "Ave Verum" using the haunting melody popularly known as "the Albinoni Adagio."
Italian Black Metal Band GOSFORTH Drops New Single "Funeral Lust"
New sub-label of Odium Records – Underground Kvlt Records, recently signed a contract with Italian, cult band GOSFORTH who are back after 17 years with a new album "Scourge of Dark Dominion".
Yesterday was the premiere of the second single "Funeral Lust". You can listen to it at:
Nymphlord Releases Debut Single "Stinks 4 Lyfe" – Out now on Lauren Records
Raised in the wooded foothills of Northern California, Nymphlord bubbled up from a unique brew of 90's alt rock, misty bush-whacked trail walks, Britney Spears crop tops, dog bites turned scars, and dust-covered pom poms. A singer-songwriter and producer, Nymphlord developed her grating but ethereal sound by trying to reverse engineer otherworldly (and pricey) plugins on her bedroom floor while plucking an acoustic guitar.
Doll Riot new single "Those Days" (California all Woman Punk/Rock band)
The band also happens to feature the niece (Ella) of Agent Orange guitarist Mike Palm. Doll Riot has worked tirelessly over the past months releasing music, playing close to 50 shows in the last year and has many more shows/mini tours in the works (and hoping for international touring).
C.T Shares New Single "Down For Me"
C.T (which stands for Contraversial Tekniche) is a rising artist from Leamington Spa, UK, who's been gaining attention and captivating listeners with his distinctive sound. Since bursting on the scene in 2018, he has been featured as artist of the month by BBC Coventry & Warwickshire Radio and has built a fanbase through numerous freestyles, podcasts and live shows, including performing at festivals such as Godiva. Set to continue his momentum and reach new heights in 2023, C.T has just unveiled his new single, "Down For Me", alongside a music video directed by Peppermint Studios (Byron Ismail), which follows the release of his "Joey Clipstar Freestyle".
DEANTE' HITCHCOCK RELEASES NEW ALBUM 'ONCE UPON A TIME'
Once Upon A Time is a journey into the emotional rollercoaster that Deante' experienced with his romantic partner and the birth of their son, Otto Saint Hitchcock. A conceptual project in the vein of Kendrick Lamar's good kid, M.A.A.D. city or The Game's The Documentary, Once Upon A Time crafts a narrative arc that's transparent yet complex about the uncertainties and emotions men often face but don't always express to the women in their lives.
JENNY LEWIS: NEW SINGLE, "GIDDY UP," AVAILABLE NOW
An ode to listening to your inner self when asked to "take a chance on a little romance," "Giddy Up" is sure to be the irresistible slow jam anthem of this spring season.
Lanterns On The Lake Share New Single "Real Life" / New Album Out June 2 via Bella Union
With their much-anticipated new album Versions Of Us due for release on June 2 via Bella Union, the Mercury Prize-nominated group, Lanterns On The Lake today share their new single, "Real Life" which premiered via Paste Magazine. Featuring Radiohead's Philip Selway on drums, "Real Life" emerges as another stunning piece of an album packed with high watermarks for the band. Fusing fuzzy guitars with a chiming central hook and poignant lyrics about a better existence, it's a brazen blast of indie-rock with vocalist, Hazel Wilde demonstrating another powerful vocal turn.
Sweet Pill & cute pups drop "Dog Song"
Inspired by the sight of their dog Honey chasing her own tail, Sweet Pill's raucous "Dog Song" explores the cyclical nature of mundane life on this spinning rock.
Nashville Metalcore Band CHAMBER Announces New Album, "A Love To Kill For," Coming July 14th
Rising Nashville metalcore agitators CHAMBER have announced the band's return this summer with the release of their highly anticipated second full-length record, "A Love To Kill For," that's due out July 14th from Pure Noise Records. Fans can pre-order the album now at lnk.to/ChamberStores.