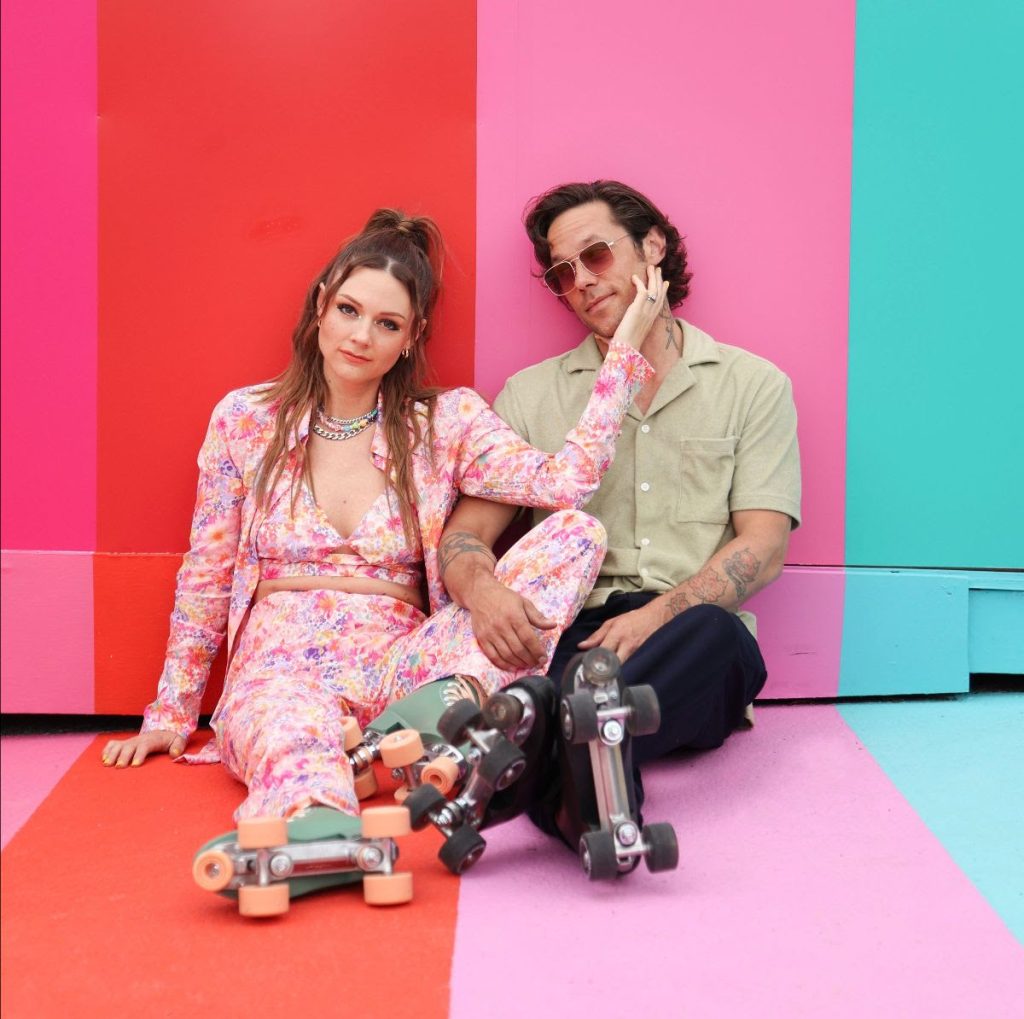 The heart of The Wandering Off is the husband-wife duo of Kyle and Emily Corner. Their decision to embark on a creative as well as matrimonial union had its genesis in the COVID pandemic. Fate dealt them some cruel blows during that time period, mainly in the form of Emily dealing with two different bouts with the illness, but the couple came through intact and arguably stronger than ever. The single "Hey There" from their forthcoming self-titled debut is an ultimately life-affirming act that flies in the face of lazy despair; it's joyous to hear the obvious excitement that creating this song brings to its participants.
https://www.thewanderingoff.com/
The duo recruited ace drummer Blake Manning to help round out the song's sound. His uncluttered and muscular drumming never comes across as heavy-handed; there is real bounce in what he plays. Indeed, Manning accentuates an already percussive gem with percussive flourishes that help the song generate momentum. It already has an appreciable pace and Manning's contributions give it additional impetus.
Kyle Corner's guitar sound is one of the song's keys. There is enough grit and gravel in the guitar to give it gravitas, but there is no question that Kyle's flexibility with the instrument serves the song well. He refrains, however, from any gratuitous displays of musicianship in favor of fundamentals and adding color. Nothing about his playing, however, is ever ornamental. Everything has a purpose and the cumulative effects of his work are notable throughout.
Emily Corner's singing is certainly notable. She has a vulnerable, often quaking voice that nonetheless manifests the right amount of strength and energy when necessary. She has a voice naturally suited for melodic material but her gifts do not stop there. There is deceptive pathos present, as well, in her voice and she never has to strain for dramatic effect. The song comes to her naturally.
The plain-spoken language of the lyrics does nothing to undercut their obvious intelligence. They are equally canny for not overburdening the song with too much verbiage; "Hey There" is a song where the words conforming to the arrangement are very much in mind throughout. Emily adroitly handles the phrasing in such a way that it further enhances the writing rather than making its weaknesses stand out.
It has a robust and totally realized sound. The Wandering Off benefit from a balanced approach that keeps the instrumental components in tune with each other than competing for sonic real estate. The overall even-handed approach adopted by Kyle and Emily Corner marks this song as one of 2023's finest singles yet and it is safe to say that, if the rest of the album reaches the same heights, their debut will be an instant album of the year contender. We are blessed that they decided to pursue this route and the resulting creative bonanza suggests they will be at it for many years to come. There is everything here for an extended run that never risks exhausting listener's patience or hollowing out their interest.
Gwen Waggoner