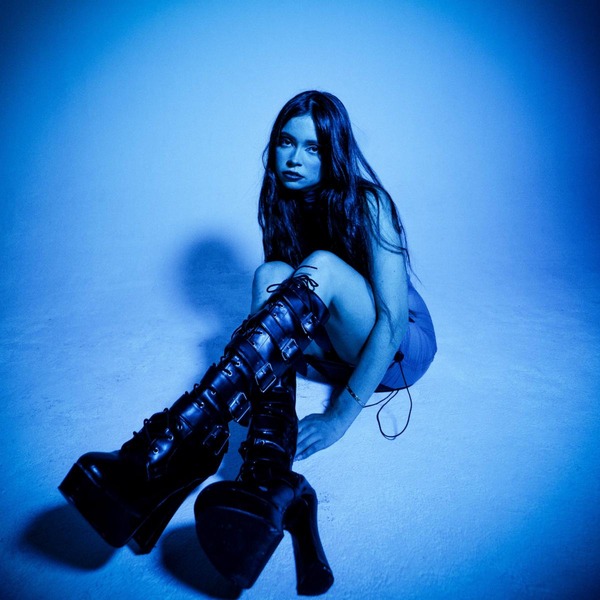 @skopemag news – monday – january 30, 2023 @ 1 pm est
@skopemag HQ – http://smarturl.it/skope
@skopemag Menu – https://skopemag.com/2022/07/11/skopemag-editorial-services-the-menu
INVICTA – TRIUMPH AND TORMENT – ALBUM PRE-ORDER!
SubLevel Records is proud to announce the new Invicta album Triumph and Torment, which will be released on March 31st, 2023. Invicta guitarist/vocalist Kyle Edissi comments: "Our goal while writing and recording this record was to make it sound Vicious and Triumphant. We wanted each song to channel the villainous vibes that inspired it. We really challenged ourselves and feel that this is a big step beyond our previous material, while staying true to the Invicta sound. I am really proud of this album, and I am really proud of the band and everyone involved in its creation. 'I was God… and yet, I was unchanged. I was not one with the universe. I was not content.'"
New single+video: Seasurfer feat. Susana Egea (Stereoskop) – Something very strange
ArrDee takes aim at the haters on comeback single 'Loser'
Music Submission: Calvyn Cass
CALVYN CASS has been quietly building his fan base and reach. Since his first release "Me, Myself & I" to his most recent "My Friend", listeners have been tuning in world wide. After a feature on the acclaimed Tom Lambert's The Independent Music Show, CALVYN was played on over 1100 stations worldwide. Wonderland Magazine featured him as New Noise to pay attention to and they know what they're talking about. CALVYN has been working with Grammy and Juno award winning producers over the passed year and is set to have a year of great releases.
Notorious B.I.G. producer and co-writer's new project Short Wave Craft drop modern trip-hop anthem!
In 1993 Dominic Owen's musical home became High Class Productions in Brownsville, Brooklyn where he worked with 90's Hip Hop legends like Rakim, Busta Rhymes, M.O.P. Raekwon and AZ, as well as future R&B giants Anthony Hamilton and Angie Stone.
MICHAEL J BENJAMIN — Releases New Single: "The Deal Has Long Gone Down (Acoustic)"
XL LIFE Reveal Visualiser For Genre-Defying Manifesto Track 'Shout' (Venn Records)
Post-club dream pop three-piece Emmecosta return with new single + video 'Effort'
Jack de Keyzer and Wally Palmar Release "No War" to Benefit Ukraine
Two-time Juno Award-winning singer-songwriter and guitarist Jack de Keyzer has teamed with Wally Palmar, frontman and co-founder of the legendary band the Romantics, to record a poignant and powerful anti-war anthem, "No War," dedicated to the courageous people of Ukraine who are fighting the illegal invasion of their country.
WINGS OF DESIRE release 'Runnin' | Headline Tour Feb
Skope single submission: Absolute, "Where You Wanna Be". Texas luxury rap
Shenandoah Releases Inspirational New Single, "Revival" – People.com Exclusively Premieres New Video
Celebrated Grammy®, ACM and CMA winning hitmakers, Shenandoah, led by frontman Marty Raybon and co-founding member Mike McGuire, haven't released any new music in over two years. That changes with the release of their new single, "Revival," via 8 Track Entertainment/Fame Records. "Revival" available now to stream, listen and download on all digital platforms, will ship to radio via Play MPE on January 31, 2023.
H. Hawkline Shares New Track "Plastic Man" / Lifted From Cate Le Bon-Produced Album Out March 10 via Heavenly
H.Hawkline (Huw Evans) has today shared a new track, "Plastic Man" which is taken from his forthcoming fifth album, Milk For Flowers which is set for release on March 10 via Heavenly.
Talking about the new track, Huw said: "The last song written for the album, need more than must, twirling cane and top hat gliding down a molten stairway in the middle of summer. Tim Presley wrote that opening guitar line — I watched him piece it together like a scribble, animating itself into a Muybridge off-cut."
ECOLLAPSE: release new single "Evil Empire"!
Greek thrash/death metallers Ecollapse present the single "Evil Empire", included in the new, 3rd album entitled "Dying With The Wolves", self-financed and will be released independently by the band on 10 / 2 / 2023. Watch the lyric video via the link below:
LEXXE Reveals New Dark-Pop Single "X"
New York-based dark-pop artist LEXXE is back with her new single, "X." Pairing swirling disco beats with raw, diaristic lyricism, LEXXE has created a song that is euphoric and emotional all at once. A heartwarming tale of love and loss, "X" is an ode to her father, Xavier (X), who passed away 20 years ago this year. The nontraditional release date – Sunday, January 29th – is her late father's birthday.
YVES TUMOR ANNOUNCES NEW ALBUM + 2023 WORLD TOUR
STÖNER: stream "Night Tripper vs No Brainer"
STÖNER, the Californian supergroup formed by Brant Bjork (ex-Kyuss and Fu Manchu), Nick Oliveri (ex-Kyuss and Queens Of The Stone Age) alongside drummer Ryan Güt present their new single "Night tripper vs No Brainer". Their new record "Boogie To Baja" is due out February 24th on Heavy Psych Sounds.
VIC MENSA & THUNDERCAT TEAM UP FOR "STRAWBERRY LOUIS VUITTON"
Chaidura Release New Video For "With You"
New Release: Raised on TV – "Mr. Blue"
Raised on TV has released a new single titled "Mr. Blue" that is available on all streaming platforms today. It is the latest single from the Los Angeles alt-rock trio's upcoming album titled Strangers in Pictures that will be released later this year on Sell the Heart Records. Last September, the band released a teaser EP titled Around the Sun that gave listeners a quick introduction to their brand of sun-soaked California alternative rock. "Mr. Blue" is a song about picking yourself back up that sonically is reminiscent of Silent Alarm-era Bloc Party. Start your weekend off by streaming the new single now!
Kris Ulrich Announces New LP 'Big in the USA' Out 3/31 (Birthday Cake Records), Shares Title New Track Single/Video
Winnipeg, Canada's Kris Ulrich today announced his new album Big in the USA will be released on March 31st, 2023, via Birthday Cake Records. The album sees Ulrich – a Daniel Lanois-esque man of many talents (producer, musician, co-writer, and road warrior) who spent years as a hired gun guitarist for some of the most celebrated names in Canadian country music – fully branching out on his own, his voice and vision crystallized by a period of deep reflection. He has also shared the title track new single, a heartfelt and contemplative, yet winking song wrapped in a breezy casing, alongside a video.
NEW SINGLE OUT NOW: John Hanifin charts a new sonic path with "Stop, Drop & Roll"
"Stop, Drop & Roll" presents John Hanifin as a captivating blend of electronic pop-R&B, soulful vocals, and classical elements.
Margo Price releases video for new single 'Radio' feat. Sharon Van Etten…
The standout collaboration "begins with little more than a minimalist drum pattern before bursting into a sweeping, Springsteenish road anthem" (Pitchfork), and from a hot pink house in Nashville, the video captures Price in the midst of technicolored catharsis as she drowns out the noise of critics and commenters who keep pushing her around, trying to change her face and sound. Accompanied by the harmonies that co-writer Sharon Van Etten sends through the waves of 1970s-era TV screens, she finds herself perfectly confident and content being all alone, moving from red velvet bedspreads to an opulent array of mirrors, filling each room with nude dance solos and clouds of weed smoke.
JAODAE Release New Single "Porcocane"
Toronto, Ontario, based progressive metal outfit JAODAE have unleashed "Porcocane". This is the first single from the instrumental outfit's upcoming EP Chimaera landing in March via Black Throne Productions.
Metal Titans DEAD BY WEDNESDAY Releases Innovative New Music Video Featuring Stop Motion Building Bricks
New England's premier metal band DEAD BY WEDNESDAY released their brand new animated stop motion music video for their single "Mars in Exile." The drummer's 8-year-old son, Orion St. Lawrence, inspired the story & concept, and designed the building brick band characters.
Glazergirl Releases New Single "Don't Weep" + Lyric Video
Modern hard rock project Glazergirl™ aka "GG" (Jill R. Serfaty) released her newest single "Don't Weep" to all major platforms. The single is from her forthcoming 5 song EP titled "Mothership" due out this spring.
LOOK OUT! NERIAH IS DONE "FALLING 4 SOMEBODY" ON NEW SINGLE
Emerging pop star NERIAH has released her newest single, melodic breakup anthem "FALLING 4 SOMEBODY." Debuting with a New Music Daily cover and Zane Lowe interview on Apple Music One, the track is creating plenty of excitement leading up to NERIAH's third EP, No One Cries Forever, out March 17 via Create Music Group.
Multifaceted Artist Chin Injeti Guards His Heart on New Track "All for Nothing"
New single, "All for Nothing," was created on vintage synths and a drum machine to emulate an '80s sound. Fuelled by heartbreak, the melancholic track debates what a relationship was even worth if it spurs such intense feelings of longing and frustration.