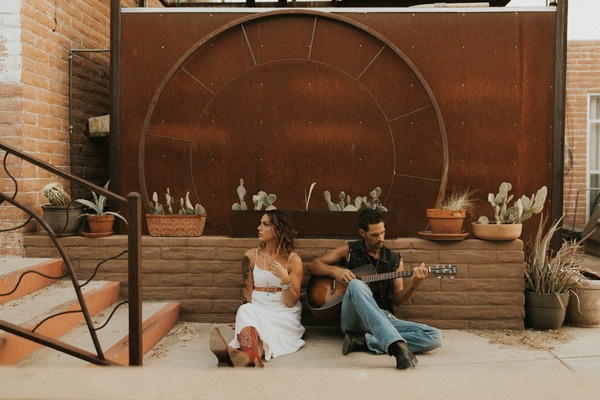 Scott & Sabrina let their righteous romantic relationship take center-stage on the fire and passion of "Blessed". Full of such good energy the songs have a soul to them. Lyricism reigns supreme for each song tells its own story. When taken in as a singular whole they sing the tale of a life lived to the fullest. From the grandeur of the guitar riffs to the way the rhythm kicks it out, all of it has this sense of hope and optimism that radiates on through. Genre-wise they bring together a distinctly western twang alongside elements of southern rock, country, classic rock, even a bit of R&B and pop into the fray. Whatever style they choose (and oftentimes they incorporate several within one track) they manage to imbue it with their own personality.
"Kiss You Forever" starts things off in earnestness, for it sets the tone for much of what follows. From there "Runaway" has a righteousness to it with the guitar soaring on up into the very sky itself. Going for a distinctly softer touch "Blessed" utilizes a reflective stance that feels doubly refreshing, all the way down to the industrial-type beats that underpin her voice. Wonderful steel guitar rolls through on "I'm Gonna Love You". Electronic effects enter into the equation on the unique balance of "Soulmate". Tender in tone things come to a sweet close on "Home".
"Blessed" shows off Scott & Sabrina's uncanny ability to deliver a series of love letters that feel absolutely spellbinding.