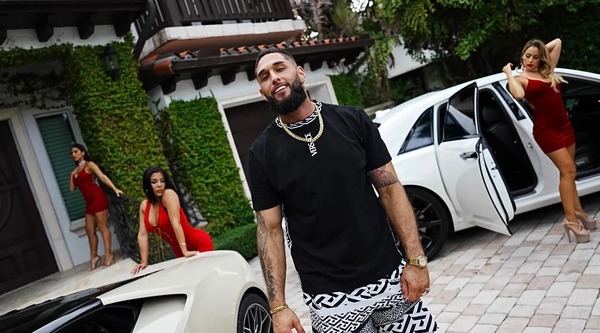 Have you ever felt sad? Betrayed? Suffocated? Or that you are alone? Well, you are not alone in suffering from these attitudes or behaviour. There are a lot of people out there who are using it to fuel them up, change and grow. Sadness is a gift. Dont reject it. Live it fully. Embrace your betrayals and come out of them with wonders. Traficante and his latest single, "Stay Sleeping", are great examples.
Thought Behind the Track
Mr Traficante recently shot his latest video in Miami. He will soon release his latest song,' stay sleeping,' via Beast Trap Records. This song will be full of energy and make those feeling suffocated feel strong. The singer expressed his feelings and shared:
"I felt like a couple of close friends at the time were negatively competing with me, and there was other news I found out about that upset me."
This song is for anyone who believes that people are sleeping on them and do not fully believe in or appreciate them. The theme will help an individual push aside everything going on and do what they must to make anything happen. The idea is to tell everyone underestimating you or sleeping on you to "Stay Sleeping "because you'll do what you have to do regardless of what they think or say. This song is for anyone who believes that people are sleeping on them and do not fully believe in or appreciate them.
Process of Inking the Songs

Everyone's actions are the result of their thoughts and emotions. Traficante has always loved music and has been playing various tunes since he was a child. Traficante uses music and songs to express himself. As a result, Traficante's initial process is determined by what is going on around him. If many things are bothering him, such as not getting things done his way or making him angry and sad, he will channel that energy when the right beat hits him. Indeed, the best songs are those that are associated with memories or feelings.
Be Patient, Stay Focused 
Traficante is very serious about his love for music. He has set his targets to achieve specific goals with his songs. Success will not come overnight; you have to work hard for it. Sometimes you feel tired, but focus that's the main thing to preserve. Starve your distractions and feed the focus. Once you have a goal in mind, you can work for it step by step, just like completing a puzzle. The journey towards success is incredible; everyone must experience it to its fullest. Be patient and stay focused; it will make the achievement much sweeter. Don't listen to what anyone tells you, but at the same time, consider things. Traficante wants to motivate people through his music. He wants to spread positivity to those who may be in some tight spot in life or want to know that they are not alone.
https://www.instagram.com/mr_traficante/
http://www.tiktok.com/@mr_traficantee