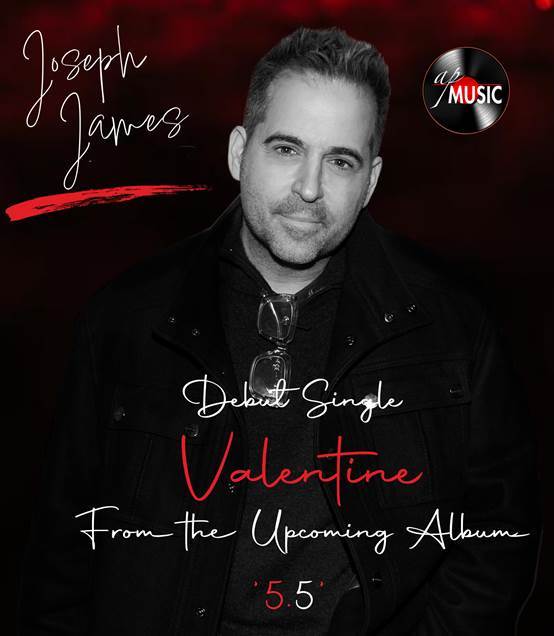 Joseph James is delivering an early Valentine's Day present to the entire, listening audience with his latest release titled "Valentine". This is a debut single for Joseph James and he is hoping to pick up major traction and steam heading into the next occasion that is filled with hearts & such. Why go with the same ol' candy & flowers when you can supply the gift of music. Joseph James offers everyone the perfect "Valentine" this year and so it's safe to say that love is in the airwaves.
Joseph James is an award-winning singer/songwriter & producer from New York and he founded AP Music Group. Joseph has performed, produced and toured with major acts such as: Lady Gaga and Ritchie Blackmore. Joseph James is ready to step into the spotlight as a solo artist and knock it out of the box with his song, "Valentine".
As soon as you hit play, the listener will hear pure-sounding vocals coming from Joseph James and a professional touch that can't be denied. "Valentine" is a high-quality recording that deserves your undivided attention. This radio-friendly tune has mass appeal with its inviting sound and catchy melody that welcomes you in with open ears. "Valentine" is a standout single to kick off 2023 where Joseph is giving a dynamite performance overall. With plenty of heart and good vibes, "Valentine" will pull you in from start to finish. Musically & vocally, Joseph James is spot on with his new song and "Valentine" has chart-topping single written all over it!
2023 looks to be a BIG year for Joseph James with a debut album on the way as well. It's time to celebrate as "Valentine" will win you over one note at a time. You can also SKOPE out the official music video for "Valentine" right here: Joseph James Valentine Official Music Video #valentinesday #josephjames – YouTube. One other cool mention is that "from now until midnight on February 28, 2023, post, tag and DM Joseph James on Instagram a picture or video of yourself listening to "Valentine", and he will personally record a dedication to you (and yours) and send you your own personalized MP3 of "Valentine" (please include names)". With this interactive experience in place now, the "Valentine" package has gotten even better and more exciting for everyone! Joseph James hopes to have the key to your musical heart with "Valentine".
https://www.instagram.com/josephjamesnyc
https://www.facebook.com/joe.vulpis.7/
By Jimmy Rae