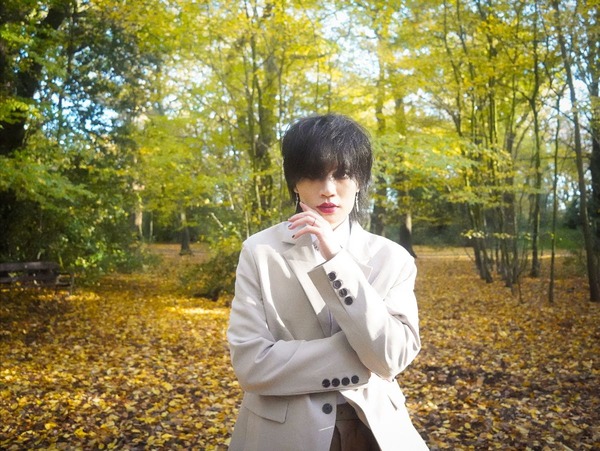 @skopemag news – monday – january 9, 2022 @ 1 pm est
@skopemag HQ – http://smarturl.it/skope
@skopemag Menu – https://skopemag.com/2022/07/11/skopemag-editorial-services-the-menu
Check Out Divine Shade's New Single, "Stars"
French darkwave band, Divine Shade has just unveiled their new single, "Stars". The track was performed live during Divine Shade's set in support of Gary Numan's 2022 UK tour.
The song's theme is simple. It addresses the concept of our "inner child" disappearing over time. Says, Rémi Thonnerieux, "I wrote this song to talk about the fact that love and resilience are the true paths to dreaming again".
ATLANTA'S HOTTEST RISING STAR 21 LIL HAROLD RELEASES NEW SINGLE & MUSIC VIDEO "OUT OF TIME"
On the track, an ominous choir sample echoes over buzzing 808s and tense hi-hats. Meanwhile, 21 Lil Harold leans into a catchy cadence as he warns, "I'm on the block right now with my stick." In the accompanying visual, a pair of models flank him as he raps to the camera by a brand-new Rolls Royce. His two designer watches shine just as much as his uncompromising and undeniable delivery does!
Vancouver's HUNTING GIANTS Cast Away The Pain of The Past w/ Video "Kindred" Off New Album "Mythos" Out Now!
Canadian progressive grunge rockers Hunting Giants are sharing their next video for the track "Kindred" off their latest album "Mythos" released this past November. ​"Mythos" is the new crowning achievement from Hunting Giants who have put in many years of musical work, writing, and recording while gigging and enduring quarantine as a band during the Covid pandemic. The album's goal is to grab listeners and amaze them with intricate woven stories, energetic riffs, and distinctive vocals. The album is meant to be an adventure, with each track having its own flavour and setting; the songs are worlds unto themselves. All of the music on the release contribute to a listening experience that is much more than the sum of its parts. The material is an addictive encounter that will keep you coming back.
DISCONNECTED SOULS Release New Single "Dissonant Whispers"
Emerging from beyond the shadows, "Dissonant Whispers" is the new single from the eclectic cinematic metal outfit DISCONNECTED SOULS. The Chester, England, based band push their boundaries further than ever before in this enchanting song. Become immersed in the foreboding tale of magic and disturbance of the mind through dramatic orchestration, thundering guitars and the alluring voice of the siren.
Meet Recording Artist, ALIWOOD: A true musical diamond in the rough
ALIWOOD is an entrepreneur and artist who stands out from the average hip-hop performer. Unlike many rap artists, ALIWOOD is all about inspiring people.
Exelerate unveil new single & video "Release"
In the second single from their upcoming debut album, Danish power/thrash metal unit EXELERATE may take it slower, but "Release" is nothing short of epic and harsh. Taking inspiration from the classic days – and bands – the song is a short and intense hymn, reaching out for all the true heavy metal fans out there.
The World of Mick Releases New Single « Stroll On »
The British solo artist announces his latest single.
As a solo artist Michael has recorded his debut solo album MICK in 2018 under the artist name The World of Mick, released in fall 2019.Tracks previewed have received favorable reviews and radio play-listing in the UK and US with to date two million streams on Spotify. Currently Mick has five MICK I tracks in sync deals with US film and TV companies and is a member of the exclusive sync music group run by Adam McGinnis called The Billboard 500.The World of Mick band are playing UK live shows in July post pandemic. As well as still teaching the occasional student, Michael is currently producing new singer songwriters at his recording studio-Harmonia Productions
DEATHROLL – single "The Raptor Flying Away" from upcoming album
DEATHROLL is a Japanese solo black metal project, singer, songwriter, musician, and black metal band. Born in Iwaki, Fukushima, DEATHROLL started his career in 2012 as solo black metal project.
After 6 full-length albums and 2 digital singles, they are ready to release their new album.
CHAIDURA PREMIERES AN ELEGANT VIDEO FOR DELICATE NEW, DREAM VERSION OF "NIGHT FOREVER"
Listeners can expect a delicate, gentle interpretation of the already emotional and cathartic single, released in November of 2022. This release greatly contrasts from Chaidura's "metalcore" singles, like the crushing "Menace", that the singer is known to release, demonstrating his wide range of sound. "Night Forever (Dream Version)" features tender vocals accompanied by a light, melodious instrumentation that is all part of the overall immersive experience, provided by this release.
Norwegian star dePresno returns with lovelorn new single "Loser In The Night"
Based on the west coast of Norway, singer/songwriter Bjarte dePresno Borthen reveals his first single of the new year. Showcasing his warm, baritone vocals, "Loser In The Night" is an introspective folk-inspired ballad which highlights the pain of unrequited love.
Known for the unique depth of his voice, and his lyrical precision, dePresno explains more about the inspiration behind his new single:
"It lays bare the heartache and confusion that comes with being rejected by someone you love and more so grappling with the desire to be with someone who isn't really yours to be. Despite the sadness and confusion at the core of the song, I feel like the vocals and melodies give "Loser In The Night" a sense of hope and resilience."
Sara Noelle shares new single / video, "Color Of Light On The Water" from her forthcoming 3rd LP
Sara Noelle's single "Slip Away" flickers like a candle lit in a darkened room, illuminating walls with ephemeral figures and casting shadows behind them. The song, produced by Dan Duszynski, is the latest track drawn from her forthcoming full-length album.
Beat Awfuls shares new single "Ego Death Kult"
"Ego Death Kult describes a moment when an oppressive reality becomes so clear that it flashes neon with ridiculousness, like an exit sign. The hypnotic guitar riff forces out an instinctive head-bob, ad infinitum, becoming terminally driving— like a cult imperative. The lyrics play against this hypnosis with almost flippant affirmations like, "let it all out." While we are busy trying to figure out if this is an entreaty for or against the cult, we get the sense that— hey, either way, I think we're going to make it out of this thing alive." -Dave Vicini
Skope video submission: Itz Jaleel, "On Me". Nashville trap hotness
ADAM LAMBERT RELEASES POWERFUL VIDEO FOR "HOLDING OUT FOR A HERO"
Directed by Jordan Rossi, the powerful visual showcases Adam performing his glam-rock retelling of Bonnie Tyler's 1980's hit surrounded by dancers in glittery helmets, who Adam encourages to take off their helmets and express their true individual identities.
"Get High" with Amsterdam Indie Dance Trio Mike Rogers
"The strongest opinions are always in the news and social media. They shout the loudest. But we believe that being uncertain of things has something to stand for too."
Lowly Share New Single "Seasons"
With their new album Keep Up The Good Work due for release on February 17 via Bella Union, and having previously shared the title track, today Lowly share a new single, "Seasons" from this much-anticipated LP. Commenting on the track, the Danish quintet say: "Seasons" originates from a poem about the sun dragging the seasons over its shoulders as if it were a normal day job, coincidentally influencing all life surrounding it. And as the song progresses and the chorus hits, it turns into an abstract storytelling from a human perspective about time and life's drifting by. The production is overwhelming and adventurous, with a pulsating bass and active drums creating a spectral and rhythmic framework around the vocal. The song starts out minimalistic and simple but grows over time into more and more layers, giving the listener a feeling of being thrown in a rocket into space towards the sun."
OBELYSKKH: Video For Title Track To Fifth LP From German Sludge Trio, The Ultimate Grace Of God, Premiered At The Obelisk
German doom/sludge metal outfit OBELYSKKH will release their fifth album, The Ultimate Grace Of God, late this month through their long-running allies at Exile On Mainstream. Today, popular doom/rock music portal The Obelisk is hosting the worldwide premiere of the album's massive title track.
Obelyskkh Premiere "The Ultimate Grace of God" Video; Album Out Jan. 27
BLACK STAR RIDERS NEW ALBUM WRONG SIDE OF PARADISE OUT JANUARY 20TH ON EARACHE RECORDS
Following the announcement of new guitarist Sam Wood, Black Star Riders, the Anglo American rockers featuring Ricky Warwick (Lead Vocals/Guitar), Robert Crane (Bass Guitar) and drummer Zak St. John, are excited to release their new single Riding Out The Storm, which is accompanied by a video, directed and produced by famed video maker Tony Aguilera (Jerry Cantrell, Killer Be Killed, Orianthi) in Los Angeles.
Monsta X Release 12th Mini-Album, REASON
Monsta X are kicking off the new year with their 12th Mini-Album, REASON, out now. Consisting of six tracks, this album is the process of reflecting on the present Monsta X, who are keeping their grounds for 8 years. Throughout their success and trials, efforts to face fear and compassion during fierce times, they were able to discover the reasons behind all their emotions and find value in their relationship with fans. This conveys the message that one does not need to find reason in relationships with underlying trust.
French Modern Power Metal Band ASYLUM PYRE Release Official Music Video For "Virtual Guns"
French Modern Power Metal band ASYLUM PYRE release Official Music Video for "Virtual Guns". Virtual guns is an emergency. A melodic call for the union of the peoples of the earth to go to war without the wrong target. Vital Metal. Attacking ignorance.
Grammy Nominated Producer and Pop Artist Joseph James Draws Deep Emotions In An Intimate Setting For Debut Single 'Valentine'
Pop Artist Joseph James just released his debut single 'Valentine' on Tuesday 3rd of January 2023. The single will be his first release off his debut album '5.5.' coming later this year. James may be new as a recording artist but is no stranger to the music industry, as he has performed, produced and toured with many notable artists including Lady Gaga, Bono, Ritchie Blackmore (Deep Purple), Lindsay Lohan and Al Martino (Johnny Fontane/ The Godfather) as well as founding AP Music Group. Now, James is ready to start his artistic journey with his single 'Valentine'. An honest, emotion-filled ballad written for Joseph's girlfriend for her birthday but was eager to surprise her and perform it for her on a date night ahead of time. Following her emotional response to the track, she encouraged him that the world needed to hear this song. The song was written, produced, mixed and mastered by Joseph James and Adrian Hawk Melendez.