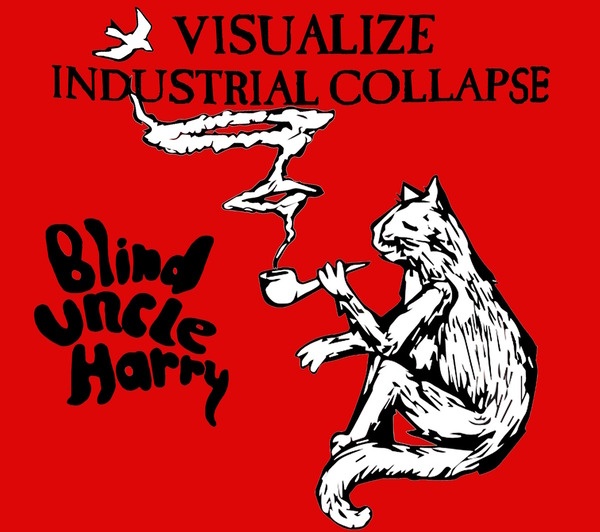 Just as Monty Python brought you "And Now For Something Completely Different", Blind Uncle Harry stays in that same lane with his latest release titled 'Visualize Industrial Collapse'. Blind Uncle Harry brings a unique approach to music making that will make your ears spin on his most recent album. Blind Uncle Harry says the heck with cultural norms and society standards and to think outside the box and to simply 'Visualize Industrial Collapse'.
This record was recorded in Blind Uncle Harry's hometown of Bloomington, Indiana. There are a number of talented musicians featured on the album that help bring it all together nicely. The overall result is a resounding message to the mainstream platform that everything doesn't have to be fabricated and that sometimes you should just need to 'Visualize Industrial Collapse'.
The record kicks off with a catchy lil jingle that is also a bit twisted and this number is called "Christmas Day In Australia". The next track, "Dopesmokers of the World Unite And Take Over", is filling the air with an eccentric 'n' silly cloud of notes that will blow your mind. The following song, "American Way", offers up a nice melody and very smooth flow. Blind Uncle Harry is speaking his mind in a distinct manner on "I Just Want You To Know" where the overall effect is quite mellow. Next, the listener will hear "Burn Down The High School" that provides an appealing sound that peaks your curiosity and sparks your eardrums. The vocals & melodies are on point on "Burn Down The High School" and be sure to SKOPE out the official music video right here: https://youtu.be/8j0IL9U3roM. Track six, "Fly Away", showcases a wonderful voice that is soaring high and shining bright. With a wide range, the female vocalist on "Fly Away" proves that she can hold a note with the best of them. The next song is a "Song For Kori" and it is a telling tale that paints a vivid picture for the listener. What you will receive on "Song For Kori" will be sincere lyrics and an honest delivery from Blind Uncle Harry. Track eight, "Jesus Is Coming In A Rat Turd", gives off that unorthodox vibe, which can be expected just based on the title alone. Bottom line on "Jesus Is Coming In A Rat Turd" is that Blind Uncle Harry & company are just having a blast making music together and that's what it's all about! Blind Uncle Harry supplies a tender moment on "My Daddy Died When I Was Nine Years Old" where emotional chords are tugging at your heartstrings. Track 10, "You Said", is unique to the core and is a musical production that will knock your socks off OR on. Time to jump into "Hole In The Ground" that is raw-sounding and organic in nature. I'm diggin' this "Hole In The Ground" where plenty of earthy substance is pouring out of the speakers and spilling into your ear canals. Blind Uncle Harry is draggin' on at a slow 'n' steady pace on the final number, "Four Days Drive To Chiapas".
Blind Uncle Harry creates songs that have valuable messages & lessons while also keeping the material light 'n' loose. Blind Uncle Harry proves that you can get serious while also having fun and laughing up a storm on 'Visualize Industrial Collapse'. With witty lyrics and catchy melodies, the audience will be entertained by Blind Uncle Harry's musical antics. If you're looking for a change of pace or break from the norm, then be sure to 'Visualize Industrial Collapse'.
https://www.facebook.com/BlindUncleHarry/
https://www.youtube.com/channel/UC298cjl808tXteE3G13okBw
https://open.spotify.com/artist/4aBHS5ngRpjlH0GHxgDnrc?si=HtA5QNxPRmmj8bY7_FYPWQ