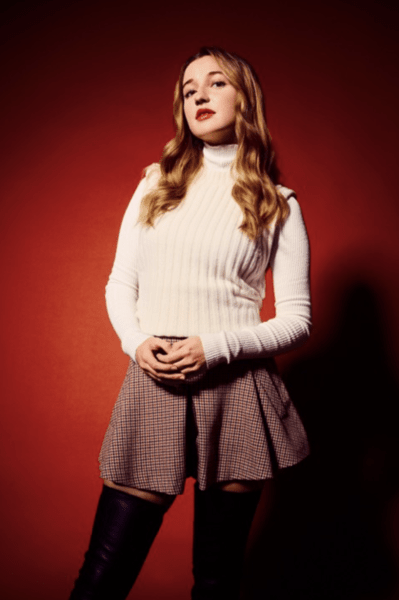 @skopemag news – wednesday – november 7, 2022 @ 8 pm est
@skopemag HQ – http://smarturl.it/skope
Sad Girl Christmas Song "When You Hear Joni"
Gina Naomi Baez is an actress, singer/songwriter, YouTuber and influencer from New York City. Her love and passion for songwriting and music has always been the true driving force behind her creativity, with the artist using her platform to spread messages of positivity.
Sunnsetter Shares "Float In Circles" Single + Video via Under the Radar
Sunnsetter — the solo project of multi-instrumentalist, composer, and recording engineer + Zoon/OMBIIGIZI collaborator Andrew McLeod — returns a brand new single entitled "Float In Circles," his first new track since signing with Paper Bag Records.
L.A. Project (ft. guests from Annihilator, Exxocet) Announce Uplifting And Melodic New Metal Single "Carry On"
L.A. Project is an international melodic metal/rock effort that was started by Luis Amaro during the pandemic. In order to bring his ideas to life, he recruited drummer Fábio Alessandrini (Annihilator, Bonfire), bassist Rich Gray (Annihilator, Aeon Zen), and vocalist Lukky Sparxx (Exxocet). In April, Amaro released L.A. Project's debut EP "5 Dimensions" and is now following it up with a fresh new single "Carry On".
Vancouver Musician Kuba Oms Returns To His Soul/R&B Roots With NONE OF US ARE FREE
With over 15 million streams across all platforms under his belt, Vancouver musician Kuba Oms returns to his Soul/R&B roots with his new single 'None Of Us Are Free' out now on all DSPs. Listen here.
"This is my cover of the old Solomon Burke song None Of Us Are Free," says Kuba. "It's my first ever recorded cover, and we strived to be as authentic as possible during the recording process, really going for an early '70s soul sound. I chose this song as the lyrics resonated deeply with me as there is so much suffering in the world, and this song can bring awareness to the power of empathy and compassion."
Kane & James return w/ throwback jangle-pop on "Fallin'"
The track premiered via Under The Radar Magazine who noted, "The band brings forth an irresistibly breezy energy, carried by chugging rhythms, syncopated strikes of guitar, and danceable bass grooves. The results feel endlessly sweet, combining jangly indie guitars with the sharp pop instincts of '70s AOR rock."
LANA DEL REY ANNOUNCES NINTH STUDIO ALBUM, 'DID YOU KNOW THAT THERE'S A TUNNEL UNDER OCEAN BLVD'
Alongside the announcement of the new album and on sale pre-order, Lana today releases title track 'Did You Know That There's A Tunnel Under Ocean Blvd' written by Lana Del Rey and Mike Hermosa and produced by Lana Del Rey, Jack Antonoff, Drew Erickson and Zach Dawes. The new track is accompanied by a visualiser, which can be found on all participating partners.
French label Music Records reunited 5 of its most extreme metal bands for a split called 'ALUTIAE'
French prolific metal/extreme and rock label Music Records (Twisted Mist, Evil-Minded, Angel Rising, Spirit Bomb…) recently 5 of the most extreme bands from its roster to release a 5-way split album called 'ALUTIA #1 : "Death Opatium".
poolblood's "wfy" single + video (co-prod w/ Shamir)
ANGELIC DESOLATION Reveal New Single "Paco's Satanic Taco Truck"
Blood, guts, Satan, and tacos; what more do you need this holiday season? Death metal outfit, ANGELIC DESOLATION, have revealed the first single off their upcoming album "Paco's Satanic Taco Truck".
SANTAFERIA RELEASES NEW ALBUM DESAFIÁNDOLO TODO
Popular Chilean cumbia group Santaferia has released their new and seventh full-length album on digital platforms. The album follows their successful 2021 album Cumbia Casera, a project that—given the health situation—was recorded in the musicians' home studios and garnered MUSA and Pulsar awards.
Lu Chin Chen ft. Masta Ace, Craig G & Kia Jeffries "Nothing Matters"
Peep the new video, "Nothing Matters", featuring Craig G & Masta Ace of the Legendary Juice Crew and Kia Jeffries (Put It In Your Mouth), who provides the beautiful vocals for the chorus. Directed perfectly by Box Visuals.
French Rockers Time Zero Releases New Album "New World"
The French quartet TIME ZERO was formed in 2011 with the ambition to focus on their own creations. On voice and guitar, Dominique, and Yannik, on drums, support the next generation, in this case their sons Raphaël and Yann, guitarist and bassist. A family story that creates a magical osmosis.
BRONX DRILL STAR SHA EK REVEALS "O TO THE G" MUSIC VIDEO
DISCONNECTED SOULS Release New Christmas Cover "Can You Stop The Cavalry"
Cabaret-Vaudeville Indie Rock's Dust Bowl Faeries!
ELECTRIC MOB DROP VIDEO FOR "LOVE CAGE"
Frontiers Music Srl will release the sophomore album from rock n' roll juggernauts ELECTRIC MOB, '2 Make U Cry & Dance', on January 27, 2023.
STACEY RYAN TO OPEN FOR JAKE WESLEY ROGERS ON 2023 NORTH AMERICAN TOUR
Singer, songwriter, and multi-instrumentalist Stacey Ryan wraps up a breakthrough year with the announcement of her support slot on Jake Wesley Rogers' upcoming North American tour. The Peace Love & Pluto tour kicks off in Tampa, Florida on February 24th making stops in LA, Chicago, NY, and more before wrapping in Nashville on April 12th.
BLACK CROSS HOTEL: Treble Unveils "Windows" Video
BLACK CROSS HOTEL, the horror punk/industrial metal unit featuring members of Stabbing Westward, The Atlas Moth, Minsk, Broken Hope, Whipped, and more, has unveiled their new video for "Windows," now playing at Treble. The track comes by way of the band's recently released debut full-length, Hex.
Watch the eerie video for Black Cross Hotel's gothic dirge, "Windows"