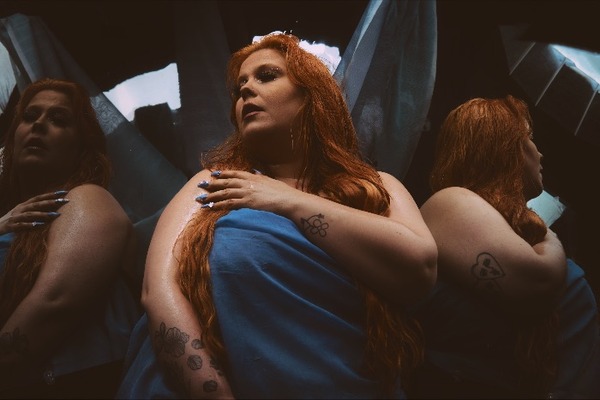 @skopemag news – wednesday – december 7, 2022 @ 12 pm est
@skopemag HQ – http://smarturl.it/skope
The process of making this song was tapping into my emotions and writing something down on paper. I used my pain from the past to move to the future and not look at my past as something I should remember with pain but a lesson to move on and become someone I can be proud of. Life has many stages and often you realize these things through hard lessons, I wish to live a life that I have no regrets, so what I did was encapsulate these emotions and thoughts into a song called Motions.
Swiss death/thrash/indus-metal crossover band Lethal Technology streamed entire debut album 'Mechanical Era'
As announced a few weeks ago, about 10 years after a first EP released under the monker of Seventh Wave, Swiss death/thrash/indus-metal crossover four-piece Lethal Technology ijust gave birth to its debut full-length effort called 'Mechanical Era' and available right now on CD & Digital through Bandcamp.
Tipene shares new single We No Muck Around
Aotearoa hip-hop artist Tipene has unveiled his first single 'We No Muck Around' taken from his soon-to-be-released EP of the same name.
The single sees Tipene represent his Aotearoa East Coast hip-hop roots with the track being sonically reminiscent of the early 2000's nostalgic sound making 'We No Muck Around' a track that is purpose built for the summer.
GODS OF DECAY Release New Official Video For 'Collective Psychosis'
Collective Psychosis is the new music video from Gods Of Decay for their first full-length album of the same name. The music video features vibrant colours and dynamic cuts inspired by cyberpunk visuals of such movie masterpieces as 'Bladerunner', the aesthetics of which are coincidentally reminiscent of Tokyo's neon city lights, adding a tinge of the occult from 'The Exorcist'.
VARMIA Return With "Gorzkie Fale" Music Video
Polish pagan black metal group VARMIA – who pay tribute to their Baltic roots by combining black metal with traditional instruments such as the goat horn and the tagelharpa – have returned with another new music video for "Gorzkie Fale" –
LITTLE TEALEIF releases 'Charcoal' EP + new video
Currently based in Kent, the multi-instrumentalist, producer, and lyricist's music is easily relatable and tackles modern themes such as isolation, inadequacy, addiction, and self-belief; all delivered with perfectly crafted genre-bending skill.
DMA'S share new track 'Olympia'
Today, DMA'S continue to tease new music from their highly-anticipated fourth album How Many Dreams?, with the release of new track Olympia. Recent new cuts from the album – 'I Don't Need To Hide' and 'Everybody's Saying Thursday's The Weekend', the latter of which is nominated for Radio X's Record Of The Year 2022 – have so far showcased the band's willingness to make moves into increasingly electronic circles but with the arrival of Olympia we hear the trio take their sound closer to where it all began: earworm guitar riffs, sweeping melodies, and the thrust of yearning indie-rock at its purest.
GODS OF DECAY Release New Official Video For "Collective Psychosis"
Collective Psychosis is the new music video from Gods Of Decay for their first full-length album of the same name. The music video features vibrant colours and dynamic cuts inspired by cyberpunk visuals of such movie masterpieces as 'Bladerunner', the aesthetics of which are coincidentally reminiscent of Tokyo's neon city lights, adding a tinge of the occult from 'The Exorcist'.
The band, in its peculiar manner, is aspiring to incorporate the visual elements that are not generally considered to mix together making up for a bizarre but satisfying experience.
ORBITAL — Release New Single: "Ringa Ringa (The Old Pandemic Folk Song)"
Orbital have today released their new single "Ringa Ringa (The Old Pandemic Folk Song)" featuring The Mediaeval Baebes through London Records.
The track is the second to be taken from Orbital's new album Optical Delusion – set for release on February 17, 2023 (pre-order) – following the BBC6 Music playlisted lead single "Dirty Rat", an incendiary collaboration with Sleaford Mods whose brilliant video has swiftly racked up half a million views.
BASTIEN release quirky jangly indie banger 'Green Garden'
Finding terra firma in the genres of new wave, soft rock, psych and jangle pop, the four-piece have drawn comparisons to bands such as The Field Mice, Teenage Fanclub, and REM and on this outing, which is their first single ahead of their debut EP release slated for early 2023, there is something extremely palpable in the air, which feels a little like hearing The Smiths for the first time on a rainy night in Manchester.
FVNERALS release new video single 'Ashen Era'
Coinciding with the kickoff of FVNERALS' tour with SYLVAINE at the Krøsset in Norway's capital Oslo tonight, the dark doom duo releases a new video clip for their track 'Ashen Era' as the second single taken from the forthcoming album "Let the Earth Be Silent". The full-length has been scheduled for release on February 3, 2023.
MEECHY DARKO SHARES "PRADA U" VIDEO
Today, Meechy Darko shares a new video for "PRADA U", taken from his critically acclaimed debut album, Gothic Luxury, out now via Loma Vista Recordings. Meech is currently on tour in Europe supporting Joey Bada$$, and recently appeared on HEALTH's remix of Korn's "Worst Is On Its Way" alongside Danny Brown, which The FADER described as "laced with venom". Watch the Jagger Corcione directed video for "PRADA U" below, where we follow Meech through a day in the life in a Grand Theft Auto-esque universe.
AHAB Presents Music Video for New Album Single "Colossus of the liquid graves"
January 13, 2023 sees extreme doom metal masters AHAB return with their fifth studio album, entitled 'The Coral Tombs', via Napalm Records. The album is the band's first full-length offering in eight long years.
CIVIC Release New Single "Born in the Heat" Today; New LP out 12/10 via ATO Records
Melbourne-based five-piece CIVIC – Jim McCullough (vocals), Lewis Hodgson (guitar), Roland Hlavka (bass), Jackson Harry (guitar). Matt Blach (drums) – return today with a frenetic and driving new single "Born in the Heat" – stream via your preferred DSP HERE. The song is a frenzied blast of raw tension that captures the psychic unrest of feeling hopelessly detached from your own surroundings and circumstances. When asked about the single McCullough shares "'Born in the Heat' Is about resistance. It's about being lead or distracted by something that seems alluring, only to find yourself trapped somewhere you don't belong. There is a moment of defiance and a stand, then change. The born in the heat reference is just for fun really, an ode to being born in the Australian climate. It conveys good imagery."
Groove and growl and a complete lack of what Mac called 'self-care'
Mikaila Murphy Shares Satirical, Sexy & Infectious Christmas Single 'Ho Ho Ho'
Mikaila Murphy returns with the infectious, satirical, sexy and feverishly catchy new Christmas single 'Ho Ho Ho'.
After breaking through with a series of impactful singles throughout 2022, Mikaila has quickly risen, picking up widespread acclaim and building a feverish fanbase. Now back with her first ever festive release, Mikaila allows her love for Christmas shine on a track packed with the R&B-Pop grooves, sultry tone and catchy hooks that she has become known for.
Indie/Alternative Musician CARTER VAIL Signs to Assemble Sound (Atlantic Record)
Indie/alternative musician and producer CARTER VAIL made waves with his 2018 debut single "Melatonin" which was instantly added to Spotify's popular "Dreampop" playlist, garnering VAIL a grassroots fan base and cult following on social media. Since then he's independently released several singles and EPs, and his debut 2020 album RED EYES was described by Atwood Magazine as an "excellent introduction to his spectacularly evocative artistry" while praising its "dynamic beats, catchy lines and charismatic, feelgood indie pop charm."
Today's Song: Carter Vail Soars on Sun-Soaked & Sweetly Seductive "Nancy Again"
Cabaret-inspired indie rock DUST BOWL FAERIES reveal "Lost In Time" video… New EP out January 2023
"I'm not gonna lie, the camera was really noisy and I could feel it coming at me as I was lying in the field," recalls RYDER COOLEY, the singer, songwriter, accordion player, and bandleader for New York-based, cabaret-inspired indie band DUST BOWL FAERIES about filming their new video with a drone camera for the first time. Released today, December 7th, the video for their new single "LOST IN TIME" is filled with picturesque aerial shots of their native Hudson Valley, NY, courtesy of the clangorous drone. "I was trying to stay in character and not look up, but it felt like we were being attacked by a giant insect or even a bomb of some sort," she laughs.
Guitar Virtuoso Marcelo Paganini Releases Two Videos From "Identity crisis" Album and Announces First Solo Show in Spain and Brazil Tour 2023
French-Brazilian guitar virtuoso Marcelo Paganini released the critically acclaimed album "Identity crisis" on his birthday on December 11, 2020. On Saturday December the 10th 2022 at 8 pm, he will play his first solo birthday show in Spain, at the magical small mountain town of Osor, in the comarca of la Selva in Catalonia, Spain, where his recording studio has been located since last year. Marcelo Paganini will also officially release two videos.
The Beatles release Rok Predin directed video for 'Here, There And Everywhere'
Watch the new official video for The Beatles' "Here, There And Everywhere" by Trunk Animation.
"Follow the band on tour, as they face an ever-changing backdrop of cities, hotels, roads, and gigs, with only each other to rely on. A magical dancer appears to each of them, representing inspiration and creative freedom." – Richard Barnett, Trunk Animation.
Alice SK deals with forbidden romance with wintery new single 'On The Road'
'On The Road' is a sumptuous string laden story about a toxic love and adoration for an apathetic / good-for-nothing man. It portrays a naive girl who has fallen for the first time and buys ​the manipulation without really understanding what's going on until it's too late.
LASTBREATH: Sardinian hardcore stalwarts premiere "Numbers" lyric video
Today, Sardinian hardcore stalwarts LASTBREATH are premiering the lyric video of "Numbers". The song, which features Josh from TO KILL and TEMPEST on vocals, is taken from the band's debut album, "Vendetta", out now via Time To Kill Records.
WHITE REAPER SHARE NEW SONG & MUSIC VIDEO – "FOG MACHINE"
White Reaper have shared "Fog Machine," a brand-new single off their forthcoming album Asking for a Ride, which will be released January 27th on Elektra Entertainment. Available today on all streaming platforms, "Fog Machine" is joined by a Max Moore directed music video – watch it HERE.
OAK Shares New Song + Music Video, Reveals New Album Details
BEGONIA SHARES THE NEW SINGLE 'COLD NIGHT' – WATCH THE OFFICIAL VIDEO HERE
Begonia's reputation as one of the biggest, boldest voices to emerge from Canada in recent years continued with her recent single 'Right Here'. Earning airplay and acclaim that stretched into the UK, US, Germany and beyond, it provided a taste of the JUNO Award and Polaris Music Prize nominee's second album 'Powder Blue', which follows on February 24th. She now takes another big step towards the album by sharing its latest single, 'Cold Night', and an accompanying video. Listen HERE. W
Joe Luke Bailey Releases Talk Talk & East 17 Producer Charity Christmas EP
An award-winning wedding and events singer-guitarist, but also a passionate songwriter and creator with a history of gigging across the UK, Joe Luke Bailey has had a rich musical career. The solo artist is now turning his gaze to spreading joy with an EP of original Christmas songs 'This Time Of Year' released not only to celebrate his favourite time of year but also raising awareness and funds for Give A Gift.