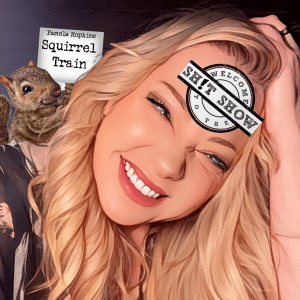 Reviewed by: Lee Callaghan
Evolution Music Press
November 24, 2022
The ever-witty Pamela Hopkins is back with another thought-provoking introspective piece; Squirrel Train. A song that celebrates, pokes fun of, and mocks her scatterbrained mind easily distracted with ADHD. A Country track written in a blues format with the familiar train chugging rhythms to help cast the imagery of a train, and the encapsulation of the feelings behind the lack of concentration is therefore mentioned. "Squirrel train trying to leave the station, squirrel train my brain goes on vacation." A noticeably self-deprecating reflection, Squirrel Train was written as a tribute to the band behind our wonderful vocalist, dubbed the Squirrel Train Band. THe song is also reflective and meant to be related to a vast audience who also suffers from concentration issues, whether as a result of a medical condition or even a lack of coffee in the morning. It is a very accessible subject matter that while can be serious, is still a fun topic that we can all share a smile over. Musically, Squirrel Train is set to that chugging rhythm; however, the incidental guitar solos and fills coupled with the string player's harmonization with the vocals add a unique dynamic to this essentially simple and easy-to-follow theme. Squirrel Train in essence is meant to be a fun song that can easily be enjoyed in any setting. This follows along with some of Pamela Hopkins' previous hit singles; Givin' a Damn (Don't Go With My Outfit), Crankin' Up The Crazy, and One Too Many. A pleasant contrast to her more serious and sophisticated numbers like my absolute favorite Country track; One More Last Kiss.
Squirrel Train would be an excellent addition to any commercial Country radio playlist. It has infectious melodies, a sing-along chorus, and a unique hook which makes it so enjoyable. The production is very professional, as there is plenty going on with this song, as the subject matter indicates. The frequencies are expertly separated allowing each sound to travel across the listening spectrum clear and crisp, while the allotted headroom allows playback at high volumes, which is most recommended for this track. This in essence is a song that showcases an artist having fun. And that is very important in today's world, so thank you Pamela Hopkins for showing us that it is still ok to just have fun making music and laughing, mocking, and celebrating our scatterbrained nature.