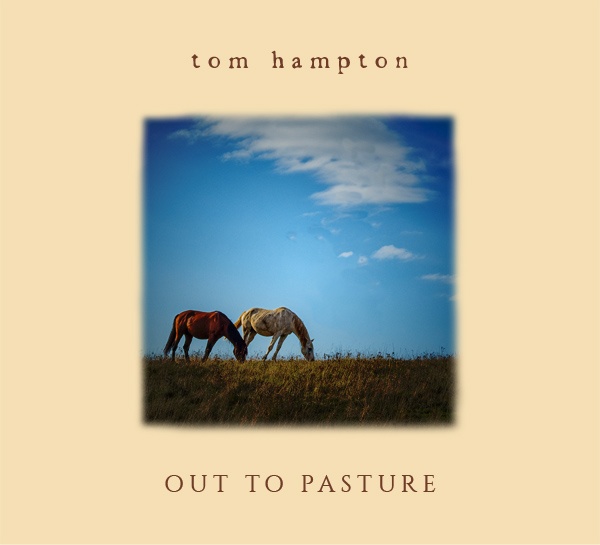 If you're a fan of the long-running band Poco and love memorable, country rock ballads then you will love this new release by Tom Hampton. 'Out To Pasture' is an impeccable tribute album and also serves as a quintessential Americana record for today. Tom Hampton is offering listeners a glimpse into his vast musical history while also honoring the timeless music of Poco.
Tom Hampton was the last member to be invited into the Poco lineup in 2020, but unfortunately longtime members, Rusty Young & Paul Cotton both passed away in 2021. Poco's legacy lives on with Tom Hampton's latest album titled 'Out To Pasture'. Hampton breathes new life into the classic Poco songs on 'Out To Pasture' proving that good music never dies or goes out of style. 'Out To Pasture' is Tom's first studio release in a decade and he includes two original songs, ("Wildwood" & "Legends") and one song he co-wrote, ("Where Did The Time Go"). Tom Hampton supplied all vocal and instrumental parts on the record and each track on 'Out To Pasture' was recorded live and in real time. The end result is nothing short of fantastic as 'Out To Pasture' is a real joy to listen to and should be cherished by many.
"Wildwood" is the opening number and what you receive is a reflective piece with sincere 'n' heartfelt lyrics. Just as Eagles sang about that "Peaceful Easy Feeling", you get that same vibe here from Tom Hampton on "Wildwood". Next, you have "One Tear At A Time" written by Rusty Young from Poco's 2002 album, 'Running Horse'. "One Tear At A Time" offers everything you could want in a song: pleasing melodies, fine harmonies and a catchy hook. Track three, "What Do People Know", is also written by Rusty Young and is off of Poco's 'Legacy' album. Once again, "What Do People Know", is the total package when it comes to a complete song where it's the kind of golden sound one will gravitate toward. Tom Hampton will entice listeners on the following number, "Please Wait For Me" where Hampton's singing and playing will make your ears very happy. Written by Paul Cotton and off of Poco's 'Blue and Gray' album, "Please Wait For Me" is performed flawlessly by Tom Hampton. The next song is actually "Blue and Gray" and is full of bright elements that surround you and warm you inside & out. Track six, "Crazy Love", starts off with a recording of Rusty Young discussing this special song and how important this song was to Poco. "Crazy Love" spent several weeks at the #1 spot back in 1979 and was the deciding factor toward Poco continuing on as a band. Tom Hampton delivers harmonious chords on "Crazy Love" and this wonderful ballad will stick with you whether you like it or not. "Us" is another Rusty Young composition from Poco's 'Head Over Heals' album and features emotional chords pouring out at you. "Us" provides a BIG impact in under 2 minutes where Tom Hampton is getting right to the point by hitting on all the right notes. "Legends" is up next and written by Tom Hampton to honor those before him and also to shed light on Hampton's musical path to this point. Tom gives a strong & genuine performance here where he's playing for "Legends" while sounding like a legend himself. "Legends" is a fitting tribute to all of the music pioneers and also paints a clear picture of Tom Hampton, the traveling musician. Track nine, "Running Horse", features a sound byte of Paul Cotton in the beginning and he is the writer of this song. Tom Hampton delivers a proper send off with "Running Horse" galloping along into the sunset. "Running Horse" has a sentimental tone that is striking to the core with Tom Hampton taking the spirit of "Running Horse" into wide open spaces & places. The final song is called "Where Did The Time Go" and Rusty Young came up with the chorus in the early 2000's. With the recent passing of Rusty, Tom Hampton decided to add in verses to complete the song in honor and remembrance of Rusty Young. This song does just that by making you stop and think for a second "Where Did The Time Go". The message and theme can relate to everyone because time does fly and even though days fade away, memories live on forever within our hearts. "Where Did The Time Go" is the perfect ending to a well-scripted story as this final chapter is both powerful and engaging.
Tom Hampton should be on cloud nine after all of the blood, sweat and tears that went into the making of this phenomenal record. 'Out To Pasture' is an instant classic in my book and should be hitting the airways worldwide for all to enjoy. Tom Hampton is an accomplished musician and it's no surprise that he has been a successful sideman and utility player appearing with: Marshall Tucker Band, Pure Prairie League, Craig Bickhardt, Robert Hazard and many other notable acts. Pleasing to the music community and to Poco, Tom Hampton has captured real voices and graceful horses on 'Out To Pasture'. Tom Hampton has planted the seeds on 'Out To Pasture' with a solid foundation, rich substance and vitalizing material that will grow on you.
By Jimmy Rae