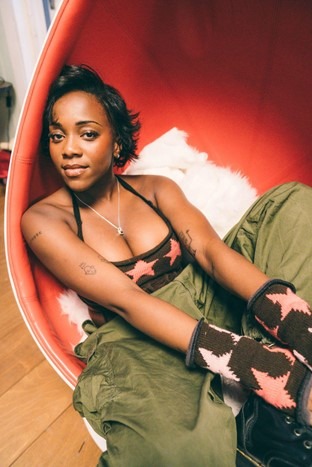 @skopemag news – friday – november 18, 2022 @ 3 pm est
@skopemag HQ – http://smarturl.it/skope
OLIVIA O'BRIEN DROPS NEW MICRO-MIXTAPE "A MEANS TO AN END"
"A Means To An End is about navigating relationships (both romantic and platonic) as a young adult. In 'Gone Girl,' I talk about being unhappy with the life I've created for myself and the superficiality of it all… when you just want to run away and start over, but you're afraid to lose everything," O'Brien explains. "'What Are We?' and 'Never Be The One' explore the complicated realities of 'dating' without being in any real relationships. Being compelled to ask 'What Are We?' is something almost every young person goes through in the age of 'situationships' and talking stages, whereas 'Never Be The One' illustrates a more romanticized situationship in which you can see the beauty in just experiencing life with someone without ever putting pressure on each other to do anything more."
TRIBUNAL: Vancouver-Based Gothic Doom Metal Duo To Release Debut LP
Featuring classically trained cellist/bassist/vocalist Soren Mourne and guitarist/vocalist Etienne Flinn, TRIBUNAL's brick-heavy classic doom riffage borders on death metal heaviness, like My Dying Bride filtered through a colossal stained-glass edifice. The sound is instantly familiar with nods to the '80s and '90s but never sounds retro or like mere homage. Rather, The Weight Of Remembrance evokes the feeling of a painstakingly composed orchestral movement fit for a crumbling cathedral overgrown with moss. The duo frequently trades off vocals alternating between haunted wailing cleans, scathing black-metal style shrieks and dread-filled death calls.
Tor Lundvall shares "Dark Sea" single from 'There Must Be Someone' CD Box Set, out Dec 9 on Dais Records
To commemorate the quarter century anniversary of Tor Lundvall's self- released debut, Passing Through Alone, Lundvall and Dais have joined forces for a fresh 5-CD box set of long out-of-print titles, vinyl-only releases, and unheard bonus tracks: There Must Be Someone. Spanning 33 years, the collection showcases the subtle but striking evolution of Lundvall's sound, from brisk autumnal synth-pop to desolate dark place devotionals to fragile winter moon meditations and beyond. What remains constant is his exquisite sense of mood and movement, qualities reflected in his iconic oil paintings of willowy figures amidst luminous, liminal landscapes.
LAUREN SPENCER SMITH STUNS ON CHRISTMAS SONG "SINGLE ON THE 25TH"
Lauren Spencer Smith is a generational talent and has earned praise for her versatility, from both her powerhouse vocals to her detailed songwriting. Today, she shares a sparkling, stunning Christmas single. "Single On The 25th" is for anyone who has experienced feelings of loneliness during the holiday season. She sings, "Maybe it's the time of year, and how it brings up what I fear/I'm by myself, wishing I had someone else/Wish the day would go away, so I'd never have to face what date it is/'Cause I hate being single on the 25th." The song's moody tone pairs perfectly with Lauren's angelic vocals.
Giggs Releases New Dancehall-infused Single/Video "Big Mout" ft. TeeJay Today
New Music This Week: Neil Young, BROCKHAMPTON, Weyes Blood, Jimi Hendrix and More
New Releases for November 18, 2022 – Here are the AllMusic editors' picks for the most noteworthy releases this week. Looking for more? Visit our New Releases page.
Producer-Artist ATTLAS and Songwriter Richard Walters form Sun Lo; Sign to Nettwerk
Today, Canadian electronic artist/producer Jeff Hartford aka ATTLAS and British songwriter/vocalist Richard Walters officially unveil their new collaboration, Sun Lo. The duo joins Nettwerk and releases their debut single "Factory Gates." Despite never meeting in person, the duo formed a fast friendship online that soon evolved into a musical collaboration. Ironically, the new project addresses themes of technology and it's influence on human connections. The urgent pianos and textured synths eb and flow under Walters' soaring, cinematic lyricism and build to the poignant line: If I could just escape this room.
OUT NOW: Cardi co-signed Lola Brooke flexes hard in new "Here I Come" video
Paper Idol Shares "The Playground" Single via FLOOD Magazine
Today, electro-pop artist Paper Idol (Matan KG) shares his most ambitious project to date: The Playground (out now via all DSPs). The LP chronicles eight stages of childhood in eight tracks, from the days of sidewalk hopscotch to teenage nihilism and everything in between. The music was produced in both the United States and Israel, the two countries in which Matan spent his formative years. In an attempt to keep the music raw and authentic, Matan wrote, produced, and mixed all the tracks himself in collaboration with his bandmate Adam Rochelle. The album artwork was created by Matan as well, which pulls inspiration from minimalism and analogue collage to create surreal playgrounds out of notebook paper.
RACHEL CHINOURIRI DEBUTS "I'M NOT PERFECT (BUT I'M TRYING) ACOUSTIC"
"Billy Bill" by Tongue Hammer
Tongue Hammer's debut single 'Billy Bill' is a classic story of a band that breaks up on their first gig after the singer finds out the guitarist is sneaking around with his woman. Paying homage to the blues, you can hear the bands roots in raw, unadulterated rock and roll. The development of the song and story brings the listener to a place of familiar fury, that of a man who is losing his lady to his best buddy. The band's musical prowess shines through in the composition and virtuosic performance that is "Billy Bill"
OMERETTÀ THE GREAT RELEASES NEW EP "EMOTIONAL GANGSTA"
The 8-track project has no shortage of hip-hop bangers. It opens with the energizing "Back to the Basics," where Omerettà flexes her Southern swagger and unleashes a flurry of hard-hitting flows. She gets deep into her emotions on "Mr. Right," featuring the ever-eloquent Tink, and she features Key Glock on "My Way." In "God's Child," Omerettà speaks from the heart and declares her undeniable presence in the rap scene.
LESLIE ODOM, JR. NEW HOLIDAY BOX SET 'MERRY MERRY' OUT NOW
Today, Grammy and Tony Award-winning vocalist, songwriter, author and actor Leslie Odom, Jr. releases his holiday vinyl box set, MERRY MERRY, via BMG.
The 2LP set features The Christmas Album and Simply Christmas (Deluxe Edition) on red and green vinyl, a "Merry Everything" Christmas ornament and Christmas card signed by Leslie.
What is Christmas with no "SNOW"?
John Driskell Hopkins, founding member of the GRAMMY-winning Zac Brown Band performed "You Light Up My Life" by three-time GRAMMY winner Debby Boone for his friends and family at the age of 6 at a Christmas gathering in 1977. 45 years later, while recording his fourth Christmas album, Hopkins was gifted an original pressing of "You Light Up My Life" and though he could only dream of once singing with one of his greatest inspirations as a performer, Debby enthusiastically agreed to join him on the song "Snow", once recorded by her mother in law, Rosemary Clooney.
Alex Mabey's "The Well" processes power dynamics after a painful divorce – new album Feb. 17
Alex Mabey's new album, The Waiting Room (Feb. 17), takes listeners on an intimate journey of finding the courage to leave an unhealthy marriage; the album's next single, "The Well," is out today, and explores her experience of processing the painful feelings that followed in the wake of walking away.
All-Star Charity Project FEELINGLESS Unleash Brand New Track "Hope" (feat. Christian Älvestam)!
Today, all-star charity project Feelingless release a mesmerizing new track titled "Hope", taken from their forthcoming studio album Metal Against Animal Cruelty, out on December 2nd via Noble Demon. While the first two singles already featured high-caliber guest contributions by Björn Strid (Soilwork), Jake E (Cyhra) & Rachel Aspe of Cage Fight, the band's new track brings in Christian Älvestam, who may be known to many as a member of legendary acts such as Solution .45, Miseration, and Noble Demon label mates Cipher System!
Raleigh, NC Lo-fi Producer linanthem Signs to Nettwerk, Shares 'wind in my sails' Single
Nettwerk Music Group is thrilled to announce the signing of lo-fi producer linanthem. The Raleigh, NC-based artist joins Nettwerk's growing roster of instrumental artists that includes Oatmello, Nathan Kawanishi, Mr. Käfer, Phlocalyst, frumhere and others.
[experimental] Ben LaMar Gay's 'Certain Reveries' Out Now on International Anthem + Balogun (tribute to Eddie Harris)
Ben LaMar Gay's new album, Certain Reveries, is out now on International Anthem. Conceived separately during the same period as Certain Reveries, BLG has also just released in tandem his mesmerizing short film Balogun. The FADER premiered along with a Q&A.
Melodious melancholy // Xana unveils dreamy pop single!
Emerging from Vancouver Island, Canada, Xana is an emerging pop powerhouse. Her command of pop music keeps her songwriting enthralling, as her blissful vocals glide across the most intimate storytelling and worldbuilding. It's her intoxicating vibrance that sets Xana apart, as she encompasses themes of LGBTQ romance, female empowerment, sex positivity, self-reflection, and discovery across her flourishing repertoire.
The Intemperate Sons Release New Single "Remission" to All Major Platforms via FRAME|WORK Today!
"This track is the final release off the album, "The Color Within", and is a collaboration with Amir Derakh (Julien-K, Dead By Sunrise, Orgy, Rough Cutt) bringing together his mastery at the mixing dials and his versatility as a musician helping out on bass. The Intemperate Sons explore the vivid nightmares manifesting from trauma and how some choose to deal with it. The Intemperate Sons will follow this track release up with a created by John Wilson from Rimshot Graphix. Remission was recorded at The Kitchen Recording Studios in Dallas, TX and mixed by Amir Derakh in Long Beach, CA. Mastering was done by Mike Marsh Mastering in the U.K." says the band.
Out Now: SAN ROMAN releases debut album 'MESSY' (RIYL: Paramore, Death Cab For Cutie)
Freakin' Disco cooperated with Grammy winner producer
CATALYST: French Technical Death Metal Band Issues Video For Title Track To Second Album
Metz, France's technical/progressive death metal quartet CATALYST today delivers another new video in the form of the title track from their recently released second LP, A Different Painting For A New World, out now on Non Serviam Records.
THOMAS TRUAX — Teams Up With Budgie For New Single: "Everything's Going To Be All Right"
American singer-songwriter and inventor THOMAS TRUAX has joined forces with infamous drummer Budgie for "Everything's Going to Be All Right".
An eerie post-punk track that sees sharp spoken-word vocals, atmospheric guitar wobbles and reverb-drenched tremolo descend towards a catchy chorus that sees Truax bear his upbeat rock'n'roll teeth, "Everything's Going to Be All Right" is taken from a new album 'Dream Catching Songs' (due January 2023).
[Single] BlackLiq & Ohbliv – Good prod. by Ohbliv
Look for their project "What Will It Take" presented by Man Bites Dog Records on December 16th. The EP features six songs spotlighting BlackLiq's unique talent for expressive and blunt storytelling with the perfect musical score provided by producer Ohbliv. It will be on bandcamp for 30 days before hitting all DSPs. Physical formats will include a double sided 7 inch lathe, Compact Disc & Tape all available for pre-order and signed, numbered in limited quantities. Pre-Order it now Here!
Isaac Hoskins Returns To Fine Form With Brand New Album Bender
A return to form or righting of the ship has hardly been so poetic as songwriter Isaac Hoskins' latest life chapter. Down, out, and, quite frankly lost, after the pandemic side-barred his music career, Hoskins worked stints as a bartender, construction worker, beer truck driver, and ranch hand before things came to a head. The writing was on the wall: something had to change. After three days alone in the desert, Hoskins came home and started over. Today, Hoskins is 12 months sober and 30 pounds lighter. To top it all off, his music career is as good as its ever been, having just had two songs—"H-Town Turnaround" and "Off The Wagon"—featured in this current season of the mega-hit television series Yellowstone; an outlet known for hipping viewers to some of the best, most honest, and hardest hitting songwriters on today's scene.
Interview: Isaac Hoskins on new album 'Bender' & getting 2 songs featured on 'Yellowstone' Season 5
For Skope: Dutch talent Lukas Vane returns to Protocol with vocal tech-house single ft. Jex (out now)
TODAY Evil Tongues share 80's inspired Juno/Grammy awarder produced synth pop video "Catch Me"
BREAKOUT STAR NICKY YOURE SHARES INFECTIOUS NEW SONG "EYES ON YOU"
Indulge In North East Bistro's Monster New Single "We Both Lived At Night"
North East Bistro is one of the oldest bands still hanging around in Montreal, Canada, and has been since the beginning of the millennium. They have released three albums, an EP, and a handful of singles, and have a new single "We Both Lived At Night" ready to present to the world. With influences ranging from Alice in Chains to Iron Maiden to Slipknot to Baroness, they play dynamic rock that will be intriguing to people far and wide. Bassist Ben Forté comments on the single:
North East Bistro Premiere Their Hard and Heavy Single "We Both Lived At Night"
Emerging rapper Mazen premieres new song "The Hills"
OUT NOW: Oakstop Alliance Unveil Debut Single "Just Because" ft. Homeboy Sandman, Honest in 10land, & Tone Oliver
Oakland, CA nonprofit Oakstop Alliance is proud to announce upcoming Royalty Summit album. Through Oakstop's newly formed Oakland Resident initiative, the nonprofit and acclaimed emcee Homeboy Sandman have curated a 12-track album showcasing the city's emerging artists. Along with the announcement, Oakstop Alliance shares the project's first single "Just Because" produced by Pat Messy and featuring Homeboy Sandman, Honest in 10land, and Tone Oliver.
Media Alert: GROUNDLIFT Release New Single "A Quick Fix"
AB-SOUL ANNOUNCES NEW ALBUM 'HERBERT' + DROPS NEW VIDEO
NETFLIX SHARES THREE TRACKS FROM FORTHCOMING FILM GUILLERMO DEL TORO'S PINOCCHIO
In the film, Oscar-winning filmmaker Guillermo del Toro reinvents the classic story of a wooden puppet brought to life in a stunning stop-motion musical tale. The characters are voiced by spectacular talent including Ewan McGregor, Cate Blanchett, Tilda Swinton, Cristoph Waltz, and more.
BLANE HOWARD RELEASES NEW CHRISTMAS ALBUM
Country music singer/songwriter and recording artist Blane Howard recently released his new Christmas album "Christmas in the Car" (produced by Blane Howard and John Shaw).
OUT NOW: Glimmers release brand new single "Midas Touch"
"Midas Touch" is the next chapter in this era of glimmers. While the track has an upbeat pop/rock vibe, the lyrics are a bit more somber as they reflect on the idea of self-sabotaging a relationship. You're so into someone but continue to want more and more but ultimately, you begin to burn bridges and everything falls apart. The title takes inspiration from the myth of King Midas which shows what happens when true happiness is not recognized.
HYEENA: Boston-Based Act With Ex-Members Of Ligeia And More To Release Debut LP
HYEENA was formed in 2019 by Keith Holuk and Austin Bryant. Holuk was formerly the vocalist for Ligeia and sang on the Ferret Music-released Bad News and Your Ghost Is A Gift albums. Following Ligeia, he joined Ireland based band Hero In Error and spent time touring and recording with them. Bryant is a Boston-based percussionist, performer, and educator who has studied with such performers as Fred Buda, Jeffrey Fischer, Dave Dicenso, Bob Gullotti, and James Murphy. The duo is now joined by live bassist Mike Verlizzo.
HYEENA Drop Their First Single "Bring On The Storm," Announce Debut Album
T.G. Sheppard & Kelly Lang Join Forces With The Oak Ridge Boys For "White Christmas"
Country music legend T.G. Sheppard and singer-songwriter Kelly Lang are excited to announce the release of their version of the holiday classic, "White Christmas." Joined by Grand Ole Opry and Country Music Hall of Fame members, The Oak Ridge Boys, this fun and light-hearted rendition blends their unique vocal styles, creating an instant fan-favorite that will leave every listener begging for more. "White Christmas" was exclusively premiered by Cowboys & Indians and is available to download and stream on all digital platforms.
The Oak Ridge Boys Join T.G. Sheppard and Kelly Lang for "White Christmas."
LUCK EMBRACES THE WONDROUSNESS OF LOVE WITH 'lowkey HIGHKEY'
Luck explains, "[lowkey HIGHKEY] is full of soul and texture. This song explodes vocally, revealing the complexities in the characters of my voice. The tone is confident & vivacious.. and in this era of the woman, I think it's quite appropriate."
Platinum Recording Artist and Songwriter Sammy Adams Announces New Single via Wonderland Magazine Ahead of Tour/EP
Sammy Adams is a platinum selling rapper, singer, and songwriter, who has climbed the charts and overcome obstacles that showcase a combination of unparalleled talent and resilience. Adams started recording songs on his Macbook in 2008 from his college dorm room.
Annie DiRusso Shares New Single And Music Video For "Nauseous"
SPIN spoke with DiRusso about her new single who say, "candor is a huge part of DiRusso's appeal… 'All I wanna be is everything that you need and more/ If I were to give you everything, it wouldn't be enough,' she sings amid ping-ponging guitar riffs and upbeat drums. DiRusso parodies the desperation of these moments, dressing up as Marie Antoinette and chasing a guy around the suburbs, only to end up dry heaving on the sidewalk. If Olivia Rodrigo lived in the same neighborhood, these two heartbreak queens would probably be friends."
JAVIIELO DEBUTS "SANTUARIO" // JAVIIELO ESTRENA "SANTUARIO"
Excitement around Javiielo has never been higher with the latest release of his new 21 song album Santuario, cementing the young Puerto Rican's place amongst Latin urban music's elite. Led by the track "Bye" ft. Puerto Rican rapper Omy de Oro, Santuario takes listeners on a raw and emotional journey about heartbreak, love, and life's ups and downs. The featured single, "Bye" is a sexy song about courting a woman who seems unattainable due to her beauty and attributes, yet in the end Javiielo is confident enough to win her over with his smooth talk and seductive compliments.
Today Rozette shares masterfully performed single "Salt in the Water"
"People are hard to hate close up. Move in." This quote by Brené Brown resonated with Rozette, whose new single "Salt in the Water" conveys that we all want the same thing: To love and be loved. To feel safe. To see and be seen. Underneath all of the opinions, and the often divisive issues in our society, we are more the same than different. We are all doing our very best.
REMI WOLF RELEASES TWO CHRISTMAS SONGS "LAST CHRISTMAS" & "WINTER WONDERLAND"
Remi Wolf kicks off the 2022 holiday season with two new covers of the beloved Christmas songs: "Last Christmas" and "Winter Wonderland." Wolf has a knack for elevating the classics with her signature, stunning vocal style.
SAM SMITH SHARES NEW HOLIDAY TRACK, "NIGHT BEFORE CHRISTMAS"
A festive love ballad, "Night Before Christmas" will be added to Sam's magical Christmas compilation The Holly and The Ivy and includes previous releases "The Lighthouse Keeper," "Have Yourself a Merry Little Christmas," "Palace," "River" and "Fire on Fire" from the "Watership Down" Soundtrack.
Sam Smith Shares New Original Christmas Song 'Night Before Christmas'
CATS in SPACE fly into orbit with their new EPIC single and VIDEO
Billy Raffoul Shares Emotional New Single "I Wish You Were Here"
EMELINE EXPLORES THE PAIN OF FRIENDSHIP BREAKUPS ON NEW SINGLE "VENTING TO STRANGERS"
Both deeply intimate and intensely relatable, "Venting To Strangers" captures the pain of friendship breakups with an unforgettable specificity. After setting the scene with bracing self-awareness ("We were tied by trauma from the day we met"), EMELINE narrates her experience in parting ways with a former confidant, then details the loss of self-composure that comes with true heartache ("I fill the void with the boy in the backseat/Overshare through the glass in the taxi"). "Venting To Strangers" showcases the mesmerizing vocal work that EMELINE has previously displayed on singles like "cinderella's dead" — an early-2022 release that cracked the Top 20 of the Spotify Daily Viral chart and Top 25 on the US Spotify Viral 50 chart, in addition to amassing over 100 million combined global streams and over 500 million TikTok views.
RVBY MY DEAR the new EP out TODAY on Spirit House Records!
Today is the day! RVBY MY DEAR's latest self-titled EP is finally out via Spirit House Records. A story of love, loss, and self-discovery told through five dream-pop-tinged tracks, the EP embodies the musical prowess Gabbi Coenen has spent her entire life nurturing.
'SA SA SA' is BACHACO's ode to good vibes only – A freshReggae hit
The new single 'SA SA SA Remix ft. Gomba Jahbari' brings those infectious feel good vibes from the talented & prolific Latin Reggae artist BACHACO and Puerto Rico's hottest Reggae master Gomba Jahbari. With help from insanely gifted producer Jhon Paul "El Increible", this incredible remix was brought to life in a whole new light. The song is incessantly groove able and within seconds you'll be instinctively dancing along to the distinct Reggae groove and the offbeat drums which potently drive the song. It's a cultural melting pot of different genres and backgrounds given the songs Spanish lyrics fused with an instrumental rooted in Caribbean heritage and drenched in that gorgeous sunshine sound. The accompanying music video depicts the immaculate Miami scenery between Key Biscayne and Wynwood encapsulating the song's sound in a perfect visual depiction. 'SA SA SA,' is one for all music fans and is a certain contender for Reggae song of the year.
Danny Dwyer; The Hyper Pop Artist Returns With "League." Currently On Tour With Alexander 23 
Today hyper-pop R&B artist Danny Dwyer returns with his brand-new single "League," an inviting underdog's anthem for those who are overlooked and underappreciated. With the news of the release, Danny is excited to perform "League" live while currently on tour supporting Alexander 23 in the U.K., including stops in London, Paris, Glasgow, and more. "League" is a preview of what's to come from the world of Danny Dwyer in 2023.
New Music: Star2, Mozzy (CMG), Hoodtrophy Bino (SODMG), $tupid Young
FRESH NEW VOICE MIRANDA DEL SOL SHARES NEW SINGLE "HOW'S THIS?"
NYC-based singer-songwriter Miranda Del Sol is baring her soul on her latest single "how's this?." Heavily influenced by her Argentine-Cuban roots, the Miami-raised multi-faceted artist has a knack for boundary-pushing alt-pop and vulnerably honest lyricism.
JORDI UP LATE Shares "TO BE YOUR FRIEND" Single + Video via CHORUS.FM
Following the recent release of her latest single, "HOAX," 25-year-old LA-based electropop artist & producer JORDI UP LATE returns with another brand new single entitled "TO BE YOUR FRIEND." The track also comes alongside an accompanying music video, conceptualized and directed by JORDI UP LATE.