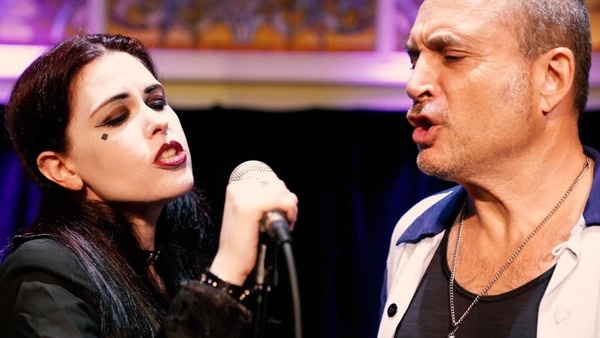 When did you first start writing songs for Killer Instinct?
About a year ago, last November, 2021, after the release of our last EP, Carly's Revenge. We got a good response to the EP, and we knew we had something. We learned a lot during those sessions – the hard way, because we learn all lessons the hard way – and we really wanted to get busy as soon as possible putting these lessons into action. We learned a lot about the art of recording, and the craft of songwriting.
What was the first song you wrote for the record?
The Killer Instinct. I was messing around with an old hook that I had and turned it into a song. We got a new singer, and she really likes to sing in her "power" range, so we created a chorus that she could just totally kill. The lyrics came about because I hate bullies, and I see a lot of bullying going on in this world. We cannot let them win.
Let's dive into the songs on the record. "Rock and Roll" come up a few times. We assume that the reference in "Negative" is an homage to Kiss. Is "She Loves Rock and Roll" an homage to Joan Jett?
You are correct!! We really do love rock and roll, and we love to pay homage to great bands and songs that preceded us. Of course, we're a band, but not just any band, we are a Rock and Roll band. To us, Rock and Roll truly is life affirming and life changing. I can't imagine a world without Rock and Roll. And it's hard to think of someone that represents the spirit of Rock and Roll better than Joan Jett. The song is all about her!
If so, are there others on the record that we missed? "Hot Dog" and "Alice" both sound like they could be about specific people.
Yes, you are correct again! Alice is a homage to our family female Corgi named Alice. Corgis truly are entertaining, engaging and incredibly lovable! We think it will make for a great video!
Everyone knows the subject of Hot Dog – it's that person that thinks they are cooler than everyone else. And they make sure you know it. And then for a while, people wish they were like that cool person, until they figure them out. That's where the Oscar Meyer wiener reference comes in.
If you could play a show with any artist (dead or alive) who would it be?
Hard question! So many amazing artists and bands. I would say the Clash when London Calling came out. Hard to imagine a band with more energy and power than that.
Speaking of shows, do you have any plans for a record release show or tour?
Yes, after the Holiday Season we will begin playing live shows again. Covid was really hard – a lot of what we have done as a band just happened to coincide with Covid. So, we were just determined to do what we could without live shows – which is make and record music. We are psyched to get back to playing live in 2023! We hope to have a multi-media live experience once we get going!