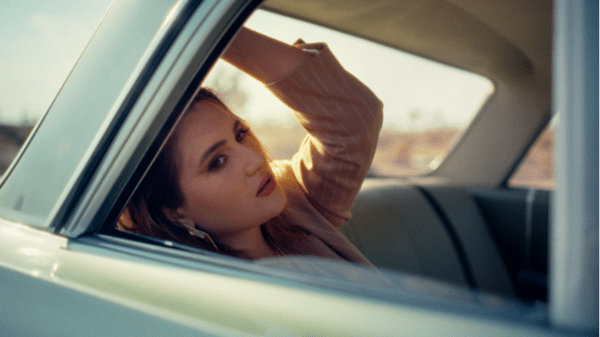 @skopemag news – friday – october 7, 2022 @ 8 pm est
@skopemag HQ – http://smarturl.it/skope
22nd Jim and Lil Bean "Get Dangerous" on New Single
22nd Jim and Lil Bean are bringing that signature Bay area bounce with their new banger, "Get Dangerous." A fusion of bass and piano with ethereal synths add an atmosphere of tension to the track that will resonate with anyone hailing from Oakland's trenches. Jim and Bean maneuver the beat with surgical precision as they remind us that it takes a dangerous mind set to navigate a hostile world.
SAN ROMAN Shares Brand New Single & Music Video "Rain Cloud"
Today, SAN ROMAN, the solo music project of multi-disciplinary artist Alexa San Román, shares her brand new single, "Rain Cloud." The upbeat, pop-punk guitars and melodies of this track underscore the darker tone of the lyrics which tell the story of how Alexa navigated a difficult time in her life, feeling as if that rain cloud was constantly hanging over her head.
Paul Maroon (The Walkmen) & Jenny Lin Announce New LP, Share "El Raval" Single via Brooklyn Vegan | '13 Short Piano Pieces' LP due November 11
Today, storied composer Paul Maroon — best known as a member of the critically acclaimed rock band The Walkmen — and concert pianist Jenny Lin — a frequent Phillip Glass collaborator — have teamed up on a brand new collaborative record, 13 Short Piano Pieces (due November 11). To celebrate the announcement, the pair have shared the record's first single, "El Raval," named after the Barcelona neighborhood.
Jakob Nowell & LAW Release "Alien" From New Album Lawful Evil
AIDAN BISSETT'S DEBUT EP, I'M ALRIGHT IF YOU'RE OK, IS OUT TODAY
Alt Rock Band AEIR Release New Single "Tug of War" + Official Music Video
American Dream Machine and Loveless Premiere Dopamine at Outburn
"'Dopamine' perfectly captures the frustration, confusion, and self-reflection that you go through while in the throes of depression. For me, it was the ending of a nine year relationship because she was cheating, and had been for the last four years. I was in an extremely dark place but, like always, music was the light at the end of the tunnel. I couldn't be more proud of this song and all the hard work everyone put into it. The boys and I are honored to have a song with such amazing musicians as Loveless." – Shawn Adams, American Dream Machine
HILD "ValFreiya" – Album Premiere
Odium Records announced recently signing the new, unique Swedish band HILD. It's the new band of Lars Broddesson, known as ex-drummer of Marduk and session drummer of Funeral Mist and Black Altar.
British Somali artist + content creator ANISA for Skope Magazine feature – New single 'Deserve Me'
The infectious track about self-respect and realising that you deserve better also pays homage to classic '90s and early noughties R&B music, with the accompanying video also giving a nod to the story-led music videos that drove that era as well.
ROSA LINN RELEASES REIMAGINED MUSIC VIDEO FOR "SNAP"
Outlaw Country Singer-Songwriter Beau Nair Releases His Fourth Album BEAUNANZA
After years on the road crisscrossing the United States playing Honky Tonks, saloons, pool halls, and trailer parks alike, prolific outlaw country singer-songwriter Beau Nair recently started releasing his catalog of music that he wrote, recorded and produced during the pandemic.
Out today: Kids Return Debut LP 'Forever Melodies' (Ekleroshock – Polo & Pan)
Just in time for the weekend, today French duo Kids Return (Adrien Rozé and Clément Savoye) released their debut album Forever Melodies via Ekleroshock/Hamburger Records (Polo & Pan, Andrea Laszlo de Simone). The project brims with sincerity and nostalgia across themes of breakups, friendship, love, and growing up, all backed by warm analogue instrumentation — it's the soundtrack of their lives.
Darren Hayes (Savage Garden) Releases "Homosexual," First New Solo Album in 10 Years
Breaking away from the restraints and, as he describes, the 'controlling image' of a major label at the beginning of his career, Hayes' path of self-discovery and reclamation of his truth has been one that fans have been able to see flourish in recent years. With Homosexual, Hayes is reclaiming a word that was used to shame and vilify. Now, fans and industry alike are introduced to the Darren Hayes who has always been there – yet here, he is at his most vulnerable, most engaging, and most vital. Through each of the 14 tracks on Homosexual, Hayes is in confession mode, revisiting his painful teenage years, examining his relationship to his sexuality and reclaiming the experience of surviving a violent childhood and bullying; ridding himself of shame through the lens of queer joy. There's a deliberate nostalgic musical nod to the safety of the pre-2000's dance floors and queer sub-cultures that were the soundtrack to his personal coming out story. It's also a deeply personal insight into relationships at mid-life, set against a musical backdrop of synth wave and post-disco.
[Video Submission] ScanTheGoddess "Can't Get Away"
NYC's DUSTY LOCANE, Ron Suno, Rah Swish, & OnPointLikeOP Share "BUST DOWN" Video
For Skope: Nicky Romero reinvents his club sound, debuts new style. 1st single "Techtronic" out now
Track/Video Out Today from Luke Sweeney
R&B STAR RINI TAPS GRAMMY-AWARD WINNING ARTIST BEAM FOR NEW SINGLE "SELFISH"
SWAVAY DROPS 'GO SHORTY' NEW SINGLE OUT TODAY VIA DEF JAM RECORDINGS / GIANT MUSIC
SwaVay, a native of Atlanta's bubbling rap scene, drops his newest single 'GO SHORTY' available today via Def Jam Recordings/Giant Music. This release follows SwaVay's recent singles "JUGG" and "FACES." SwaVay's forthcoming album ALMETHA'S SON, featuring guest appearances from James Blake, GHerbo and more, is set to release on October 21, 2022.
Oliver Malcolm Releases New Video for "Day x Day"
Chelly Flame – Hotter [DJ Pack]
AMY RAY premieres a new animated video for her Americana radio single "Joy Train"
Amy Ray has released a new animated video for her Top 20 Americana Radio single, "Joy Train," exclusively with Garden & Gun Magazine. The single appears on her 10th solo album, If It All Goes South, out now on Ray's own Daemon Records. Ray enlisted a North Georgia artist, Julie Best, to provide the animation set against a rural background filmed near her home. Garden & Gun writes that the whimsical video is "a creation that's uniquely Ray and uniquely Southern, with its driving Dobro guitar and lively fingerpicking set to an imaginative folk-art romp that will make you want to do as the narrator does at the end: 'I open my window, spring is on the bloom… I'm jumping on that joy train, y'all make me some room.'"
A.A Williams Releases New Album 'As The Moon Rests' Out Now Via Bella Union
"Traditionally, your second album is the worry; where there's the weight of expectation. But I must create music I like myself, and I've had more time on this record; I've felt more confidence and conviction. As The Moon Rests is both heavier and softer, there's more texture and weight, and a string ensemble. It's Forever Blue times ten!"
NARDO WICK DROPS THE VISUAL FOR "BABY WYD (REMIX)" FEATURING LATTO & LAKEYAH — "WHO IS NARDO WICK ?? (DELUXE)" ALBUM OUT NOW
Fate's Got A Driver Returns with Powerful Head-Banger, "The Rose of May"
Post-hardcore band, Fate's Got A Driver, just released their fierce and transcending single, "The Rose of May." The song perfectly combines a dark rock sound and intense, purposeful lyrics referencing the Greek tragedy of Narcissus. "'The Rose of May' is based on the Greek tragedy of Narcissus," says bass player Adam Evans. "It's about the deterioration of self-image in the Information Age." Lead singer, Randolph Schulz, solidifies this in the song as he belts out, "Feel so far away, there in my reflection, I am the rose of May."
Quavo & Takeoff Unleash New Album 'Only Built For Infinity Links'
Widows Gold share "Little By Little" & announce debut LP
New single from Alex Williams – "Old Before My Time"
ZEKE SKY Unveils "Light The Sky" Video; Intergalactic Demon King Full-Length Nears Release Via Atomic Fire Records
TIAGO PZK TEAMS WITH FELLOW ARGENTINE HIP HOP STAR TRUENO ON THE REMIX OF "HOOD"
PLATINUM DANCE-POP STAR RÊVE UNVEILS LATEST TRACK "WHITNEY"
Produced by Joel Stouffer and Banx & Ranx, "Whitney" is a dedication to the many artists that the Montreal-born artist grew up admiring with the hopes that one day she too could make people feel the way that her idols made her feel. Written by Rêve and Joel Stouffer, "Whitney" brings the chart-topping artist's vision and younger self to life in a colourful vibe and groove featuring a touch of nostalgia with an interpolation of Chaka Khan's "I'm Every Woman," written by the celebrated songwriting duo Ashford & Simpson. The single is accompanied by a 12" Mix version of the track available here, along with the official music video directed by Dan LeMoyne (The Weeknd, Diplo) featuring Rêve alongside a "younger version" of herself.
SPLINTERED THRONE Release Lyric Video For "Time Stands Still"
The traditional metal powerhouse that is SPLINTERED THRONE, have unleashed a new lyric video for the thrilling track "Time Stands Still" taken from the band's latest album The Greater Good Of Man.
RISING FLORIDA RAPPER RAW YOUNGIN UNVEILS NEW SINGLE & MUSIC VIDEO "FLA BOY"
WALLIE THE SENSEI FLIPS "I GOT 5 ON IT" FOR NEW SINGLE "FCK LOVE"
The smooth, melodic single samples the Luniz classic "I Got 5 On It" and builds on the momentum of "Golden Child," a project spearheaded by "03 Flow," which has amassed more than 12 million views on Youtube. A true labor of love, "03 Flow" pays homage to fellow rapper 03 Greedo, who is currently serving a 20-year prison sentence. It soon took on a life of its own with radio support, streaming success, and glowing praise from music peers such as the late PnB Rock.
Funky Electronic Pop Single "Creep" by Gemïny
The single is the first release from Gemïny's upcoming electronic pop-funk album Victoria's Secret, which is set to release next year. Full of 80's vibes and vibrant melodies, "Creep" tells the story of tragic star-crossed lovers in an abusive and traumatic relationship. The song details Gemïny's experience with a stalker that was the result of a one night stand. This song is the perfect listen for Halloween!
Hip Hop / Soul – Breadman MGV – Rodeo Drive
Happy #FriYay!!! For your consideration, check out Breadman MGV's sizzling new release "Rodeo Drive". The new laid-back psychedelic single lands in stores worldwide on October 14th. Just in time for Fall and winter. Be one of the first to listen.