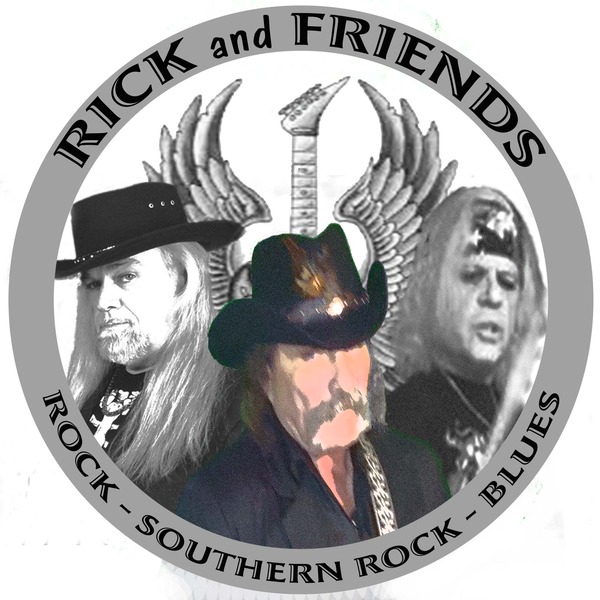 Seasoned professionals, Rick Drevet and Mark Pappalardo collaborate on a new musical venture. Their vast musical and life experiences, energizes them to create classics that will stand the test of time. They share a life, and values philosophy of pulling from actual experiences. Reaching deep into their hearts and souls, to find creative and poetic ways to convey these true stories to you, their fans. We sincerely hope you find their journey moving, entertaining and enjoyable.
@skopemag: Where are we talking from today and how was your 2022 summer?
R&F: Coming to you live from the Show Me State (no not show me your titties state…. well, hey it still works for Vince Neil) Missouri! Our summer has been unusually hot and humid, even worse than usual! Great to have live music, Friends, Family and Fans to share it with IN PERSON!! Wait… was that a masked musician??
@skopemag: Did you get to play or attend any festivals or live shows this summer?
R&F: As RNF we did not have the opportunity to play live this summer, not YET, however, we do side projects all the time so we are always playing, even if it's just practicing, as "practice makes perfect" and bored as hell. Press that play button so we can get this thing out of the basement LOL The local music vibe is full of killer bands which we support frequently as well as many regional and national bands.
@skopemag: Would you say that the inflation in the USA has had any effect on your momentum musically?
R&F: Not as far as our momentum per say, there has been a lot of time spent on creating forward momentum by all concerned, I do feel it has a definite adverse impact on people buying CD's and merch as "expendable income" has virtually evaporated before everyone's eyes. Inflated a large hole in our pockets LOL.
@skopemag: Offer us a brief history on how Rick and Friends became a group and how long did it take to create your unique sound?
R&F: Our sound has been a lifelong process. We have played professionally for years with some similar and some very different formative background experiences. Our sound is really a mixture of all that put into one pot, stirred and simmered, much like a really good pasta sauce! hahah. Rick originally had another project going when he put out a call for drummer auditions. I (Boomer) auditioned (after the drummer before him gave up his spot cause, get this, are you ready? After he forgot his bass drum!! LOL!! Can you imagine? That's like a guitarist showing up with his hot girlfriend and no amp LOL! ) So we proceeded, we all liked what we heard and felt, and I was picked to be their drummer.
We just started getting things going when Covid hit. That project fell apart. Rick started writing songs. Over the next year most of the music for the songs on this album were completed. Rick and I had kept in touch, but Rick was not aware of my mad lyrical/melody skills as the previous project was a cover band. We put our skills together and the songs were created. Neither of us being blessed with a lead vocal voice, we proceeded to find someone that connected with the music and stories we had created. Early last year we found that person in Rusty Wright. Rusty not only connected, he recorded all of the songs on his first attempts. Rusty knew what the songs needed and provided that final touch of musical magic. Or was it that last beer??
@skopemag: You are based out of St. Peters, Missouri. How does that location help shape your sound and what you talk about in your lyrics?
R&F: We write lyrics and tell stories, from real life experiences, hoping that millions of others can relate to or have had similar experiences. These life's lessons happen everywhere, so being based out of St. Peters Mo, is one of many places that have influenced our stories. Rick is originally from Tennessee and spent time in GA and FL. Boomer is originally from New Jersey and grew up in Los Angeles. Rusty is originally from Flint, Michigan.
@skopemag: How many times per week can you devote to the band either playing or promoting your music?
R&F: We do it every day, it's our career. Although today's musical opportunities require us to spend substantial time on promotions, we stay focused on writing and performing. The heavy lifting for promotion is handled by our EXCELLENT Publicist/PR agent Eugene Foley. Gene is bringing the sauce for the meatballs, along with the fine Chianti, Jameson and whatever else makes one fall down. LOL!!
@skopemag: What is the most exciting and challenging thing about being an independent band in 2022?
R&F: Hearing your tracks on the radio and reading the critical acclaim is cool and greatly appreciated, but connecting with fans that relate to our songs is the most fulfilling! Hearing from fans that our music connected on a personal level is powerful stuff.
The most challenging is breaking through all the noise of the gazillion of artists trying to do the same thing. What sets us apart is our songs are real stories crafted to music created from our souls. No endless loops here.You'll be singing along because you've lived it or know someone that has.
@skopemag: You are really pushing your new songs "Livin' Day To Day" and "River Creed." When did these singles come to life and what studio did you us to record?
R&F: The album is chalk full of great tracks. As one journalist recently wrote "This album is all meat and potatoes, no fillers." As an artist, and when you have been doing this as long as we have, it's difficult to pick "the hit" We knew early on that "Livin' Day To Day" had that potential as we got powerful responses from our inner circle. When they told us how the song moved them and connected with their lives, we knew we had something special. That song practically wrote itself. It tells a story that we are personally living now and many of our fans live with us Day To Day. "Been clockin' at the grind for the family, Somebody's pockets lined and none of it's for me, Those in charge don't care they just pretend."
The music for "River Creed" was written a couple years ago. Although the story and concept did not change, it took a while for the lyrics and melody to evolve. River Creed is a celebration of the spirit of people living near rivers and lakes, coming together to overcome adversity and to celebrate good times. "A flood of tears, its time to grind, Dig deep inside and you will find, All the hopes and dreams are still there, All the love from people that care"
The music was recorded at the Scarlet Bridge bunker in St. Peters, MO and the vocals were recorded at Rusty's studio in Florida.
@skopemag: For first time listeners of Rick and Friends what can we expect from your sound that we have not heard before?
R&F: It's an original blend of Rock to Southern Rock and Electric blues that makes you laugh, cry, get pissed off and happy. We're not your Momma's Southern Rock band. We bring 80's hair rock band groove and intensity and give it a twang, making our brand of Southern Rock truly original. We share life values and a philosophy of pulling from actual experiences. Reaching deep into our hearts and souls, to find creative and poetic ways to convey these true stories to our fans. Hook filled, catchy tunes based in a Rock-Southern Rock-Blues blended style all our own. Soaring vocal harmonies, soul-stirring lyrics that draw you into the story, flanked by dual guitars and a beat that will have your head rocking and foot tapping!
@skopemag: When you are not making music, what else do you do such as hobbies, family, etc?
R&F: B: Well I'm very active in my church. I lead a Celebrate Recovery ministry there, something close to my heart, as a recovering alcoholic/drug addict, helping others to attain and maintain sobriety, thereby improving their own lives and status. I also have been a lifelong biker, so I love to ride my Harley (Sally, whom I wrote Shakin' Sally on the album about). Then I have two German Shepherds that I love to frolic with. I enjoy hunting when I get the opportunity to do so also. (I only kill what I eat)
R: I have a wonderful wife and 7 kids that keep life full and blessed. I also enjoy building things. Don't get much time for hunting so I eat what Boomer kills, LOL.
@skopemag: When you are not working on your own music what other artists and bands do you enjoy and what platform do you stream music?
R&F: B: I have a few drum mentor/instructors in my life that I'm always listening to. Those being Tony Williams with Coltrane and others, to Buddy Rich and his Big band(whom I studied with), to Todd Sucherman with Styx (whom I also studied with), Steve Smith formerly of Journey, Brian Hitt of REO Speedwagon, and the late Jeff Porcaro of Toto & Boz Scaggs (whose father Joe I also had the blessing of studying with at MIT/Hollywood) to Steve Gadd from James Taylor, Linda Ronstadt, Paul Simon, to Dennis Chambers with Stevie Wonder and Bernard Purdy, to Kenny Aronoff from John Mellencamp and now with John Fogerty. So, as you can see my tastes/influences cover the gambit which all make up who I am and what I bring to the table that helps make RNF the original sound it is. I usually stream from Spotify and YouTube.
R: I like to seek out local bands. Unfortunately, St. Louis has shifted more towards cover and tribute bands with a few playing original music but those that do are on a very high skill level. I still listen to and learn from , Robben Ford, Gary Moore, Vito Bratta, John Sykes, Joe Bonamassa , Alvin Lee, Allman Brothers, Rush, Lynyrd Skynyrd. There is also a very vibrant resurgence of great Southern Rock/Blues such as Blackberry Smoke, Georgia Thunderbolts, Marcus King and Robert Jon & The wreck to name a few. Can't forget my old metal days and a personal Friend Rick Bravelion of Medicine Mann in Nashville. I mainly stream on Apple Music but keep a close eye on what;'s happening on Spotify and YouTube.
@skopemag: Do you guys hang out even when you're not making music?
R&F: We try to, whenever we can. We're crazy busy so schedules often play a factor on how frequent that is. We're really looking forward to spending that time with the guys when we start a tour. We have a lot of fun, enjoy each other's company and most of us are practical jokers! We are not only musical partners but have become Brothers. That usually gets us in some kind of trouble.
@skopemag: What is coming up for Rick and Friends and where can we follow you and stream your music?
R&F: We are building our fan base to support a live tour. All the help we can get to that end is greatly appreciated. So much of the financial and professional support today is based on your social media footprint. We would love nothing more then to take this album and show out live, on tour! You can find our music on all of your favorite streaming services, – https;//linktr.ee/RickandFriends, Spotify, Apple Music, etc. You can purchase the CD and other great merch from at – http://www.rickandfriends.com