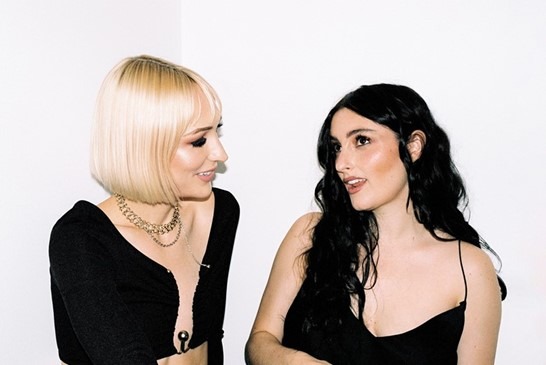 @skopemag news – tuesday – september 21, 2022 @ 7 pm est
@skopemag HQ – http://smarturl.it/skope
EXHUMED Shares "Carbonized" Lyric Video; New Album, To The Dead, Out October 21st On Relapse Records + US Headlining Tour Begins In November
EXHUMED returns from the depths with their macabre new album, To The Dead, set for release on October 21st via Relapse Records. Today, the band shares its second single, "Carbonized."
RÖYKSOPP SHARE "ME&YOUPHORIA" FROM THE CONCLUDING PART OF THEIR PROFOUND MYSTERIES SERIES
Röyksopp have just unveiled the soaring italo-disco of Me&Youphoria, the latest taste of the concluding chapter of their acclaimed Profound Mysteries project. The track, they say, "is all about desire. And what better way to convey such a raw emotion than via an über-analogue, synth-saturated kiss?" The sublime new single follows last month's dual release of spine-tingling, vocoder-epic Speed King and interstellar electro-romp The Night, featuring Alison Goldfrapp.
Little Destroyer nearly broke up over their glitchy, new alt-rock single
Multi-instrumentalist/producer Kainalu shares single "Inhibitions / Intuitions" feat. MUNYA | New LP 'Ginseng Hourglass' due out Nov. 4
Music Submission: Shotgun Tori – It's Gonna Be Fine (Singer-Songwriter, Indie, Folk)
Jack Schneider Announces Debut Album With First Track, "Josephine"
Americana newcomer Jack Schneider has a laundry list of eclectic descriptors fitting to precede his name—record producer, songwriter, tape machine enthusiast, Vince Gill's rhythm guitarist, and NYU grad, to name a few—but on November 11th of this year, Schneider will be adding "recording artist" to that list with the release of his debut LP Best Be On My Way.
KITO'S NEW SINGLE – "SAD GIRL MUSIC" (FEAT. BANKS) – OUT TODAY VIA ASTRALWERKS
Kito says, "'Sad Girl Music' is our bad girl anthem; I've had it on repeat ever since BANKS got on it and it's definitely one of my favorite releases to date."
Fontaines D.C. release video for "The Couple Across The Way" | UK tour to start in Nov | "Skinty Fia" out now via Partisan Records
Rich Homie Quan Debuts "Risk Takers" Music Video & Announces Family & Mula Project Dropping 10/4
Progressive Metal Quintet PARIUS Premiere New Single, "Contact!"
Progressive Metal quintet PARIUS, in collaboration with New Noise Magazine, have premiered "Contact!," the third single from forthcoming album The Signal Heard Throughout Space. The single will be available on all digital platforms on September 23. Stream the song now at the following link:
Acid Dad share new single "Get Me High," touring w/Psychedelic Porn Crumpets
PATRIARCHY Share Video for "Good Boy" via Earmilk + LA Weekly Feature | US Tour Starts 10/20, 'The Unself' LP Out Now via Dero Arcade
Moody Post-Rock Single from ioish
JUSTINE BLAZER RELEASES OFFICIAL MUSIC VIDEO FOR NEW SINGLE
Circle The Earth Releases New Single "New Religion"
"The message of 'New Religion' is a simple one," shares the band. "It acknowledges the oneness of all life, the oneness of all races, religions and ethnicities, and the basic fact that all humans have the same needs, desires, hopes, dreams, and pains, completely independent of their nation of origin, and that all true human religions and spiritual paths lead to exactly the same loving God."
mxdwn PREMIERE: LA Rock Band Circle The Earth Releases Dominating New Single "New Religion"
Emiliana Torrini & The Colorist Orchestra Sign To Bella Union + Shares New Single "Right Here"
There's something almost magical about a great collaboration. When two artists are able to synchronize on an infinitesimal level, where each note and breath and strum aligns to create a perfect whole. The Colorist Orchestra know how to do this — in fact, they've made it their specialty. Since 2013, the Belgian duo, comprised of multi-instrumentalists and long-time friends Aarich Jespers and Kobe Proesmans, have made a career out of reimagining the discographies of a wide array of artists, using their background in pop, electronic, and world music to transform the songs. Recently, they have reconnected with acclaimed Icelandic singer-songwriter Emilina Torrini, with whom they first collaborated in 2018 on the album The Colorist Orchestra & Emiliana Torrini. This time, however, their project exceeded even their own expectations.
KYGO RELEASES MUSIC VIDEO FOR "WOKE UP IN LOVE" WITH GRYFFIN & CALUM SCOTT!
HAVET share new video for 'Mamas Lullaby'
Today German/Swedish teenage siblings HAVET return with the release of their captivating video 'Mama's Lullaby'
SG Lewis Announces Forthcoming Album Out January 27. Releases New Double A-Side Single Today Plus Video
Ahead of his 2022 North American headlining tour this October, London-based singer-songwriter, producer and DJ, SG Lewis, today announces his forthcoming second studio album AudioLust & HigherLove, due for release on January 27, 2023 via Astralwerks. To celebrate the announcement, SG Lewis has shared a new double single including the album's euphoric opening track, 'Infatuation' and LP highlight 'Vibe Like This', featuring GRAMMY®-nominated powerhouse Ty Dolla $ign and LA rising star Lucky Daye.
Boston Ballet presents As Anticipated, Nov 3–13
Artistic Director Mikko Nissinen and Boston Ballet present As Anticipated, a program featuring three works from the highly prolific choreographer William Forsythe, including a world premiere which is central to a reimagining of Artifact Suite (2004), and Approximate Sonata (1996). These works span a 38-year segment of Forsythe's entire 58-year creative career. As Anticipated runs November 3–13 at the Citizens Bank Opera House.
New Video: Locos Por Juana: "Redemption" Out Now
Izzy Spears Shares "BAD NEWS" Single + Video via Ones To Watch | 'Monstar' Debut EP Due November 11 via KRO
Refugee turned Artist
"I grew up a traveler – since the moment my family brought my siblings and I to the US (I was 12), we moved to a different state every year for 10 years. I was always on the outside peeking in, and my songs gave me a world to live in, while everything around me was suddenly changing. The purpose of my career is to see if my music can become a world for some other kid who is "homeless" inside of their world. My audience is anyone who is looking for that."
ICEWEAR VEZZO DROPS NEW SONG + VIDEO FROM FORTHCOMING GANGSTA GRILLZ TAPE
Coming off the third installment of his Rich Off Pints series, Detroit Rapper/philanthropist and recent Quality Control Music signee Icewear Vezzo has dropped a new track and video "They Can't FWM". It comes from his forthcoming Gangsta Grillz tape which will act as his first Quality Control Music release. More details on the tape coming soon.
Hit-Boy and Cordae Release Visual for "Checkmate" from EA Sports Madden NFL 23 Soundtrack
Madden NFL 23 features 39 defining bangers including superstar collabs like Pusha T ft. Lil Uzi Vert & Don Toliver, Snoop Dogg ft. Nas and Ty Dolla $ign ft. Wiz Khalifa along with killer tracks by Joey Bada$$, Nas, and Kendrick Lamar. It also highlights unstoppable newcomers like innovative L.A. rapper/producer Malachiii, Japanese DJ and BAPE creator Nigo (with Tyler The Creator), and 2022 XXL Freshman Class female MC Doechii. More than a third of the soundtrack debuted new or exclusive music from artists, including Big K.R.I.T., King Green, Gizzle ft. BRE-Z, Symba, Erica Banks, Lord Afrixana, Marqus Clae, and Simon Said. & Jazzfeezy, with hard-hitting tracks by Killer Mike and Bas available only in game.