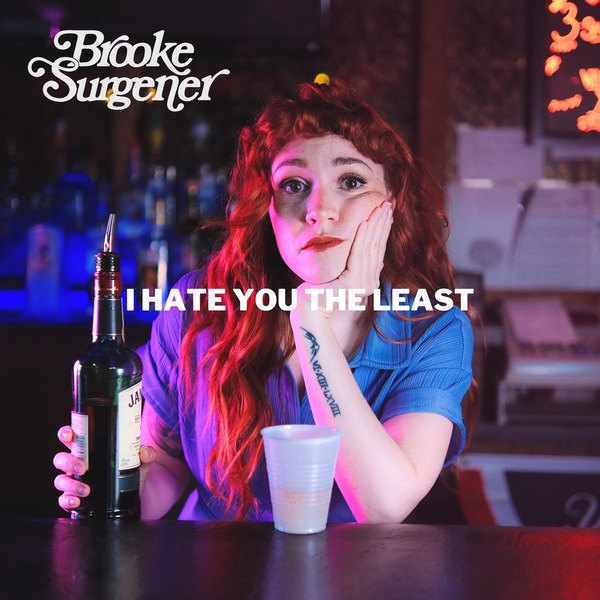 As soon as you hit Play on Brooke Surgener's new single, "I Hate You The Least", you are immediately transfixed by the sound that penetrates your eardrums. Brooke has a certain quality about her, a sort of pizzazz that shines through in her music. Brooke Surgener is able to pull you in with her alluring tone and fantastic singing voice. Brooke certainly has a knack for writing songs and she proves it with her latest single, "I Hate You The Least".
Brooke Surgener is an indie folk/pop singer-songwriter from Eerie, Pennsylvania and she has been performing music and writing songs since the age of 10. Brooke is also a multi-instrumentalist skilled at playing: guitar, piano, mandolin, ukulele and banjo. This multi-dimensional artist is beyond talented and she is able to take you on a vivid journey through her elaborate performance. The listener will pick up on Brooke Surgener's creative side & spirit on "I Hate You The Least" as she radiates artistic expression. It comes as no surprise to discover that Brooke is also an avid, award-winning cosplayer who has portrayed some pretty famous princesses and characters like "The Little Mermaid".
Sit back and enjoy "I Hate You The Least" by Brooke Surgener because I certainly did. Right away, one will hear a sweet 'n' emotional vocal delivery and colorful melody on "I Hate You The Least". Brooke gives a passion-packed performance on this new release that will delight your ears. There is an easy-breezy rhythm & tempo in place on this song that puts your mind, body and soul at ease. Brooke is simply a wonderful singer and lyricist and she has created pure magic in a bottle with "I Hate You The Least". Brooke Surgener is a stunning singer/songwriter to keep your eyes & ears on and proves to the audience that "I Hate You The Least" is musically rich and catchy as hell!
Brooke Surgener brings a certain charm to the table with her latest single, "I Hate You The Least", and delivers a mesmerizing recording. There is so much depth to Brooke's persona as her creativity comes pouring out on "I Hate You The Least". Brooke Surgener offers high quality music, lush lyrics and fine singing and deserves to be recognized as a true artist of Today. Nothing disingenuous about Brooke but quite the opposite as she delivers utter sincerity in its purest form. With an appealing sound and style to boot, Brooke Surgener nailed it on ALL levels when she wrote "I Hate You The Least". I'm not hatin' this single at all and I'm definitely a Brooke Surgener fan now, so let's all back this artist right now! "I Hate You The Least" deserves recognition and I feel Brooke Surgener is ready for the big stage! You can SKOPE out the official video for "I Hate You The Least" right here: https://youtu.be/GPNn8B3IqdM and be sure to check out her websites below.
https://www.brookesurgener.com
https://www.facebook.com/brookesurgenermusic
https://www.instagram.com/brookesurgener
https://www.youtube.com/brookesurgenervideos
https://open.spotify.com/track/4RAKJEEi1InnkcbJuIIVKw?si=fab4dc12e8f84922
By Jimmy Rae