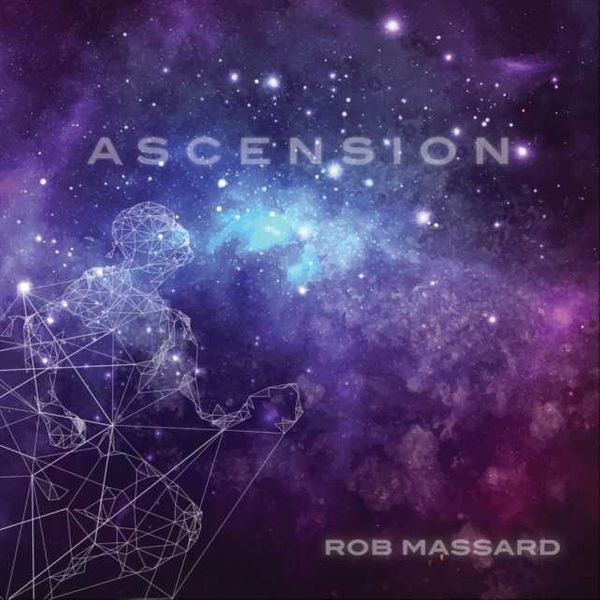 Rob Massard is an extremely genuine artist who sings from the heart and speaks from the soul.  Rob is a progressive folk singer/songwriter who will take the listener on one incredible journey with his latest release titled 'Ascension'.  Based in the Detroit, Michigan area, Rob Massard has his motor running in the right direction with 'Ascension'.  
The 10-track album, 'Ascension', kicks off with a quick burst of sound & energy on "The Awakening" that immediately hits you as soon as you hit play.  The next song, "Shine Your Shine", is a standout track due to all of the shining elements coming together nicely.  On "Shine Your Shine", the listener will hear an exotic sound that has a sort of mystique to it.  The guitar playing and instrumentation instantly draws you in and Rob's powerful vocals are the icing on the cake.  "Shine Your Shine" will take you on an exciting adventure and will not disappoint by any means.  Moving along, we head into "The Candidate" next where a pleasing melody can be heard to go along with engaging lyrics and a wonderful arrangement.  Get ready to toast some musical marshmallows and do the "Fireside Stomp" around the campfire as you enjoy this excellent instrumental.  Track five, "Don't Cha Know", provides an emotional tone to the listener along with a slowed-down rhythm that adds a somber touch overall.  Moving along, we hear "Stars To Your Moon" next that is shining bright with a very expressive & commanding performance from Rob Massard.  "Stars To Your Moon" is deep-rooted music that glows and will appeal to many listeners out there.  Track seven, "Slip Away", has a great harmony and showcases Rob as a sincere vocalist with such a pureness in his voice.  On the following number, "Rift Hills And Sugar Valleys", melodic chords offer a sense of mystique and wonder as the song rolls along.  "Maybe I" has Rob Massard standing tall as a singer/songwriter and maybe this song has the perfect balance on all accounts.  Rob Massard ends the album in hypnotic fashion with "To Live And Breathe Under Water" where Rob is making a BIG splash and inviting everyone to jump in!
Overall, I am very impressed with Rob Massard's efforts on 'Ascension'  as he truly did create original material that stands out.  From a musical and artistic standpoint, Rob Massard is the real deal and proves it with his record 'Ascension'.  Extreme creativity, unique sound and clever songwriting are just a few of the qualities that can best describe Rob Massard and his latest work called 'Ascension'.  
https://www.facebook.com/RobMassardMusic 
https://www.youtube.com/channel/UCEGlgZGfDbO-fOKE1HAuqtQ 
https://open.spotify.com/artist/1bhlxOsS20J3t6JvBjxb79?si=6s006VjZRka0HYeZ7LKRVg 
By Jimmy Rae