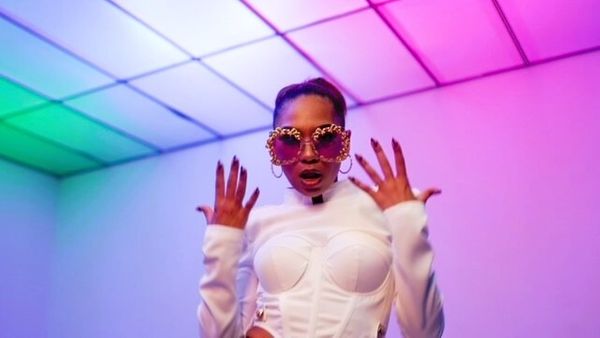 @skopemag news – thrusday – august 18, 2022 @ 12 pm est
@skopemag HQ – http://smarturl.it/skope
070 SHAKE SHARES NEW VISUAL FOR "COCOON" YOU CAN'T KILL ME OUT NOW VIA G.O.O.D. MUSIC/DEF JAM RECORDINGS
Radolescent serve up fiery punk ballad in latest single 'Tough', touring East Coast in Sept & Oct
Following the release of their 'Excellent People' EP as well as sold out performances across the country supporting Aussie punk royalty acts such as Beddy Rays this year, Dune Rats, Bad//Dreems, Private Function & Press Club, Gold Coast 5 piece Radolescent is releasing today their fiery new single 'Tough'. Led by a Country inspired slide guitar meets a punk rhythm, their new single further establishes the band's unique and creative prowess.
BoysnLove combine ethereal & dreamy for new single & video 'Honeymoon Diver'
Mixing angst-pop melodies, with low-fi and vibrant instrumentals, BoysnLove have made a mark for themselves across Sydney & Wollongong. Performing alongside the likes of Middle Kids, Tia Gostelow, Tyne-James Organ & more over the past 12 months, the quartet have emerged as Australian front-runners for emotional & raw indie-pop. New single 'Honeymoon Diver' combines the delicate & fraught vocals of singer & songwriter Annie-Rose Collis to draw listeners & tug at their heartstrings, floating atop the driving rhythm section below, pulsing the song to its crescendo. The urgent song of heartbreak & betrayal sets BoysnLove up for an electrifying backend of 2022, with more music on the horizon.
New Music: RUEL DROPS NEW SONG AND MUSIC VIDEO "YOU AGAINST YOURSELF"
TSEPVSL Is The New Official Music Video From KALMO
DEADLETTER return with new single 'Binge' – Premiered on BBC6 Music Steve Lamacq last night | Set to play Reading & Leeds Festival next week
Music Submission: almost sex
Having connected on Hinge back in 2020 at the height of the pandemic, Nick Louis and Warren LaSota's music met before they did. Working and getting to know each other remotely for several months, they sent lyrics and demos back and forth, creatively coming together long before physically meeting one another.
NEW VIDEO FROM NEW ZEALAND SINGER SONGWRITER, CONNOR MAC
Baytrees release sticky and sensual new single 'Lover'!
WASH YOUR STRESS AWAY WITH DAMI SULE'S NEW RETROSPECTIVE TRACK 'ROLLING DEEP'
Acclaimed popstar Lily Lane unveils new cinematics for latest single "Bad"
Lily Lane was undoubtedly born to entertain. Originally from Boston, the now Los Angeles based pop artist stems from a family of musicians, with her older brother being 1/2 of the multi-Grammy nominated duo, Sofi Tukker. Having spent most of her adult years living in New York, Lane studied at the renowned Clive Davis Institute of Recorded Music at NYU and after graduating with honors she went on to sign with Wilhelmina Models, becoming a champion for body positivity, female & LGBTQ representation. Making a bright entrance to the music scene, her musical endeavors shine, proving there are truly no limits when it comes to both her musical capability and likening soundscape. She claims, "There was never a plan B, modeling was a means to an end…Popstardom was always the endgame for me, since I could make sound."
PILGRIIM SHARES THE OFFICIAL VIDEO FOR HIS DEBUT SINGLE 'FLUX'
A British producer and songwriter who lives in Medellín, Colombia, pilgriim has led a nomadic life that his songs seek to document. Particularly inspired by the rich culture and expansive landscapes of South America, pilgriim traveled around the continent before moving to Colombia to work in video journalism and documentary film production, recording his travels in photo and video. These photos and videos now inspire his visual aesthetic as a musician.
Tod Lippy releases video for poignant cover of (Sandy) Alex G's "Adam"
FIELD MEDIC Shares New Single 'i think about you all the time' Out Now [Run For Cover Records]
LA songwriter Field Medic is today pleased to share 'i think about you all the time', the second single from his forthcoming album grow your hair long if you're wanting to see something that you can change, released 14th October 2022 via Run For Cover Records.
UMA shares new single "Crocodile" // via Slow Dance
Today, Uma shares a new single "Crocodile", out on London hybrid label and Management company Slow Dance (PVA , Saint Jude, Glows, Khazail, Aga Ujma, Tina).
Brixton trio kid apollo release contemplative lo-fi R&B single + self-directed video "all on me"
Brixton, London based trio kid apollo today release their new single + video "all on me", produced by kid apollo, with additional production from Dom Valentino (dexter, Skepta, NAYANA IZ) and mixed by JHJ (cityboymoe, Mac Wetha, Olivia Dean). "all on me" is the first new music to be heard since kid apollo's 2021 breakthrough debut EP 'all i think about'.
Consisting of twin brothers (and producers) Felix and Theo Ratigan and singer/producer Jimmy HM, the trio combine to visceral, introspective lo-fi R&B, tackling the anxieties and over-stimulation of teenage life in London and the darker side of London's nightlife.
New Single from Allison Russell ft. Brandi Carlile "You're Not Alone" on Fantasy / Concord
Today, Allison Russell shares her new single "You're Not Alone" featuring Brandi Carlile. Written and produced by Russell, "You're Not Alone" is an inspiring meditation on the power of ancestral strength and the essential nature of community. The track's exquisite string arrangement is performed by SistaStrings (Monique Ross & Chauntee Ross) and Larissa Maestro. (The song originally appeared on Our Native Daughters' acclaimed 2019 debut album.)
TSEPVSL Is The New Official Music Video From KALMO
"The last soul trapped in human flesh, his time depleting. Despair is complete, as complete as the inescapable end itself. The distorted image, reflected in the darkness at the last moment, invites the last of the lasts to step into the void. This is not an ending, but the end."
Rising Billboard Chart-topping Singer-Songwriter MARIAH. Releases Visuals To Her New Single, "BIZNESS"
"BIZNESS", was written by Mariah. and produced by Michael Gardner with musical composition by Sarah Gardner. "Bizness, is written from the perspective of someone who's fed up. It's so easy nowadays to have people involved in your private matters-constantly around you like gnats-offering nothing. The question then becomes: why was the desire to keep tabs more than the commitment to the friendship or relationship?." mentions Mariah. "I'm sure we've all experienced an individual who is 'all up in our business.' This song serves as an invitation to exit!," she adds with a chuckle.
Philadelphia Based Recording Artist Chris Day Releases New Single "The Lie or The Truth"
Chris Day's "The Lie or The Truth" is a rock track that is reminiscent of early 2000s pop-rock songs. With searing guitar licks and lyrics that ask powerful questions, the single is a thought-provoking release that cements Day as a voice to watch in the rock space. With production by legendary producer Joe "The Butcher" Nicolo on his upcoming album, "The Lie or The Truth" serves as a sneak peek for what is to come
rxlph Shares New Single "night before last."
Rising hip-hop/R&B artist rxlph has returned with his new single, "night before last." Hailing from Rockland County, New York, rxlph has had an impressive run over the past few years since bursting on the scene in 2018. An independent, self-made artist, he's already accumulated millions of streams on Spotify alone thanks to popular tracks such as "resentment.", which was released earlier this year, and "night before last." looks set to be another success and keep his momentum rolling.
Burn The Highway release new video for track "Crossbones" from "Weapon X" album
The middle instrumental section needed something more so we added Canon shot sounds. The songs are very story telling and we wanted to take the listener on a journey. The film clip was shot by Catmari Productions, the location was a remote beach on the south Coast at Jervis Bay. "It was a whole day of filming and we got it done before the rain started."