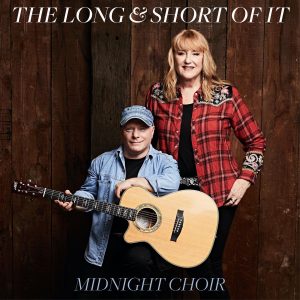 Melbourne, Australia is not what comes to mind when I think "country music duo", but The Long & Short Of It have confounded expectations since their first meeting in 2007. They have built an impressive discography over the past fifteen-plus years including six album releases and two EPs without showing any signs of flagging creative energies. Their latest album Midnight Choir includes eleven originals ranging from good time drinking songs to ballads and cops both traditional and contemporary musical styles. It will likely earn the band more of the same honors that have followed them over the years.
https://www.facebook.com/longandshort/
These aren't honors given lightly. If you expect romping modern honkytonk to open the release, "Cowboy Lonesome" upends your expectations fast. It is a slowly developing ballad that finds The Long & Short Of It, David Baird and Patsy Toop, planting their flag in the best possible way. Hearing how they reclaim classic country subject matter as their own with a personalized touch should convince any skeptics that this venerable form, traditional country music complete with pedal steel and light theatricality, is still a viable art form.
The title song shifts gears in a convincing way. "Midnight Choir" dispenses with any pretense of the opener's classic country sound in favor of guitar-driven AOR with a strong lyric underpinning it. Baird's vocals are prominent in the mix once again, but he possesses an excellent voice for conveying the band's material. The aforementioned good time drinking songs make their first appearance with the clever "Three Chords and the Brew", but there is subtext. There is a bit of commentary about what it means to be a country songwriter circa 2022 buried in the lyrics and, in particular, some ingenious rhymes that are not just window dressing.
There's a much stronger balance between Baird and Toop's voices during the fine ballad "Change How You See the World". It is reminiscent of the earlier opener. It owes far less to country music influences than radio-friendly rock with strong guitar. The solo during the song's second half is especially powerful. "That's Why I'm Here" mixes the modern and traditional arguably better than any other song on Midnight Choir. Attentive listeners won't be able to help themselves from admiring how adroit The Long & Short of It are so skilled at portraying powerful emotions in a gripping musical way like they do here. It is calibrated in such a way that it produces an emotional response in listeners and few, if any, will feel ashamed of themselves when it works its magic.
Baird and Toop are loaded with magic. The Long & Short of It have hit upon a vital creative formula that's far from exhausted. The authenticity you hear in each song, in every rise and fall of the singers' voices, earns your trust in the performers and, most importantly, likely ensures you will keep coming back for more. The Long & Short of It's Midnight Choir is one of 2022's most musically and emotionally satisfying releases.