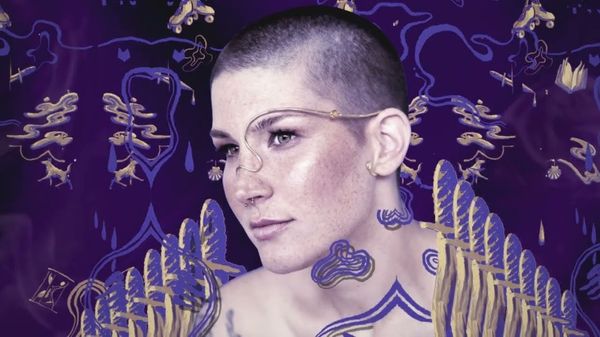 @skopemag news – tuesday – july 26, 2022 @ 12 pm est
@skopemag HQ – http://smarturl.it/skope
Apollo Brown Releases Animated Music Video for "Kite Strings" Off His New Album 'This Must Be The Place'
A master of melancholic productions, Brown pairs cavernous drums and striking metallic hi-hats with spooky choral vocals and shimmering keys on "Kite Strings." The result is dark and fantastical with glimmers of joy, an artful encapsulation of the fall that could double as the score to a Ray Bradbury adaptation. Directed by Uzair Ahmad, the spooky animated video moves between ultra-modern and alien worlds via flashes and streams of vibrant colors and psychedelic patterns, a pair of disembodied hands orchestrating the journey. It's a visual metaphor for This Must Be the Place, where Brown sonically guides listeners to uncharted sonic territory.
MULTI-PLATINUM SELLING ROCK SUPERSTARS INCUBUS KICK OFF 2022 SUMMER TOUR WITH VERY SPECIAL GUESTS SUBLIME WITH ROME AND THE AQUADOLLS
With more than 23 million albums sold, rock superstars INCUBUS kicked off their 2022 tour Sunday night in West Palm Beach at iTHINK Amphitheatre with very special guests SUBLIME WITH ROME and THE AQUADOLLS. The tour, produced by Live Nation, will continue through the U.S. making stops in Atlanta, Chicago, Dallas and more before wrapping up in Bend, OR at Hayden Homes Amphitheatre on September 3.
Trick Gum Share Music Video for "Tim Dillon" via chorus.fm
Today, TRICK GUM shares the music video for "Tim Dillon" – their sixth single via Planet Paulie. First Cousins Justin Raisen (acclaimed producer) and Jordan Benik (designer, songwriter for L.A. Cult Faves Sweaters) have been writing songs together for over a decade. Their new outfit TRICK GUM's upcoming slate of monthly singles promises to deliver exciting new music with regularity. TRICK GUM throws space punk energy, heartfelt ambience, playful psych send-ups, and inventive production into the blender, presses "SMOOTHIE," and the result is something you can feel comfortable promoting on your platform.
DJ Whoo Kid Releases Interview With Wiz Khalifa Following Exclusive With Complex
Dancehall Anthem "Go Down Deh" Hits Music Video Milestone
Another major landmark for arguably the biggest Dancehall/Reggae hit of the past year, the official music video for "Go Down Deh" (featuring Shaggy and Sean Paul) by Spice has surpassed the 100M mark on YouTube. The video, directed by Jay Will, was released on May 1, 2021, and quickly became the fastest-growing music video for Spice. No small feat for an artist who has racked up nearly 670M channel views and 2M followers on her popular Spice Official channel on the platform.
Wellington rockers Voodoo Bloo release their sophomore album
"As the writing progressed I realised something quite odd. This fictional person was just everything that I did not like about myself, in all ways shapes and forms I'd started to write about my own demons and they were glaring at me, and that's when I finally figured out what The Blessed Ghost was," says Rory McDonald, the band's frontman.
Djo releases new single 'Gloom' | New album 'DECIDE' out 16th September
A few weeks ago, Djo shared the first single from the forthcoming record – "Change." Rolling Stone called it a "dynamic, psych-infused track," and Stereogum said "Joe Keery [is] not an 'actor with a vanity project' musician, [but rather] a guy who clearly knows what he's doing…I like the lead single a lot…a slick synth-funk track." "Change" also entered the Spotify Viral 50 charts reaching #26 in USA, #34 in New Zealand and #35 in Australia.
French Intergalactic stoner-rock band YOJIMBO shared full S/T EP on YouTube // Available right now through all legal platforms.
Introspective R&B Single // If U Take Me Home unveils new single "Drag"
West Hollywood based self-taught producer, multi-instrumentalist and singer-songwriter If U Take Me Home is the musical project of Jon Benward. Having experienced a variety of incarnations over the years, he is now honing down his unique style and melodious sound with a new era of music.
PREOCCUPATIONS release brand new single 'Death of Melody'
Alternative-Pop Newcomer New Unity Returns With New Single "Feel Again"
Germany's Most Exciting Upstarts LEAGUE OF DISTORTION Sign with Napalm Records!
Better watch out! Napalm Records is beyond proud to announce the signing of Germany's hottest upstarts, LEAGUE OF DISTORTION. The rising outfit, featuring Anna Brunner (EXIT EDEN) and Jim Müller (KISSIN' DYNAMITE), has just inked an official record deal with the premium Austrian rock and metal label!
A.O. GERBER shares new single 'Hunger' + details on new album 'Meet Me At The Gloaming' out 14th October via Hand In Hive and Father/Daughter Records | Announces UK Headline Tour for November 2022
Speaking on the track Gerber says: "This song sort of wrote itself in the midst of a really devastating fire season in LA. I'd been thinking a lot about the opposing forces of desire and negation, all the different ways we both consume and restrict as individuals and as a culture. I've spent so much of my life vacillating between these polarities, making myself small physically and spiritually. I haven't always had the ability to critique that impulse in myself but it felt good to do that here."
GAEREA Unveils Music Video for New Song, "Mantle"
TAIPEI HOUSTON RELEASE DEBUT SINGLE "AS THE SUN SETS"
Nuela Charles' fierce, soulful R&B 'Top Of The World'
Pei (Joji Malani formerly of Gangs Of Youth) shares "Themesong" + announces debut LP
Where his debut solo single, 'Honest,' showcased Pei's detailed instrumental world (and drummed up fans at Rolling Stone, NME, and MTV [in Australia], and more), 'Themesong' adds a dynamic multi-layered sheen to his craft, building soft flourishes into a fury of orchestral splendor. Here guitars wash away to driving drums crossing with cascading fills; nimble trumpets, tubas, glockenspiels and soulful horns ride melodic highs, violin strings cascade with banjos and mandolins drifting into a collage of vaporous vocal samples flying left and right. 'Themesong' is a journey headfirst into Pei.
Pianos Become The Teeth share new single "Buckley" | New album 'Drift' out 26th August via Epitaph Records
"It pushes them in the indie/art rock direction of their last two albums, with shuffling drums and arpeggiated guitar patterns that recall 2000s Radiohead, but with Kyle Durfey's soaring, shaky voice keeping them sounding as distinct as ever" – Brooklyn Vegan
Hard Rock Veterans SOiL Pay Respects To Their Musical Influences & Inspirations, Release Hypercharged Version Of HALSEY's "NIGHTMARE!"
Now these veterans are giving their fans a special treat – a new studio album, entitled Play It Forward, consisting of some of the songs that inspired them throughout the years. They've already previewed two of the album's songs, releasing their version of Neil Young's anthem Rockin' In The Free World" as well as the Foo Fighters cover "Monkey Wrench," in honor of drummer Taylor Hawkins. And much more is in store including covers of White Zombie, The Ramones, Leadbelly and more. Today, the band is proud to share an absolutely ripping version of Halsey's "Nightmare," accompanied by a suitably sick and twisted music video!
Vocalist/Composer CHARLOTTE WESSELS (Ex-DELAIN) Releases Second New Single, "Human To Ruin"
Dutch vocalist/composer CHARLOTTE WESSELS continues her successful solo journey by releasing another new single, the bittersweet "Human To Ruin", cut from her upcoming second full-length album, Tales From Six Feet Under Vol II, out October 7, 2022 via Napalm Records.