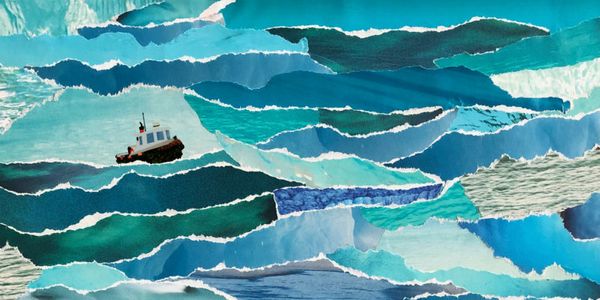 Cover Art by Ivan Arenas
Hello Fiasco pours its heart and soul into the careening scope of "Find The Shoreline". Right in the center of the whole thing is a communal experience of vocals for they rise up into the sky. The rhythms have a propulsive energy to them. With elements of classic rock, glam rock, pop, and dance, the songs feel completely delirious. Nods to Of Montreal at the top of their game appear throughout for there is that same sense of purpose. Lyrics here are crafted with care for they draw from a life lived to the absolute fullest.
"It Makes Sense" bursts onto the scene with pure grandeur. Piano chords reverberate throughout even as the rest of the band comes into full swing. Things get stripped down as "Before Time Leaves You" features a delicate pastoral beauty, complete with soothing string work. A timeless classic sound runs through on the truly unhinged hooks of "You Don't Want Love". It's by far the highlight of the album and there is not a volume loud enough to truly appreciate how joyous it is."
Reflective to its core "Atlantis and Compatible (feat. Erin Propp)" goes for truly delicate textures. Wonderful organ vamps give "Worried Sick" that extra punch to it and guitar riffs nicely buttress the strength of the groove. Fantastically closing things off is the poetry of the finale "Trust".
Done with dignity, Hello Fiasco create a fiery, passionate world on the emotionally charged "Find The Shoreline" showing off their uncanny storytelling.