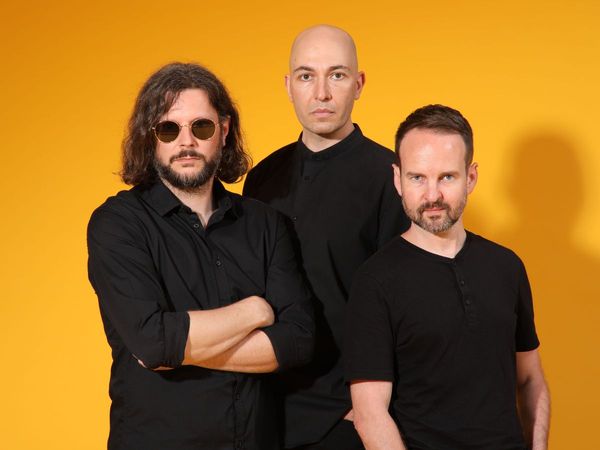 @skopemag news – wednesday – july 20, 2022 @ 1 pm est
@skopemag HQ – http://smarturl.it/skope
Metalcore Bruisers TITAN RAGE Release Visualizer For "Terrorizer"
Raging out of Northern California, TITAN RAGE deliver metalcore with a difference. Their sound is a distinctly from the San Francisco Bay Area, and sees elements of Thrash, Metallic Hardcore and even Deathcore bleed through the outfit's music.
Thanya Iyer invites you to step outside your comfort zone
ATTN BLOGS: Electronic Producer GONE Unveils 'Out Of Time' Video [FFO: Ben Böhmer, Jan Blomqvist and Stephan Bodzin]
Pitch – Oh Lonesome Ana – New album (Indie/Rock)
CAFUNÉ SHARE "RUNNING" OFFICIAL VIDEO
Cafuné – the NYC-based duo of singer/songwriter Sedona Schat and writer/producer Noah Yoo – have shared an official music video for their song "Running" which is directed by Jo Gennet and streaming now on their YouTube channel – Watch it HERE.
KAITLYN AURELIA SMITH SHARES NEW SINGLE; ALBUM OUT AUG 26
VALBORG reveal new video single 'Hektor'
Take that humans! VALBORG are offering a short, sharp glimpse of their industrial side, driven by a chugging MOTÖRHEAD groove with the new video single 'Hektor', which is taken from the German sludge monster's forthcoming album "Der Alte" ("The Old One") that has been scheduled for release on September 9. Album details are presented below.
Synth-pop artist Loren Beri shares mystical debut EP, 'Stray Cat Kingdom' | LP release show in NYC on 7/22
Stray Cat Kingdom is the result of Berí reckoning with his own mental health struggles and building his own reality where he feels safe as he explores grief and heartbreak, embraces change and begins to understand healing is an eternal endeavor. It pays homage to New York City and features fictional characters with intersecting storylines that become true companions. Setting the scene that led to the EP's creation, Berí recalls, "People were throwing shows in decrepit loft apartments with leaking ceilings, graffiti was being painted over graffiti from a week earlier, scrambling to make enough money for rent on a street where you can't avoid stepping on trash, neon outfits, puke on the L train most days, famous artists hanging out in the same places as the newly arrived twenty-somethings imitating them." A mixture of these surroundings, people, and Berí's own fluctuating mental state ultimately shaped the world and music that would make up the Stray Cat Kingdom.
Pale Waves Release New Track "The Hard Way"
"When I was in high school a girl who was being bullied took her own life," shares Heather on the inspiration for the song. "I got on the bus with her every single morning and I would see her sitting in her same spot. She sat downstairs, and I would go upstairs. 'The Hard Way' is about my regret for not helping her, or standing up for her, that I feel now as an adult.
TUK SMITH & THE RESTLESS HEARTS ANNOUNCE SIGNING & NEW SINGLE/VIDEO
American rock band Tuk Smith & The Restless Hearts are announcing their signing to the new label MRG, founded by industry veterans Marti Frederiksen and John Greenberg and distributed worldwide by Virgin Music/Universal. Alongside the signing news, Tuk Smith & The Restless Hearts are also announcing the August 12th release of "Ballad of A Misspent Youth," the first single and video from their forthcoming album of the same name.
Scum Of The Earth Warns…. Aliens Are Here! with New Single "Ziggurats Of Mesopotamia" + Official Music Video
New Single "my ex" From Chad Tepper ft. Pierre Bouvier of Simple Plan
Today, alt-rocker Chad Tepper shares a deeply confessional track titled "my ex" featuring Simple Plan front man Pierre Bouvier. Tepper recently announced his signing to Epitaph with the epic music video "dont wanna die," and is quickly picking up traction with his signature rock n' roll swagger and magnetic charm. This new release marks yet another collaboration with an artist that he's admired for years.
LACUNA COIL Releases New Single and Video For "Tight Rope XX"
Soulful Vocal Powerhouse Ali McGuirk Shares "All Back," Her Prayer For Hope And Resilience From Upcoming Album "Til It's Gone"
While soulful songsmith Ali McGuirk loves to dip into a multitude of genres and sub-genres, her upcoming album Til It's Gone never gets too far away from from its rhythm and blues essence; a well that many artists have drawn from over the years, but few deliver with such a spellbinding conviction as McGuirk. Acting as co-producer along with celebrated folk-blues songwriter Jonah Tolchin, McGuirk let the songs of Til It's Gone wander from shadowy emotional spaces to big, bad guitar workouts to delicate little confessions. But her bold and buttery voice carries each song to the next until the album's end.
LISSIE SHARES COSMIC LOVE SONG 'NIGHT MOVES' – WATCH THE VIDEO HERE
Ada Marques Releases Pragmatic Single "Napkin"
Like her debut single, "Bell," "Napkin" emphasizes Marques' intention to use her music as a resource to highlight and normalize conversations regarding self-worth, intrusive thoughts, and other important mental health topics. Marques admits that as an only child, she lived in her own head at times, creating worlds and stories that entertained her. She also understands that, as a result, she has a propensity to overthink. Her inclination to pay forward the reassurance she received from her mentors in her life and the inspiration she found in other female musicians she looked up to can be traced back to the loneliness and solitude that she sometimes felt growing up. By encouraging her listeners and peers to take a concentrated look at how relationships, both with others and with ourselves, can distort our self-image and impact the way we approach our future, Marques has allowed her music to serve as the basis of a highly interactive and supportive community, who's rapidly grown on TikTok and Instagram followers to 12,000 and 15,500 respectively.
MONTELL FISH SIGNS WITH VIRGIN MUSIC LABEL AND ARTIST SERVICES
Virgin Music Label and Artist Services announces the signing of multi-genre artist Montell Fish and his label Lord's Child. In celebration of his signing with Virgin and in preparation for his new LP Jamie, out on July 22 Montell has released his first two songs "Hollow Lover" and "love you more than me".