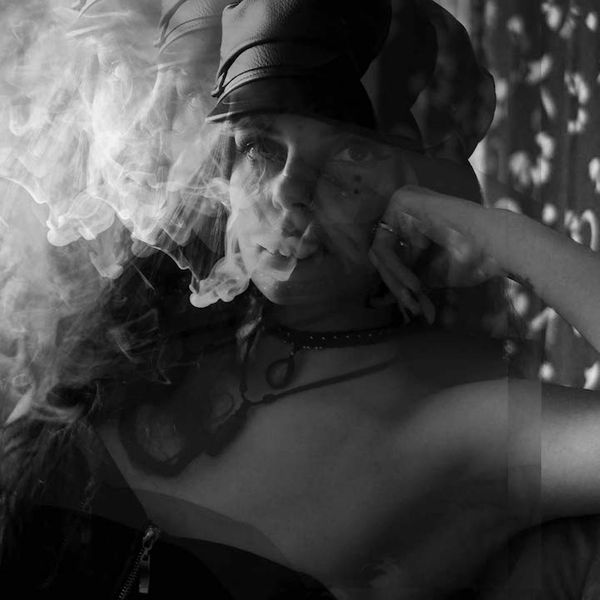 If you're in the mood for something entirely unique, then look no further! Speakeazie is the charismatic artist and 'Bootleggers Blood' is the exciting, new release that is sure to rock your senses. Speakeazie is an Indie Pop musician with an artsy, alternative edge and she also adds in a dose of gothic elements to shake things up a bit. Speakeazie offers ultra, original music on her new EP, 'Bootleggers Blood', so free your mind and expect the unexpected.
Speakeazie is based in Minneapolis and comes across like a new-age hippie with a fresh, hip sound for the 21st Century. With five tracks on 'Bootleggers Blood', each song has its own identity as Speakeazie is hitting her stride with this recent release. "Ain't Right For Your Praise" is the first song that hits my ears and what I get is a trippy, deep mix and house rhythm. Prepare to be transported to a dreamlike state on "Ain't Right For Your Praise" where Speakeazie will put her musical spell on you. Next, get wrapped up with inventive bars & notes on "Don't Go Anywhere". Vocally & musically, Speakeazie is able to pull the listener in with her innovative approach. On "Don't Go Anywhere", you're hearing excellent aesthetics overall with so many interesting layers & dimensions on this number. "I'm a Wreck, Not a Queen" showcases the not-so-glamorous side of Speakeazie proving that she is no Pop Princess. With one cool beat and emotionally-drenched lyrics, "I'm a Wreck, Not a Queen" will rush over you with its easy flow & calm groove. Get ready to enter the "Twilight Zone" of sound on "I'm Crushed in His Gaze" where unconventional measures, bars & patterns unite. Travel into another dimension of Hi-Fi audio on "I'm Crushed in His Gaze" where Speakeazie commands the ship. The last track that passes through my ear canals is "They Whisper Voodoo" and this is quite a ride! Speakeazie takes you on a far-out, futuristic voyage on "They Whisper Voodoo" as the musical direction will blow you away!
With 'Bootleggers Blood' being only her second official release, I feel Speakeazie is just getting warmed up! This Indie artist has a style all of her own and creative mindset that will help accelerate her songwriting and music career without question. Speakeazie is painting with many different colors & brushes on 'Bootleggers Blood' as her musical canvas is wide open and full of potential. Get ready for Indie Pop with a Twist!
YouTube: https://www.youtube.com/channel/UCFosxxFt8QDkXPaPd6Ux1DQ
Instagram: https://www.instagram.com/scruncho.speakeazie/
Facebook: https://www.facebook.com/speakeaziemusic
Twitter: https://twitter.com/Scruncho_Speak
TikTok: https://www.tiktok.com/@speakeazie
Apple Music: https://music.apple.com/us/artist/speakeazie/1585538201
(Spotify)
https://open.spotify.com/album/716bC2mc1TTMyGNwiQ60o2?si=7c8qiK5vT1-eKoG6Sm-QVw