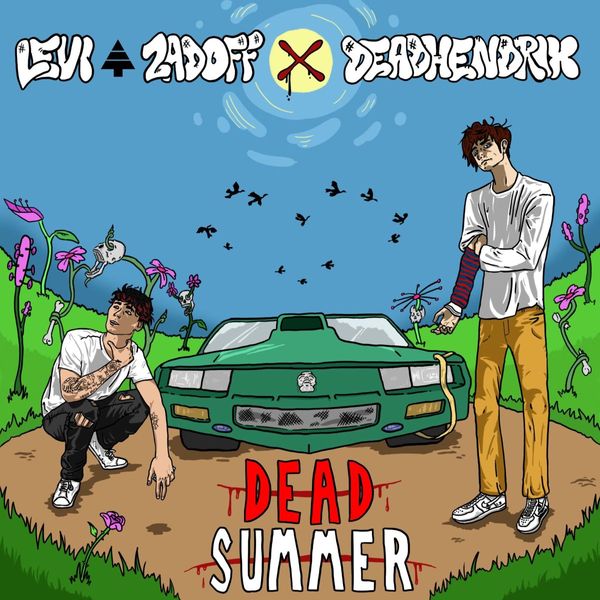 Levi Zadoff and Dead Hendrix offer up a true hybrid of styles on the faded vibes of "Dead Summer." With a slew of genres running the gamut from pop-punk to hip-hop to dance, the work has a kaleidoscopic quality. By far, the highlight comes from the insistent lyrics that rise above the rest of the sound. Infinitely catchy, they know how to craft some fine hooks. Grooves go for propulsive energy. Production matters a great deal, for they make sure that the multi-faceted, multi-layered strategy absolutely consumes the listener whole.
On "DONT THINK IT COULD GET MUCH BETTER," starts the experience off with such grace. I am reminded of my own favorite summer jams of the mid-aughts, for there is that emotional outpouring, one that feels doubly refreshing. Nice beats and glitched-up effects take hold of "ALONE." The song veers from pure electronics to absolute acoustic sounds. With this divergence, the track gains a degree of duality to it. "CANT BE GOD" races through as there is a careful cadence to all of it. Everything about
"LOVE GAME" completely lets loose. Riffs run through the whole thing giving the tempo a driving quality. A great finale brings things together as "TEENAGE DIRTBAG" balances a sense of vulnerability alongside pure chaos.
Stream and Purchase "Dead Summer"
https://distrokid.com/hyperfollow/deadhendrixandlevizadoff/dead-summer-ep
Visit "Levi Zadoff" Instagram:
https://www.instagram.com/levizadoff
Visit "Dead Hendrix" Instagram
http://www.instagram.com/talk2thedead