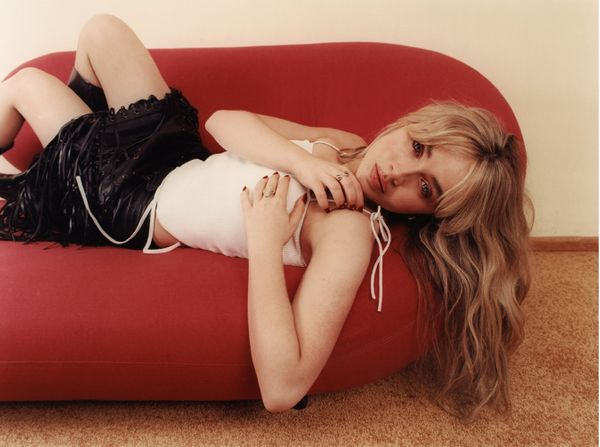 @skopemag news – friday – july 1, 2022 @ 3 pm est
@skopemag HQ – http://smarturl.it/skope
XATIVA announces the release of her sophomore EP – ' Fly Away'
London based Swedish-Ecuadorian musician XATIVA announces the release of her second EP 'Fly Away' and video for single 'Here With Me', the third song from the project. Recorded at Soup Studios in London with Giles Barrett (Alfa Mist, Nubya Garcia, Moses Boyd), 'Fly Away' was born out of perseverance and passion. A full, emotive and powerful creation in which XATIVA tells stories about confusing and seemingly contradictory experiences of love. The project sees XATIVA draw from her Latin roots and classical background, alongside interwoven influences of London jazz, electronic, folk and R&B.
RoRo unveils hotly-anticipated new EP 'Meet Me Where I'm At'
Her largest body of work to date, 'Meet Me Where I'm At' offers a vivid sonic snapshot of RoRo as an artist and a human being. Accompanied by her first two music videos, the EP is a collection of pop tracks that see the Bajan songstress pivot from her island roots to the music that she has grown up craving to write.
Three-girl Japanese band Chilli Beans. release 'School' music video, a sneak peek from their upcoming debut self-titled album, due July 13!
Three-piece band Chilli Beans. was formed in 2019 by members Moto (vocals), Maika (bass and vocals) and Lily (guitar and vocals). Today they released the music video for 'School', a song from their upcoming debut full album, titled 'Chilli Beans.'
HALSEY RELEASES "SO GOOD" STRIPPED
Halsey – who has now surpassed 16 billion combined streams on Spotify – gave "So Good" its live debut last month at Governors Ball during a headline set that Rolling Stone praised as one of the festival's best performances. Halsey will headline some of the world's biggest festivals this summer, including Reading & Leeds (U.K.), Fuji Rock (Japan), Krakow Live (Poland) and the Firefly and iHeart Radio festivals in the U.S.
JOEY VALENCE + BRAE RELEASE NEW SINGLE 'Startafight'
Invigorating and raw, multi-genre producer, vocalist and DJ Joey Valence and vocal partner Brae entered the music pantheon in 2021 with a bang when they released their debut single, 'Crank It Up', and have since shown no signs of slowing down!
NILE RODGERS APPROVED POP ARTIST WILLOW KAYNE SHARES "WHITE CITY"
After launching with the genre-blurring "Two Seater" in 2021, Bristol born, London based vocalist and visual artist Willow Kayne has enjoyed a prodigious ascent to the pinnacle of pop music's more daring corners; taking inspiration from the bass-tinged sonics of her hometown while writing some of the genre's most memorable hooks of recent years.
Moor Mother Releases Boundless New Album 'Jazz Codes' Today
The composer, songwriter, vocalist and educator Moor Mother aka Camae Ayewa is releasing Jazz Codes today, her second and latest album for Anti- and a companion to her celebrated 2021 release Black Encyclopedia of the Air. Jazz Codes uses free jazz as a starting point but the collection continues the recent turn in Moor Mother's multifaceted catalog toward more melody, more singing voices, more choruses, more complexity.
VICTORIA CANAL SHARES NEW SINGLE 'PITY SEASON' + NEW EP ELEGY OUT SEPTEMBER 16TH
Victoria Canal today shares her beautiful new single 'pity season'. Lifted from forthcoming new EP Elegy, out Friday 16th September via Parlophone Records, 'pity season' follows 'own me' as the second single from her new project and was premiered by Jack Saunders on BBC Radio 1.
LITTLE BIG TOWN RELEASES NEW SONG "ALL SUMMER" FROM UPCOMING NEW ALBUM
ACM, CMA and GRAMMY-winning band Little Big Town is releasing their latest song, "All Summer," from their forthcoming 10th studio album. The song is the follow-up to their most recent single, "Hell Yeah," which has amassed more than 10 million streams since its April release.
TANKARD: German Thrash Legends Reveal "Beerbarians" Video Single; Pavlov's Dawgs Full-Length To See Release September 30th Via Reaper Entertainment + Preorders Available
Even after four steamy, liver-destroying, gut-stretching decades in the name of heavy metal, there's no stopping the TANKARD beer crew. Just in time for the celebrations surrounding their fortieth birthday, TANKARD will release their new full-length, Pavlov's Dawgs, on September 30th. The record marks the band's remarkable eighteenth album as well as their debut for the new label, Reaper Entertainment.
Jeris Johnson Releases a New Track Exclusively on Amazon "Heal"
"The lyrics sound like they are about a person or relationship but they are actually about my own healing journey and what I went through with my health… My producer cried after we made the ending to the song. It felt like it represented a new benchmark for the quality of our songs." – Jeris Johnson
Darci shares new single "Tell Me When"
Darci has been steadily carving his lane, leading to a cult following amongst listeners and tastemakers alike who've helped catapult Darci's streams and have garnered over 1.8M monthly listeners on Spotify alone. His fan-favorite single "On My Own" continues to connect with listeners worldwide, resulting in over 50M streams across platforms. Not one to rest on his accomplishments, Darci has remained busy since his 2021 Long Days Away EP and has continued to create on his own terms, building his businesses from the ground up and finding success within the modern music landscape. Focusing on his craft and venturing into songwriting, Darci has collaborated with Ty Dolla $ign and RL Grime on "Take It Away." His song "Life" has been featured on HBO's Love Life. Pre Covid-19, Darci could be found on stages at various venues and performing at festivals such as HARD Summer, Mamby On The Beach, 515 Alive, and Snowglobe. Currently, Darci has been working on his upcoming EP, which will be released later this year. Listen to "Tell Me When" below and follow Darci for more news.
SABRINA CARPENTER UNVEILS NEW SINGLE "VICIOUS"
"Vicious" offers a glimpse of the ultra-personal songwriting and passionate, palpable, and powerful performances at the heart of the record. On the track, acoustic guitar underlines her intimate intonation as the beat gives way to an emotionally charged refrain, "Oh, you're so vicious, love me then pretend you didn't. Half of me just can't resist it. Why you gotta be so vicious?" It culminates on a robust guitar lead, while she engages a stream-of-consciousness-style vocal barrage topped off with a scream. "Vicious" channels nineties pop-rock songcraft with an intoxicating dose of 21st century feels.
for Skope: Nicky Romero and LA duo NIIKO X SWAE join forces on summer dance-pop smash (out now)
Stream the new EP from Swedish dream pop band The Mary Onettes
Today Swedish introspective pop virtuosos The Mary Onettes return with three-tracker What I Feel In Some Places. Three songs that showcase the dreamy, overcast pop we've all come to expect and love from the band.
Siiickbrain releases hauntingly beautiful new track "Jealousy"
Coming off a recent string of high-octane collaborations with artists like WILLOW, Kayzo and Maggie Lindemann, experimental rock artist Siiickbrain has released her hauntingly beautiful new track "Jealousy" today. What starts with a grunge-inspired vocal intro quickly dives into Siiickbrain's unique and powerful screaming with a melody that brings to light the genre-melding talents of collaborators Dwilly and No Love For The Middle Child.
TODAY: Emily Jean Flack shares 80's kissed Goldie Hawn inspired dance track "Goldie"
"Goldie" is about throwing caution to the wind and being yourself. Inspired by Goldie Hawn's boldness, her aptly titled new single is made for dancing.
Ben Cipolla Releases New Album 'Casa Mia' & Shares New Single 'Golden Hour'
Blending elements of Jazz, Soul and Indie-Pop, Ben Cipolla captures a unique vibrant yet chilled sound. Having experienced a number of successes including plays on BBC Radio 1 and BBC Radio 2 as well as features across tastemaker press, the Bristol-based artist is now back with the bopping new single 'Golden Hour'.
[SKOPE MAG] ''Joyous Single'' – Earmilk Premiere Sharon Watkins Who, In A Celebration of Freedom, Is Back With 'Stranded', The Neo-Soul Anthem of the Summer
NEW MUSIC: DJ DRAMA DJ DRAMA RELEASES NEW YORK STREET BANGER & VISUAL "FOREVER"
Grammy Award-winner DJ Drama is never too busy to drop a single just for the streets. His newest release, "FOREVER," features New York rappers Fabolous, Benny the Butcher, Jim Jones, and Capella Grey and is available today via MNRK Music Group. Produced by DJ Cannon, the single pays homage to the legendary DJ Kay Slay who passed away in April. The track samples "The Blastmaster" KRS-One, opens like an action movie, and packs all the New York swag you can fit onto one hip hop track. The video, directed by Kid Art, was filmed on the streets of New York City and features a cameo appearance by KRS-One, the legend himself. This song should be blasting out your car stereos all summer long!
Honey Cellar's Folk-Rock Album Candidly Captures Standing on the 'Borders' of Life's Intersections
Honey Cellar's sophomore album Borders takes listeners beyond the surface and dives deep into the interconnectedness of humanity with the earth and the complicated relationships of humans with each other.
LA SENSACIONAL CATALYNA REVOLUCIONA EL ÁMBITO MUSICAL CON "CASTIGADA" EN COLABORACIÓN CON YOUNG MIKO Y CORY
La sensacional estrella en ascenso, Catalyna nos presenta el nuevo éxito del verano 2022, "Castigada", en colaboración con las artistas, Young Miko y Cory quienes cautivan por sus peculiares estilos musicales. Con esta nueva propuesta musical,Catalyna quien es dueña de una versatilidad musical y vocal que le permiten rapear, interpretar y "modelar" canciones con su voz anhela cautivar a todos los públicos internacionales. Catalyna pertenece al sello discográfico del ídolo urbano Yandel (Y Entertainment).
The Paranoyds announce LP & share first track + video: "Lizzie" via Third Man Records; Upcoming shows with Jack White
Anberlin announce Silverline EP out July 29th on Equal Vision Records
Celebrating over twenty years as a band, Anberlin are gearing up to start the second half of 2022 on a strong note. Today the band announces their signing to Equal Vision Records and their new EP, Silverline, set for release on July 29th. Silverline marks their first new collection of music in 8 years, following 2014's Lowborn. Anberlin gave fans an early taste of new music last year with the standalone release of "Two Graves" and follow that up today with "Circles". "Circles" is an anthemic track about how hard it can be to find ourselves when we feel lost, and how discovering hope can feel impossible. The song starts with a graceful, slow build before soaring into the chorus highlighted by intense drums and Stephen Christian's signature vocals.
Must Watch: RAYE's Triumphant Return
Written and produced by RAYE with additional production by Mike Sabath (Selena Gomez, Lizzo, Camila Cabello), the emotionally raw, in-your-face anthem marks the singer-songwriter's first solo music in over a year and her official debut as an independent artist – now signed to leading distribution and artist services company Human Re Sources (Ant Clemons, Amindi, Jensen McRae) – after racking up nearly 3 billion streams across her own catalog in addition to 3.5 billion streams for hits she's penned for other chart-topping acts like Beyoncé, John Legend, Little Mix and Charli XCX.
Punk Legends Chesty Malone and the Slice 'em Ups Release 4th album, "Please Chesty, Don't Hurt 'em!"
Chesty Malone and the Slice 'em Ups have released their 4th album, Please Chesty, Don't Hurt 'em! on Cleopatra Records. The 2nd single from the album, "The Fine Art of Choking" was released on Friday June 9th and can be streamed below. They also just made a video for the 1st single from the album, "Ticket Wallet Drugs & Chicken" which came out on St Paddy's day this year and that can be seen on the Cleopatra YouTube channel.
The Rare Occasions Share Single "Seasick" via Atwood
"Seasick" is the latest single from The Rare Occasions, and the first new track from the band since their newfound virality with "Notion". The song discusses the passage of time and the unrelenting forces of chaos and directionality that time wields over us all. Set to a teetering backdrop of surf rock tones and nautical imagery, "Seasick" reminds us to pause every so often amidst the tumultuous waves to see how far we've traveled.