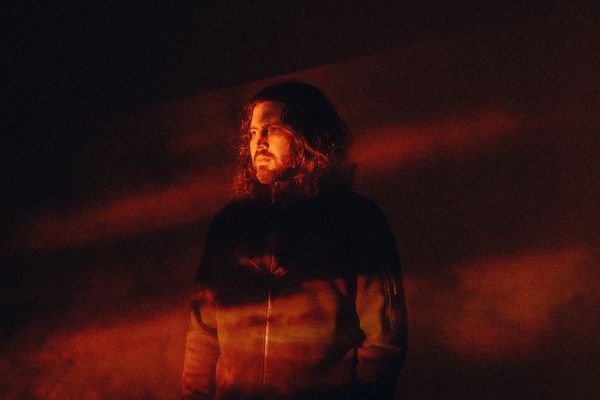 @skopemag news – tuesday – june 28, 2022 @ 9 pm est
@skopemag HQ – http://smarturl.it/skope
The Intemperate Sons Release New Single "Running Man" via FRAME|WORK to all digital platforms!
Indie rock band The Intemperate Sons released their new single "Running Man" to all major platforms via FRAME|WORK.
"This track is a collaboration with Tony Franklin (fretless bass) from The Firm, Whitesnake, and Blue Murder. It was mixed by Amir Derakh from Julien-K, Orgy, and Dead by Sunrise. The idea behind the song is fighting back from the bottom and the demons that haunt you in the quest." says the band.
NATE SMITH IMPACTS COUNTRY RADIO WITH "WHISKEY ON YOU," THE SECOND MOST ADDED SONG OF THE WEEK
Breakout singer/songwriter Nate Smith impacts country radio today via Arista Nashville with his single "Whiskey On You." Smith nabbed the second most-added title of the week with 45 first week stations, and the song has already broken into the Top 50 on the Billboard Country Airplay Chart.
"I honestly can't believe I have a song on country radio, let alone a charting one," Smith said. "I feel like the luckiest guy on the planet! Huge thanks to my amazing team at Arista, country radio, and most importantly the fans!!!!!"
Pop-punk band On Your Nerves share new single and video "Deep End"
Hailing from Pittsburgh, PA, On Your Nerves are making pop-punk with a youthful energy and passionate delivery. Today, the band announces their debut album, Brace for the Best, set for release on August 5th through their new label home, Static Era Records. The first taste of the record comes in single "Deep End", a bouncy track that centers around young love. The video for the song follows the band making their own laugh-worthy skit show spliced between live performance shots.
Slaves to Humanity Release Upbeat New Single "I Love It" via FRAME|WORK
"I love it is this crazy fun party song. While writing it, we wanted people to wanna play this song at parties and just have a bunch of fun to it. We kept kinda pushing that while in the writing
, just to give the song a unique vibe compared to all of our other stuff! With the lyrics, I wanted a chorus that anybody could sing along with. The lyric 'I love it' just kinda came to me while working out all the combinations I could have that melody. Nothing really felt right in that spot, until I hit I love it. I sang that line and thought to myself, 'what do I love?' And I went with that question and wrote the rest of the song as a feel good party song!" says the band's vocalist Aidan Amini.
CRONE reveal first video single 'Gemini' and details of new album
CRONE have released a pro-shot video illustrating the first single 'Gemini' taken from the dark rockers' forthcoming new album "Gotta Light?", which has been slated for release on September 23. Biographical information and details about the Germans' sophomore full-length can be viewed below.
The melancholic and longing video 'Gemini', which perfectly mirrors the mood of this track is available for immediate publication via this link:
WHITE HILLS: New York City Fuzz Rock Duo To Release The Revenge Of Heads On Fire Full-Length September 16th On Recently Launched Heads On Fire Industries
"A screaming head on fire penetrated my chest, jolting me from the universal plane back to earth." Guitarist, vocalist, and sonic alchemist Dave W.'s vivid fever dream ignited The Revenge Of Heads On Fire which harnesses the energy of ferocious, hedonistic rock with blissful passages of dark ambience. Exploring themes of mortality, transformation and rebirth, the band reveals a spiritual depth unparalleled in previous works. The roar of fire, swirling of oceans and hallucinogenic visions can be heard throughout the seventy-five-minute journey. From the intrepid prelude "The Instrumental Head" to the closing punk blaze of "Eternity," the album ebbs and flows, smoldering and seething in the middle with the twenty-one-minute mammoth opus "Don't Be Afraid."
OUT NOW: Psychedelic Ambient Electro-Pop Single
As the debut single off of his mini album, "Slip" finds Clay in Mono pondering the passage of time over a psychedelic ambient electro-pop beat. Leaning into the idea of existentialism with a true exploration of musical bounds, Clay uses melody loops on a Prophet synthesizer, 808s and white noise, the single feels like a twisting sojourn through life's biggest woes and finds ways to mimic the journey sonically. "Slip" is a true demonstration of Clay's artistic prowess and willingness to experiment.
Lil Gotit Goes All Gas, No Brakes in New "MF TRIMM" Video Single
Last month, Lil Gotit, along with the city of Atlanta and the hip-hop community worldwide, grieved the tragic loss of Gotit's older brother Lil Keed. In the wake of his passing, Lil Gotit was quick to voice his renewed mission via Instagram: "All gas no brakes no more playin. I got you keed!"
Post-Punk Duo CRYING VESSEL Reveal Details About Forthcoming Album, Release New Single & Video!
To celebrate this announcement, the band has released another single and video for what is perhaps the album's catchiest track, "It's So Strange." The song is a sort of tribute to the standout single "The Abyss" from the band's previous album Pleasures For The Wicked, which toyed with the idea of infusing synth pop elements into post-punk attitude. The result is nothing short of a masterclass in smart, accessible and utterly unique songwriting. Lyrically, "It's So Strange" is one of singer Slade Templeton's most personal songs. "I want to explain how it's OK to be who you are. Be what you are. Do whatever it is you do."
FLOOD Magazine Shares Guided By Voices' "Lizard On The Red Brick Wall" Lyric Video | 'Tremblers And Goggles By Rank' LP Due Fri 7/1 via GBV Inc
On July 1, Guided By Voices share their second album of 2022, Tremblers And Goggles By Rank, out via GBV Inc. To celebrate, Aaron Dunkel has created "Lizard On The Red Brick Wall," a kaleidoscopic video collage of chaos that accompanies the track, layered with prehistoric beasts and dazzling shots from iconic lizard-featuring flicks.
Louie Ray "Ion't Sleep" Visual Out Now
Noted by Spotify's Rap Caviar as one of Flint's Artist On The Rise, Louie has secured features and placements with some of Rap's heavy-weights, including: Lil Yachty ("GI. Joe"), Philthy Rich ("Price of Fame"), CGM's Lil Migo ("Out of My Hands") and Trae the Truth ("SkyScraper"). He has touched every tier of the industry, from major label signees to independent street stars.
BOX Reveals Retro Themed Video For "Soft Is The Motion"
The genre crossing project known as BOX has revealed a retro style video for "Soft Is The Motion". The song shows a doomier side of the band and is from the upcoming album Cherry Blossoms At Night which will be released on July 29th, 2022
Introducing: imfalls // New Single and Music Video "I Lost Myself" Out Now!
"'I Lost Myself' is essentially the story of how my mind was feeling when I moved to Los Angeles," shares imfalls. "Every day I hear somebody talk about LA being magical or awful, but being 19 and feeling optimistic, I took a chance on the city. Unfortunately, my experience followed both sides of this spectrum with an up and down pattern. Some days being a 10/10, while other days made me question if I had belonged in the city in the first place. In the intro, I said, 'I feel like I should be at home, but no one really wants me there.' This was basically my mind playing games with itself and overthinking the opinions of others. I would wake up in the morning and never have a clear thought of what I was doing there. Day by day, it got worse and the derealization episodes hit me like a truck. The irony is that although I wrote a simple song about the bad series of events in LA, so many other people can find comfort and validation in their own life challenges. I think we all lose ourselves at one point, seek the problem, and let that better you."
Kalu & The Electric Joint Drop New Single/Video "Garden of Eden"
Kalu and the Electric Joint blend the powers of psychedelic soul music with the driving beat of rock and roll and the ancient rhythms of Africa. Born in Nigeria, Kalu at age 18 first moved to New York before relocating to Austin, Texas, where he and JT Holt (Guitarist, Producer/Engineer) put together a stellar ensemble of players who graciously fuel and follow his deep well of eclectic influences. This musical chemistry comes from the bond forged by frontman Kalu James, and guitarist Jonathan "JT" Holt, who adds a touch of American soul to Kalu's West African heritage.
Day Wave's New LP Pastlife Out Now, featuring KennyHoopla and Hazel English! || Dates With Two Door Cinema Club On Sale Now!
L.A. indie-rock pioneer Jackson Phillips has been at the forefront of the indie music space for nearly a decade and today he returns with a new sense of self. Pastlife, an album that tackles themes of love, loss, and maneuvering life in your 30s, is a breezy, heady body of work with gorgeous lo-fi textures that seamlessly slip between indie-rock and bedroom-pop soundscapes. Throughout the album, Jackson explores what it means to let go of a life he once knew to embrace where he is now, detailing the highs and lows of those realizations— both sonically and lyrically.
New Single: Oktober X "LALA"
"I made the beat for "LALA" months before I wrote any lyrics for it. The soulful vocal melody of the beat was potent, but I wanted to make sure I had a fully contemplated concept for the song's narrative before I put words to sound. I feel that everyone is in a constant conflict between growth, and their own habits and vices. A big theme of the song is trying to mediate these conflicting desires. Everyone has vices and ways to cope with life in the short term, but everyone also needs to grow and make sacrifices for the sake of long term existence. We're all lost in our ways to a certain extent, but we keep moving forward to find a path." Oktober X says about his new single.
Sara Diamond Releases 'SaraX' LP feat. "Not All Fun Is Forever" Music Video
Over the years, indie-pop star Sara Diamond has crafted an incredibly unique sound, perfectly in tune with her enticing gift as a powerful vocalist. Blending her vocal strength seamlessly with her clever song writing, her music has caught many ears and captured millions of hearts all over the world. Diamond's last few releases have garnered over 20 million streams worldwide with an additional 16 million on collaborations with the likes of Kaskade, Adventure Club, NASAYA and Tyler Shaw.
The Clay People Premiere "Cult Hypnotica" Video at Revolver
The Clay People have been a powerful presence in the American Hard Rock Metal Punk scene for over two decades. The band has nurtured their kinetic, crafty narrative—a constructed evolution—drawing from the roots of early heavy-rock metal-punk scenes, while pushing boundaries and bending contemporary genres to achieve their distinguishable sound.
lovelytheband | Sail Away – video launched today!
Monsta X Releases "Whispers In The Dark" Music Video
International artist, Monsta X, have released the official music video for their English-language track "Whispers in the Dark," today. In partnership with Lexus, this video was shot during the bands U.S. No Limit Tour that recently wrapped up at their sold out Los Angeles show.
PSYCHONAUT To Release Violate Consensus Reality Full-Length Via Pelagic Records October 28th; "Interbeing" Video Now Playing
"Interbeing" is a perfect example of how PSYCHONAUT can embody their subject matter through sound and dynamics. Rather than hiding a mediocre melody behind a big climax, the trio from Mechelen first embodies the moment, before blowing it up to larger-than-life proportions. Similar to classic hard rock tracks like "Achilles Last Stand" or "Immigrant Song," every note feels devoted to the revelation of a new civilization rooted in mindful co-existence — an enlightening addition to progressive metal.
Up Is The Down Is The Announce New LP
Acclaimed Australian Producer Golden Features Returns With New Single 'Touch' Featuring Rromarin On ODESZA's Foreign Family Collective
Acclaimed Australian electronic producer Golden Features today makes his highly anticipated return with his rousing new single 'Touch' featuring Rromarin out now via Foreign Family Collective / Warner Music Australia.
Golden Features has turned out to be an apt name for the artist born Tom Stell, a nod to the gold mask he wears while performing. 'Touch' marks the first taste of new music from Stell's Golden Features, after a literal golden run since bursting onto the scene in 2014.