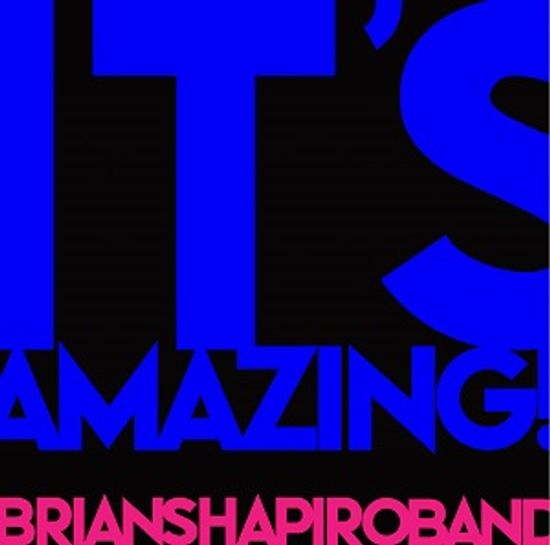 Philadelphia, Pennsylvania's Brian Shapiro Band first formed during the height of the pandemic and released their debut, All That We See, during the same period, but their second collection shows them remaining as urgent and inspired as ever. It's Amazing features ten songs and a small cast of supporting guest musicians such as saxophonist Michael Brenner, piano player Alex Posmontier, vibraphone player Ben Gallice, and trombonist St. Clair Simmons. The songs are anchored by the corner four-piece of Shapiro on vocals and guitar, Ben Kutner-Duff on drums, Rory Flynn playing guitar and bass, while Ed Moman rounds things out on bass and guitar.
The songwriting heart of the band, Shapiro and co-arranger Kutner-Duff, share more than cliched unique chemistry. It's Amazing opens with the challenging yet rewarding art-rock workout "Ambitigeddon". The song is off-kilter angles, a resolute desire to serve up anything except standard riff-driven 4/4 fare, and yet boasts a recognizable shape that saves it from sounding completely alien. The opening rave-up of sorts soon settles into a warped reggae-like groove during the verses. Newcomers will adjust to Shapiro's vocal style or there will likely turn back here. 
There's a lightly hallucinatory touch coloring the second track "So Much". Gallice's vibraphone further sends things in unexpected directions, but no one element does that more than Shapiro's vocal. The singer/songwriter/guitarist practically wails and his theatrical delivery flashes with a flicker of wide-eyed lunacy popping through. Make no mistake, this is all tightly controlled, and Shapiro and his band are after a definite effect with the presentation.
https://open.spotify.com/album/1QtIBpNGPqBm2psdC1eseR
"Am Now", however, is a standout for different reasons. Shapiro and the band pull back on their overt idiosyncrasies and hit listeners, instead, with a largely straightforward singer/songwriter-styled track complete with acoustic guitar and even a smattering of blues. The Brian Shapiro Band consistently produces engaging material each time out, without question, but melody is perhaps an underrated key to the success of these songs.
One of the album's highlights is "More Memories". It's Posmoniter's second contribution to the album, but his role in this song far outstrips his part in the earlier "So Much". Tom Waits would have excelled with this track, and it plays out like a classic piano ballad, shockingly stripped down compared to the rest of this admittedly spartan affair. The duetting between the piano and Shapiro's voice, however, has distinctly different results. It has much more of a theatrical than bluesy vibe and Shapiro's vocal is his best on the album. 
"New Newz" is a daring stab towards something different. It takes listeners in yet another stylistic direction with its outright punk rock attack and the uncompromising lyrics, Shapiro unreeling a catalog of modern media outlets and nothing more, demands you take them as they are or turn off the song. The variety of textures Shapiro and the band explore during the course of It's Amazing could be a jarring listening experience but there's a core identity intertwining these songs. Discerning listeners will pick up on it quickly. "Savor" ends the album on a positive note. It also highlights a recurring element in Shapiro's songwriting, an "instructive" tone in his lyrics attempting to help listeners arrive at some greater truth about a theme or moment. "Savor" has that in a powerful way and concludes The Brain Shapiro Band's It's Amazing on a memorable note.