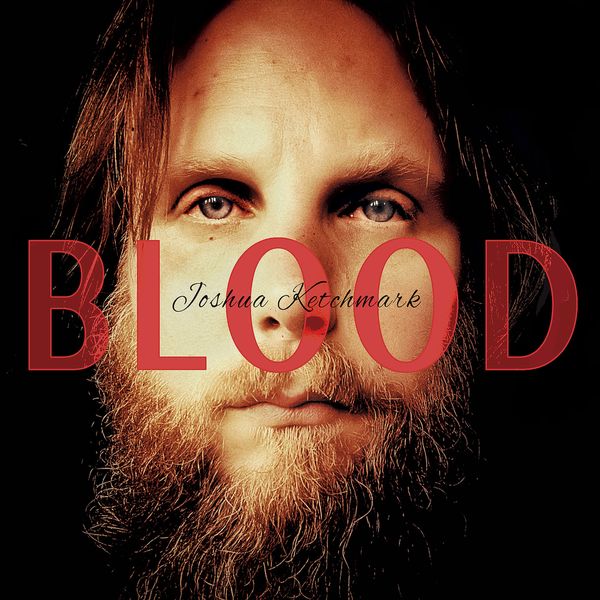 The listener will receive an unexpected yet pleasant surprise when he or she hits play on Joshua Ketchmark's "Covered In Blood". One might think of a gory type image when you say "Covered In Blood" out loud but the music doesn't fit that description at all. Mastering the element of surprise right from the start, Joshua Ketchmark delivers a powerful performance on "Covered In Blood".
This new single is featured on Joshua Ketchmark's upcoming album fittingly titled 'Blood'. Now, getting all of that bloody imagery out of your heads, let's dive deep into the guts of "Covered In Blood". Right out of the gates, the listener will pick up on a cool, rockin' riff and inviting sound on the new single. Nothing grotesque at all about "Covered In Blood" but quite the contrary. This recent release from Joshua K is a catchy pop/rock jingle that proves to have major appeal and huge potential. The infectious beat and melody on "Covered In Blood" will hook you in immediately as Joshua Ketchmark has a way with words & music. Joshua has crafted a fine song with the utmost precision and he should be proud of his efforts on this bloody, good track.
Joshua Ketchmark is a solid singer/songwriter with a real artistic quality that shines through in his work. "Covered In Blood" is a true testament to Joshua's stellar artistry proving that he is able to create strong material that is rich in substance. This single is due out July 08, 2022 and the suspense will be killing you, but have no fear because Joshua Ketchmark will deliver the perfect anecdote with "Covered In Blood". Joshua Ketchmark's songs have appeared on more than 80 college and non-commercial stations across North America and rest assured that "Covered In Blood" will be added to the list and put in heavy rotation.
https://www.instagram.com/joshuaketchmark
https://www.facebook.com/JoshuaKetchmark
https://twitter.com/joshuaketchmark
https://www.youtube.com/user/joshuaketchmark
https://soundcloud.com/joshuaketchmark
By Jimmy Rae (https://skopemag.com/?s=Jimmy+Rae)