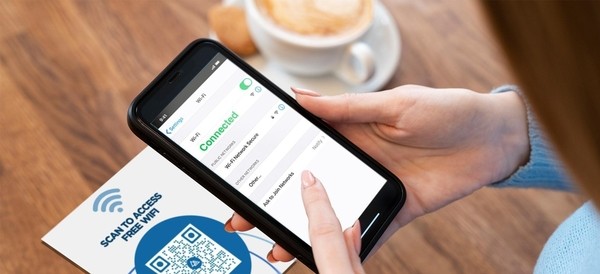 Marketing to Gen Z or "zoomers" today is a double-edged sword. While they are highly profitable since most have jobs, they also tend to have high expectations and demands, thanks mainly to growing up with internet.
It's because of this that cool cafes and coffee shops are among Gen Z's favorite spots. Still, since zoomers have a limited attention span, these businesses must think of new ways to engage with them.
Using a free QR code generator is one effective way to do so, considering that almost every zoomer now uses a smartphone.
These digital boxes are trendy and functional at the same time, and they will surely appeal to Gen Z cafe goers.
How to use QR codes to engage with Gen Z customers
If you are a café owner, here are seven ways you can use QR codes to cater to Gen Z clients:
Quick WiFi access
Since they grew up with technology, Gen Z customers often expect quick digital transactions. While they love staying connected (especially if it's free WiFi), they can find having to type in passwords quite annoying.
You can remove this hassle by setting up a WiFi QR code. Once it's scanned, it will provide the user with instant access to a WiFi network.
Your introverted zoomers will also love this since they will no longer have to approach your staff to ask for the password. That's one less social interaction for them.
Free eBooks
eBooks are getting more popular among zoomers today as they basically can't live without their device in tow.
You can offer your Gen Z customers eBooks and create a PDF QR code to store these files. Your guests would only scan the code so they can start reading as they sip coffee or eat a slice of cake.
Scan to stream songs
Most Zoomers stay in cafes with earphones on as they study or work. You can offer a list of the coolest playlists they can choose from.
Create various Spotify playlists for different genres and embed them in a Spotify QR code. You'll easily be remembered as that cool cafe who goes 'extra' in providing good music for their customers.
What's more, if you feel like these playlists are getting old, you can edit the Spotify links and use the same QR codes you've already printed out. That's possible when you use an easy to edit dynamic QR code.
Digital menus
Did you know that digital menus saved restaurants during the pandemic? These allowed food establishments to continue operations with reduced physical contact and a more efficient ordering service.
You can set up an interactive digital menu QR code software to give your younger customers a quick and easy contactless ordering option.
Cashless payments
Some Gen Z now prefer using digital wallet apps since these are more convenient and secure than carrying cash.
These financing apps led to cashless payment methods today, and you can set one up for your café by using a QR code for payments.
When customers scan the code, they will land on a payment page where they can easily connect their digital wallet, or enter their payment details.
Social media
Generation Z and social media are inseparable. Zoomers spend a lot of time on social media and use it for different purposes.
The rapidly increasing number of social media users has even opened an avenue for marketing. Companies now use social platforms to reach a wider audience and promote their products.
You can set up an official page for your café across different channels and embed all the links in a QR code generator online that supports embedding multiple links. Your customers will find all your social handles on one landing page.
Once they have followed your official page, they can post their photos in your café, use your official hashtag, and tag your page. This will greatly help in promoting your business and reaching more customers.
Interactive cups 
Did you know that you can use coffee cups for advertising? You can add a video QR code to the cup to link customers to fun videos promoting your business.
It could be a video about how your café began or how your food items were prepared. If you have eco-friendly practices such as recycling, you can make a video about it and embed it within the code.
Zoomers patronize brands that go for sustainable and green measures.
QR codes are a suitable marketing tool for Gen Z café customers
The key to satisfying the Generation Z demographic is constant innovation – always seek new ways to improve your services to keep up with everchanging trends in the market.
QR code technology is one surefire way that will increase your engagement with this customer pool. If you're still not convinced, you should start giving QR codes a try ASAP.