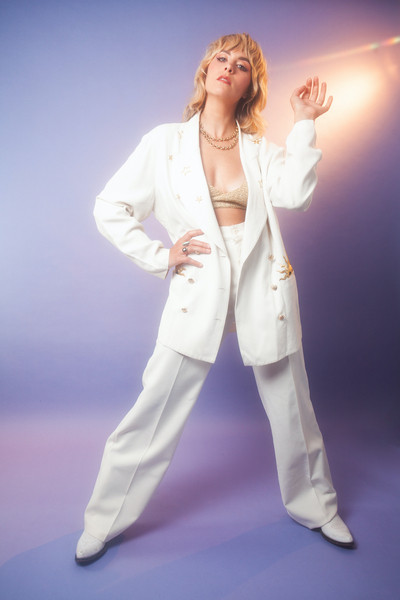 @skopemag news – friday – june 10, 2022 @ 11 am est
@skopemag HQ – http://smarturl.it/skope
Riley Pearce Delivers Debut Album 'The Water & The Rough' – OUT TOMORROW
Not surprisingly, nature occupies a sizable piece of the artist's musical DNA. For his debut album The Water & The Rough, Riley rented a house on the southwest coast of Australia. "I wanted to let the sounds of the house and the environment filter in," explains Riley. If you listen closely, you can hear the sounds of floorboards, the house's gravel driveway, mallets thumped on a couch, the metronomic tapping of a friend's collar bone, the crackling of a fire and more. Part empathetic meditation, Riley's music possesses a depth of experience delivered through wafting melodies, thoughtfully blended found sounds and quietly introspective lyrics.
HALSEY SHARES NEW SINGLE, "SO GOOD"
The official video for "So Good," which was directed by Alev Aydin, Halsey's partner, will premiere tomorrow, June 10.
Following a sold-out show in Toronto, Halsey will headline Governors Ball in New York City this Saturday, June 11, and the Hollywood Bowl in Los Angeles on June 21. The Marías and Abby Roberts are the supporting acts on the remaining Love and Power tour dates, with Wolf Alice appearing on June 21 in place of The Marías.
Mati Gómez presenta su nuevo sencillo y video musical "Prometí"
Mati Gómez, la nueva voz del género urbano, presenta su nuevo sencillo "Prometí". Un tema que se estrena con su video musical oficial y que representa un antes y un después en su carrera artística, mostrando una madurez vocal e interpretativa como nunca antes.
Bajo las alas del prestigioso sello discográfico La Industria INC, el artista chileno Mati Gómez presenta "Prometí", de la composición de Nelsen y la producción de Bobby Sierra, esta canción de desamor con un ritmo pop-urbano revela a un Mati dispuesto a comerse el mundo a través de su música. Una canción con la que muchos podrán sentirse identificados, ya que cuenta la historia de un hombre que se lamenta por una perdida amorosa, pero que está dispuesto a seguir adelante porque "aunque hoy esté solo, pronto va amanecer".
media release : AYDIN SAYAR announces new single WORKING IT OUT
Working It Out was written during Melbourne's lockdown period, and you can hear the plaintive mood within the track – two guitar chords strum thoughtfully over and over again, contemplative and magnetic, while Aydin's gentle voice invites the listener into his little world. Evocative of Tame Impala and indie legends Beach House, Aydin gives an insight into the creation of Working It Out, "I remember being cooped up in my bed drinking coffee and watching the world go by thinking, 'What am I doing?' This song deals with the anxieties of being cooped up and feeling like you contribute nothing to society. There are elements of an existential crisis that I touch on throughout the piece."
Canadian Hardcore Act Citizen Rage Unleash New Single With Lyric Video
Designed and animated by visual genius Dion Coursen, "For Worse or Better" is heavy, fast and a quick punch to the throat says singer Mark Russell. Being released on Toronto's Cursed Blessing Records this first single has the undertones of 80's hardcore punk mixed with CR's typical anthemic gang vocals. Catch Citizen Rage as they hit the road with Canadian punk legends Dayglo Abortions this June through July. Check out their link tree for dates and ticket info.
BTS' ANTHOLOGY ALBUM PROOF OUT NOW
Proof comes 11 months after their latest single CD Butter. The three-CD album introduces three new tracks, one in each CD: "Yet To Come (The Most Beautiful Moment)", "Run BTS" and "For Youth." The album comprises 48 tracks in total, from the greatest hit songs, and solo/sub-unit tracks selected by each member, unreleased tracks to special tracks.
TAUREN WELLS' NEW ALBUM, JOY IN THE MORNING, IS OUT TODAY
Wells, who has amassed over one billion combined global streams to date, will celebrate the album's release with an appearance at the GRAMMY Museum L.A. Live on June 13 – part of "The Drop" series – and a performance during the 8:00 AM hour of "Good Morning America" on Wednesday, June 15. He was recently nominated for a 2022 BET Award for his duet with H.E.R.
BETWEEN FRIENDS RELEASE 'CUTiE' EP AND OFFICIAL VIDEO FOR "TRY"
TEXAS-BASED POP DUO SURFACES RELEASE NEW SINGLE "WHAT'S BEEN ON YOUR MIND?"
"'What's Been On Your Mind?' is a story of helping someone who needs to heal from a place that they can't yet communicate about," the duo say about the track. "At times when we're hurting it feels selfish or vulnerable to open up to others and it's often just easier to put up a facade. This story chases the idea that if you truly know and love someone, you'll always be able to see through that face, that front, that safety net of words… and break down the walls that will lead to a healthier escape."
SAUCY SANTANA RELEASES "BOOTY" FEAT. LATTO
His first release since signing to RCA Records, Santana teams up with labelmate Latto on this early song of the summer contender. Saucy also recently supported Latto on her nationwide 777 Tour. Immediately trending online following Santana's initial tease of the track, the song carries an upbeat, dance-worthy production and bouncing bassline, as Santana and Latto both flex instantly catchy flows.
New Music from Allison Ponthier "Shaking Hands With Elvis" EP On Interscope Records
Shaking Hands With Elvis finds Ponthier at ease, as she demonstrates her full self in her songs. With tough-as-nails tracks like the emotions-forward single "Hardcore," she digs deep, reaching into uncomfortable feelings. The darkly catchy "Hollywood Forever Cemetery" indulges a long-brewing obsession with the storied Los Angeles resting place. She uses her fixation to explore issues of life and death. "It's also about how people think being famous will fix them—only others get more vicious and critical the less they see someone as a person," she says. "I'm very drawn to finding the human in people who have been dehumanized."
DEMI LOVATO RELEASES "SKIN OF MY TEETH" – VIDEO OUT NOW
The single is the first release off their forthcoming 8th studio album, HOLY FVCK, arriving Friday, August 19, 2022. The 16-track album is a sonic journey grounded in Demi's rock and pop-punk roots and illustrates an earnest yet tongue-in-cheek retrospective of their life experiences. HOLY FVCK is available for pre-order on Demi's webstore now.
MOTHER NATURE SHARE NATURE'S WORLD EP
Today, Chicago worlds collide as hip hop duo Mother Nature and Renzell release the Nature's World EP via Closed Sessions featuring theMIND and Mother Wata. From the dreamy, enamored scenes illuminated in "Midnight Garden" to the summertime feels of "Travelerz," all six tracks deliver its own uplifting message intertwined with the intricate wordplay the duo is known for. "Nature's World is a sonic and visual journey into the imagination of Mother Nature, where we give precedence to the natural," the duo says. "The project is an invitation to come back to nature."
RUBY RED SHARE BRAND NEW EP "SABOTEUR"
Bay Area bred, LA-based, indie-pop duo Ruby Red (Daniel Laner & Fernando Fine) have shared their new EP, Saboteur out now via Virgin Music Label & Artist Services. The 6 track offering is a distillation of early adulthood given the circumstances—that is, a "coming-of-age" spent in isolation due to the pandemic. Alongside legends such as DallasK and Nineteen85, Ruby Red effortlessly paints a portrait of the youth in which they could no longer partake. The result sounds like a memory, a feverish, evocative, and admittedly romanticized smattering of colors that may not amount to an image that is "picture perfect", but pleasant to look at nonetheless.
YoungBoy Never Broke Again & The Never Broke Again Collective Release Mixtape 'Green Flag Activity' !!!
The collective paved the way for the project with the massive posse cut "Gang Baby" [feat. YoungBoy Never Broke Again, Rojay MLP, RJAE, & P Yungin]. Right out of the gate, it generated 947K Spotify streams and counting as well as 2.4 million views on the music video. Meanwhile, its predecessor "Pull Up Actin" [feat. P Yungin] raked in 4.5 million Spotify streams and 4.6 million views on the music video. REVOLT plugged it and wrote it "sees NBA trading bars with rising Louisiana star P. Yungin over a beat courtesy of frequent collaborator DJ Trebble."
YUNG POODA CONTINUES HIS REIGN RELEASES NEW SINGLE "TROPHIES" OUT NOW!
A promising young rapper with a proven track record of hits, Yung Pooda is primed for a breakout this year and shows no signs of ceasing his moment. The official "Drop" music video directed by the renowned Mr. Boomtown now topples in over 1 + million views via YouTube, 7 + million views on Tik Tok as media outlets such as Eamilk, Lyrical Lemonade, Revolt TV and more plugged the release as a favorite from the rising star.
NIGERIAN STAR PHEELZ DROPS "FINESSE" TOURIST MIX FEATURING BNXN
Pheelz writes with passion and sings from his soul. Over the past few years, the Lagos artist has made songs that blur the boundaries between Afrobeats, R&B, and mainstream pop—using intense emotion and vibrant melody as a force that bridges diverse sounds and styles. Songs like "Finesse," featuring fellow Nigerian star BNXN, have started to resonate—bringing Pheelz' boundary-pushing music and earnest, heartwarming emotion to the top of the charts in the UK and his home country.
ZØLTAN Releases New Single/Video 'Ai Ki Narabi'
Art Pop artist ZØLTAN has returned with a new single, "Ai Ki Narabi', alongside an accompanying vibrant video that talks about the power of unity. He incorporates the sounds of contemporary urban culture, perfectly balancing the pop elements and symphonic orchestral arrangements.
SKAAR SHARES THE NEW SONG 'OUT OF MY HANDS' – WATCH THE OFFICIAL VIDEO HERE
Menrva & MOYA link up on new single 'You'
Irish party-starters Menrva have joined forces with US singer-songwriter MOYA on new single 'You', out today.
A euphoric club banger, 'You' combines rousing piano chords and life-affirming breakdowns with MOYA's scintillating vocals. It is the latest in a series of tracks that Lift Me Up plans to release. With its founding mission to put amazing dance music in front of people – from crossover dance records to club-focused tracks – the imprint aims to be a positive place for like-minded individuals to come together and collaborate.
OUT TODAY: Katherine Aly – Shadows Are Made Of Light Too
Edinburgh-based (via Greece) alt-pop artist Katherine Aly has been championed for her genre-defying by the likes of The Skinny, Tenement TV and Vogue Italia since releasing her debut single in 2019. Now, after the 2021 singles "Glow & Ignite", "Pariah" and "Rules", and 2022's "Hype Up" and "Never Giving Up On You" Katherine's debut album Shadows Are Made Of Light Too is out today.
Amalie Bryde shares 'In & Out of Love' EP, including collab with Svetlana
The follow-up to her debut project "Lay Down" which dropped in May 2021, the Danish-born songstress' new 5-track EP is a collection of tales about falling in and out of love; charting heartbreak, fresh relationships and finding love from within. Its lushious sound also showcases her move into production, with all five tracks produced by Amalie herself, while co-producer credits include J.Ar.J who has previously worked with the likes of Jordan Stephens and Yiigaa. A romantic project that's enriched with nostalgic, 90s R&B undertones, "In & Out of Love" reflects Amalie Bryde's raw, authentic self as she navigates the highs and lows of love in all its forms, sharing those moments of vulnerability but also the confident, sexy ones too.
OUT TODAY: Susan Bear (fka Good Dog, Tuff Love) – Alter
Susan Bear (fka Good Dog), former member of Tuff Love, multi-instrumentalist, sound designer, producer and collaborator with the likes of Pictish Trail, Martha Ffion and Malcolm Middleton is back with her second solo album, the beautiful Alter, out today on Lost Map Records.
IMEN SIAR SHARES HER NEW SINGLE 'GLITTER AND GOLD'- WATCH THE OFFICIAL VIDEO HERE
23-year-old newcomer Imen Siar showcased a world class vocal and the personality to match with her debut single 'Lonely People'. Earning tastemaker acclaim in the UK, continuing to earn increasing radio support in the US, and appearing on TV in Italy, Imen demonstrated that she's truly one of a kind and this is all achieved on off-days while she continues her job working as a waitress at Nando's in London.
Toby Sebastian releases new single 'Real Kicks'
Influenced by the sounds of the late 60s and early 70s, 'Real Kicks' finds Toby bringing a fresh take on nostalgic folk, soul and pop with dreamy guitars, breezy melodies and his distinct wide-reaching husky vocals. The track delivers a wild sense of freedom and plays like a cross between Jake Bugg and The War On Drugs.
Portland based Haley Johnsen lush indie pop album
Haley Johnsen is a Portland, Oregon-born musician with a knack for genre-bending and a hard-earned career path that is uniquely her own. Raised listening to powerhouse singers such as Brandi Carlile, Grace Potter, Eva Cassidy, and Bonnie Raitt, her greatest inspirations become apparent in her soaring vocals, introspective lyricism, and cross-pollinated style of indie-pop, and bluesy folk rock music. Whether her songs muse on the aches of self-doubt, the joy that can accompany nostalgia, or simply trying to stay afloat in tough times, her bona fide songwriting combined with her performance ability is bound to evoke an emotional response. "I want my music to encourage people to push through their challenges and continue to have hope and belief in themselves and their authenticity," she says.
TOM ZANETTI SHARES THE NEW SINGLE 'SLOW DOWN'
'Slow Down' is Tom's radical reinvention of Bobby V's classic R&B slow jam which reached #4 back in 2005. After adding his original boisterous bars with a bombastic bass attack and accelerating the tempo, Tom Zanetti has given an old classic a modern touch that will introduce it to a whole new audience. The original has a special place in Tom's heart, as there was always R&B playing in the house when he was growing up.