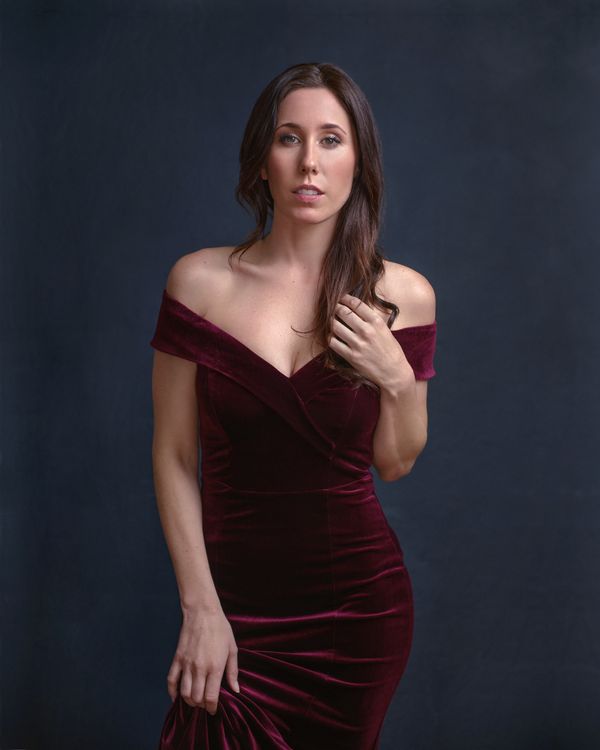 Photo credit: Joanna Tillman
Jen Schimpf is a genuine person with a kind soul and killer sound! Hailing from Maryland, Jen has been playing music since she is a kid and so music consumes her from head to toe. Jen Schimpf said it best here when describing her creative process: "Transcribing my emotions to sound". With a new EP out titled 'Static in the Attic' and upcoming shows, Jen Schimpf is loving life doing what she loves. I'll leave you with a quote by Jen that pretty much sums up her bright spirit: "Life is just a game, make time to be playful!"
Jimmy Rae: What can listeners expect to hear when they SKOPE out Jen Schimpf for the first time?
Jen Schimpf: Listeners can expect authenticity and a minor roller coaster of emotions. I strive to properly transfer raw emotion into each original song, hoping to give listeners a taste of the experience, be it positive or somewhat sad.
Jimmy Rae: How would you best describe your style and who are some of your musical influences?
Jen Schimpf: My original songs have a bit of a style range. Some have a warm 12 bar blues feel, others a bit moodier, and on some songs, like "Homegrown", we get a little rowdy. Some classic influences for me are Norah Jones, David Lanz, Fiona Apple, Tori Amos, KT Tunstall and Sheryl Crow. My current influences change often but at the moment I'm really into Sam Cooke, Elle King, Chris Stapleton, Billie Eilish and Bon Iver. I'm all over the place…haha.
Jimmy Rae: Being that you're from Annapolis, Maryland, can you tell the Skope readers what makes Annapolis stand out in the crowd when it comes to its local music scene?
Jen Schimpf: There is a lot of talent around here. I find its fairly eclectic and you can get a little taste of everything. There is always good live music somewhere!
Jimmy Rae: Your latest release is titled 'Static in the Attic' and wondering what was the driving force behind this EP and how did the title come about?
Jen Schimpf: The guys and I were just super happy with what we had created during Covid and we wanted to share it. The title of the EP is kind of a funny story. My bassist and I were in a band for a short period of time in college and we practiced in our friend's attic. So we called ourselves Static in the Attic. When we were discussing the name for the EP, I kind of blurted that out while laughing. Then it kind of hit me. Static in the Attic was perfect. A lot of my original music is cathartic for me.
Sometimes I feel like there is a bit of chaos, or static, if you will, in my mind that gets cleared and released once the song is done. Anyways, it totally stuck and apparently our old bandmates got a kick out of it too!
Jimmy Rae: How long have you been performing and writing songs? To add to that, what initially drew you to music in the first place?
Jen Schimpf: I think the initial spark came from my Dad. He's a wonderful guitar player and would keep his acoustic Martins in the basement in these beautiful silk lined cases. I would sneak down there and just pluck the strings admiring the tones and the wood details. When I finally got my hands on a baby grand I was about 12 years old. I can honestly say it was my first love! I was an awkward kid and frequently battled depression and anxiety. Music made me feel good so I played as often as I could. To start I would simply mess around with the keys and as I became more and more mesmerized, I started pulling together melodies. I had my own weird way of taking notes and by 13 yrs old I was composing full piano pieces. My first performance was in 9th grade and it took all I had to get onto that stage. I still remember having issues with the sustain peddle because my knee was shaking so badly! My voice came about a year later and I started adding lyrics and focusing on guitar as well. Since then I've been in multiple bands and have written nearly 30 songs. However, severe stage fright kept me from doing much until about two years ago, when I finally broke free of the anxiety after discovering and resolving some long term health issues. I sort of stopped caring if people liked me or not and now I just play because it feels good. Life is short, do what makes you happy!
Jimmy Rae: What is your strongest instrument/gift and why?
Jen Schimpf: Transcribing my emotions to sound. I write my songs very quickly, like a download. Maybe fifteen minutes and I have the first round of lyrics and the chorus. It just always happened that way. I'm very grateful for it. It takes a massive weight off my shoulders sometimes.
Jimmy Rae: Being that you perform as a solo artist and with a full band, which do you prefer and what are the major differences between the two?
Jen Schimpf: I LOVE BOTH! They each have their own incredible energy. When I play solo, I feel a deeper connection with myself. I go into a heavy flow state and have the freedom to lag, or speed up or hold a vocal note as long as I feel. I enjoy the fluidity. I love hearing my songs come to life when I play with the guys. Our individual energies click really well and we sort of become a single consciousness. There is a beauty there that I can't quite describe.
Jimmy Rae: Speaking of your band, can you tell me how you met and what does each member bring to the table?
Jen Schimpf: I had known my bassist, Jimmy Mumper for a while and we had been in a band together in the past. I met Scott Baker through a mutual friend back in 2019. Scott and I started playing together and then we added on a few other people including a bassist, guitarist and violin player. We played a couple shows together and then Covid hit. As everyone went into hiding, Scott and I did our best to maintain some sanity by playing music every week. It really helped keep the stress down and gave us some time to relax and do something we enjoyed. Scott is a phenomenal drummer. He can learn a new song on an a dime and is super dynamic. He's a master with brushes and can also bring the noise when necessary. We were ready to add on and agreed we wanted a bassist. I knew who to call! Jimmy joined right away and was the absolute perfect addition. Upright bass gives the songs a lovely rhythmic boost and the bow adds depth and warmth. We worked on my original songs, recorded the EP, and sold out our debut show in January 2021. It was truly incredible!
Jimmy Rae: With your new EP, 'Static in the Attic', can you provide the Skope universe with just a few teasers as to what the audience can expect to hear? Are there featured, stand-out tracks you'd like to emphasize and highlight to the Skope crowd?
Jen Schimpf: People seem to really like "Homegrown" and "Sick Hold". They are a little more up beat and fun. My personal favorite is the opening track, "Generosity".
Jimmy Rae: What are some of your favorite activities to do in Maryland and any recommendations to people visiting the state for the first time?
Jen Schimpf: So many things! I'm a big hiker and love to be in the woods. Maryland is full of great parks and camping areas. Get to Green Ridge State Forest at least once in your life! Fern Gully at its finest. Getting on the water is a no brainer and Assateague Island's beaches are some of the best stars you'll see on the east coast. I'm a historic district kinda gal, so downtown Annapolis, Ellicott City and Baltimore's Fells Point waterfront are a must.
Jimmy Rae: Besides music, what other passions do you have and what else do you enjoy doing in your spare time?
Jen Schimpf: Meditation and spiritual development are very important to me. I love to learn and often indulge in documentaries, podcasts and books. I'm a big fan of ancient history, natural wonders and going down wildly entertaining rabbit holes. I was a psychology major and have never really stopped wanting to know more about the mind. Neuroscience, quantum physics, multiverse theory and in general, concepts regarding consciousness. I love yoga, I am a reiki master and my house may or may not be flooded with crystals and sage. I also enjoy horseback riding, camping, archery, making art and traveling.
Jimmy Rae: Where can listeners find your music and any upcoming shows/events that you would like to announce here?
Jen Schimpf: The EP is streaming on all major platforms, Spotify, Tidal, Apple Music, iTunes etc. My website (JenSchimpf.com) and my instagram (@Jenschimpfmusic) are the best sources for my upcoming shows.
Jimmy Rae: What is your favorite venue setting to perform at and why?
Jen Schimpf: Intimate dinner sets. There is something about the mood that makes me feel all warm and fuzzy. I have full permission to go into flow state and be completely and utterly present in the moment.
I try to radiate peace and relaxation to my audience.
Jimmy Rae: Going from the music kingdom to the animal kingdom, love to know if you have any pets of your own and also what your favorite animal of all time is?
Jen Schimpf: I have my rescued fur babies Chloe and Louie. Chloe is a Pit Bull terrier and Louie is a long haired tuxedo cat. Both are absolute angels. Favorite animal is super tough! I love them all!
However, I've always had a very close connection with horses, so I'll go with that.
Jimmy Rae: Ending on a positive note as I always do, I figured we'd lighten things up and ask if you have any funny stories or jokes you could share with the Skope viewers. Anything that pops into your mind is fine just as long as it can make someone smile and maybe brighten someone's day! :)
Jen Schimpf: I love this! I just have a piece of advice that has always helped me and hopefully it can help someone else. Whenever you're feeling sad, insecure or anxious, try this technique: Close your eyes, take 4 deep breaths (in through the nose, out through the mouth). Get to a calm place. Now imagine someone close to you, a family member or friend. Imagine them cracking up about something funny. Like, really losing it. I'm talking ugly laughing here, possibly crying a little. Run through this with a few other people in your mind. Laughter is contagious : ).