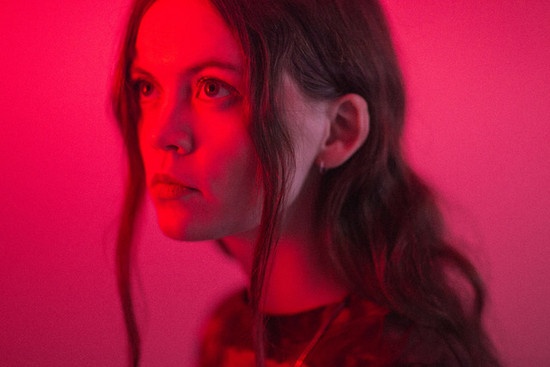 @skopemag news – monday – may 16, 2022 @ 4 pm est
@skopemag HQ – http://smarturl.it/skope
Ryan McMahon's One More Fire Video Premieres on The Country Network
Popular Canadian singer/songwriter Ryan McMahon burns with energy in the forward-looking "One More Fire" performance music video, which premieres today on The Country Network. From a solitary stroll through empty and overcast city streets to the vibrant, neon world of The Queen's club (Queen's Hotel, Nanaimo, BC), the visuals build with the pace of the song. By the end of the clip, McMahon is crowd-surfed by revelers and the excitement is palpable. Featured in the video are the venue's real-life bartender, Sarah, longtime McMahon fans, and his band Shane Hendrickson on bass and vocals (Natalie McMaster, Gene Simmons), Lance Lapointe on guitar and vocals (Randy Bachman, Marcy Playground), and Matthew Atkins on drums (three-time Canadian Country Music Award Drummer of the Year winner, bandleader for Chad Brownlee).
New Music from Graduation Speech and One Armed Joey
It's Friday the 13th and we're celebrating with new music from Graduation Speech and One Armed Joey. First, let's dig into the Graduation Speech release. Controlled Burn is a tender and introspective five-song EP by the New Jersey native. It very much feels like the other side of the coin from the angsty output that Kevin Day has released via his indie-punk outfit Aspiga over the years. Recorded at Gradwell House by David Downham (Pet Symmetry, mewithoutyou, Beach Slang), Controlled Burn works through feelings of isolation, change, and looking ahead. Inspired by the work of John K. Samson, Matt Pryor, and Sundowner, Graduation Speech begs the listener to sit with the music, quiet the world around you, and reflect. So, if you've got your coffee ready, go ahead and press play on Controlled Burn. The EP is out everywhere today via family owned indie label Jetsam-Flotsam.
Leonie Prater Shares New Single "Obstacles"
Leonie Prater is an independent artist based in Dorset in south-west England. Since the release of her debut album, Metamorphosis, last year, Leonie Prater's music has taken a different direction, and she has been writing new songs for her upcoming sophomore album. One of these songs is her brand-new single, "Obstacles", which is out now.
Kabaka Pyramid Make Things Work A Much-Needed Tale of Perseverance
Even with news of the global pandemic subsiding, there are those still trying to find ways of surviving and Make it Work is the latest single from reggae artist Kabaka Pyramid, telling this story. The new single produced by Young Pow and Damian Marley himself, speaks about the mounting pressures of the system from the perspective of the persistent hustlers determined to find a way. The track, which in many ways is a platform for the voice of the working class, is scheduled for release on all streaming services today.
OUT NOW: Downtempo Producer Calcou Shares Kaleidoscopic 'Below' video
AUDREY HORNE Releases Student-Produced Music Video for "Break Out"!
Four years after their much-acclaimed Blackout record, on April 22, 2022, Bergen-based heavy rock act AUDREY HORNE released their chart-topping, seventh studio album, entitled Devil's Bell, via Napalm Records.
Down the psych-folk rabbit hole with Yves Jarvis
BESVÄRJELSEN release new single 'The Cardinal Ride'
BESVÄRJELSEN have released the final advance single taken from their new album "Atlas". The hard-hitting track 'The Cardinal Ride' packs a heavy punch and singer extraordinaire Lea Amling Alazam even channels some rocking sleaze.
The Swedish forest rockers have previously unveiled the artwork, tracklist, and further details of their sophomore full-length, which can all be viewed below. "Atlas" has been slated for release on May 27.
Rufus Wainwright Shares "Over the Rainbow" From Rufus Does Judy at Capitol Studios
2x GRAMMY® Award-nominated singer-songwriter Rufus Wainwright has shared "Over The Rainbow," featured on his upcoming Rufus Does Judy at Capitol Studios and available now at all DSPs and streaming services.
Rufus Does Judy at Capitol Studios – an all-new performance of his groundbreaking tribute to Judy Garland, Rufus Does Judy at Carnegie Hall, recorded last year at Los Angeles' famed Capitol Studios – arrives via BMG on Friday, June 10, celebrating the legendary Garland's 100th b
Cola (ex-Ought/US Girls) talk new LP with FADER / Share "Fulton Park" / debut LP out Friday
On Friday, the debut LP from Cola, Deep In View, will be released on Fire Talk Records. The new project from former Ought members Tim Darcy and Ben Stidworthy and US Girls/The Weather Station drummer Evan Cartwright, the band's debut has been one of the most anticipated releases of the year, earning praise from outlets like Pitchfork, NPR, FADER, Stereogum, Uproxx, Paste, BrooklynVegan, Consequence, Clash, NME and Rolling Stone who named the band an Artist You Need To Know and called their debut "one of the year's most thrilling rock statements." Today, Cola are sharing a final single from the LP, a track called "Fulton Park," and have spoken to FADER, who are premiering the track, about their forthcoming album.
TELAPORT Drops New Single "DON'T WAIT" – Stream Now!
Hot new duo TELAPORT drop their sophomore single and video from the much anticipated EP (coming this summer) Better Together – written, produced and performed by D'Lannie and Stevie. The music video was directed by emerging creative Justin Richardson Films.
"Don't Wait is about loving yourself. Not taking yourself too seriously, and most importantly, not waiting for the perfect moment to love yourself!"
WARFORGED Premiere Music Video for "Bliss Joined To The Bane" Exclusively via Metal Sucks
Chicago-based death metal quintet WARFORGED have unveiled the first single from their upcoming studio album. Fans can check out the wildly fun new music video for "Bliss Joined To The Bane", which premiered exclusively today via Metal Sucks, at the link here.
Exclusive Video Premiere: Warforged Get Stupid High (Literally) In "Bliss Joined to the Bane"
Djent metal veterans MYCELIA announce new narrative concept album with "The Beginning of A Long Hangover" video & single
Swiss djent metal veterans Mycelia have just revealed a new music video for their new single "The Beginning of a Long Hangover", as well as announcing the availability of pre-orders for their upcoming LP album In a Late Country which is scheduled to be released on September 16, 2022 via Eclipse Records. The video was directed by Irvan Dionisi.
Pioneering new talent Maud releases UK house and garage inspired "See Right Through U"
Mixing an eclectic mix of inspirations ranging from euphoric 90's pop to UK house and garage, "See Right Through U" is a hypnotic concoction of dreamy vocals and rapid beats showcasing Maud's wide-ranging production know-how. Exploring themes of empowerment and self-discovery in her music, this new single encapsulates the rising artists signature dark soundscapes and creative vision.
BLACKWATER DROWNING Premiere Music Video for 'Aberrant Leaves' via Metal Injection
With the recent announcement of their debut full-length album, melodic death metal outfit Blackwater Drowning have partnered with Metal Injection to premiere the music video for the LP's first single.
BLACKWATER DROWNING Brings The Blackened Death Metal On "Aberrant Leaves"
Dream Pop Duo ACER Debut with "Baker St."
Both members have played in multiple bands over the years: Ballantyne in art-rock band House Art, backing Mappe Of, and JoJo Worthington on multiple tours & currently fronting pop boy band group Province, and Gottschalk in dream-pop/emo band Mount Mural as well as House Art.
Debut single, "Baker St.," flexes all of the duo's musical muscles at once and showcases a convergence of influences. Brash, affected vocals, dreamy production, and ambient pieces… how many dream-pop acts have beat-switches?