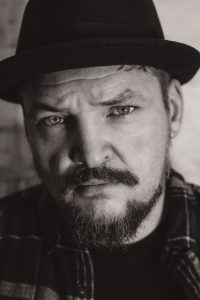 Northern Irelands' Lee Rogers is playing the release show for his new album Gameblood in Boston on tour with Foy Vance this Friday at Royale. Today, he is debuting his video for the latest single "Silent Song."
This is Rogers' fifth major recording and third official release, coming across as a tender yet macho noir outcast, honestly giving musical solidarity to fellow wounded exile-pioneers holding similar relational and existential pain.
The full-length was recorded at Sycamore Studios and produced by Gareth Dunlop (who has produced all of Rogers music for the past three years) with a group of musicians he's been working with for over two decades. "Love, lust, life, death, addiction, and lots of spirits and ghosts moving around holding it all together," Rogers says. "This album is a truer reflection of myself, my stories, where I've been and where I hope I am now."
Regarding "Silent Song" Lee explains, "I was slowly coming around and starting to feel a little bit human again. Gareth Dunlop had this idea, these words that he had set aside for me. I remember at the time feeling a little embarrassed about that, I was still telling myself that there had been nothing wrong with me. Nothing I couldn't handle. Looking back now I can see a very different picture.
Anyway, we got down to it and wrote Silent Song together on a sunny day in the English countryside.
The big challenge was recording the song and getting the video made. In fact, the whole album is pretty much a lockdown album. The whole world was under this massive threat from Covid-19. No one really knew what was going to happen.
We decided to put the video firmly in the hands of our good friend, animator Bob Price. I've always loved the old 1930's Disney animations. I'm married to a die-hard Disney girl too, so while the canvas was blank, I had a good idea where I wanted it to go. He pulled it off beautifully.
This video is dark and light and everything in between. It's a reminder for me. The road to my heaven isn't necessarily gonna be your road. But the song is relative to anyone who has struggled with anything in their lives. Never forget how fragile we are."
Marked as the most anticipated tours of Spring, Lee Rogers release of Gameblood has been eagerly awaited by fans and critics alike and will be a top ten album to drop this month.