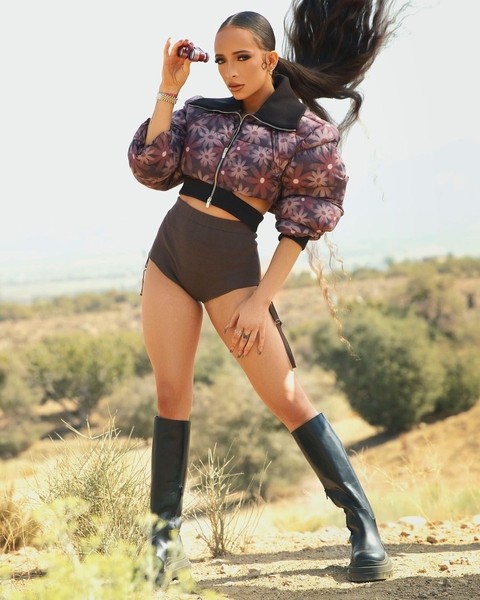 @skopemag news – monday – may 2, 2022 @ 10 pm est
@skopemag HQ – http://smarturl.it/skope
Orange County's Bleed The Sky Announces New Vocalist! Releases New Single "Rot in Flesh" + Official Music Video
"The lyrics of 'Rot in Flesh' represent the choice to overcome negativity from one's own toxic thoughts and others trying to bring you down. Sonically, this song hints at Bleed the Sky's new direction and what people can expect from our upcoming releases. This is just the beginning. We are very excited to show you what else this new line-up has to offer," says the band.
Singer/Songwriters Ty Warner & Olivia Frances Release Powerful Debut Single, "Love is Everywhere" on Global Love Day
Singer/Songwriters, Ty Warner and Olivia Frances are excited to announce the release of their debut single, "Love is Everywhere" in conjunction with Global Love Day (May 1st). The bright, retro-sounding pop-rock collaboration which they co-wrote, shares a powerful, positive, and highly inspirational message suggesting that it takes love to make love, and that we are all in this together. We should look for and appreciate the beauty in life, not taking for granted the simple things that we have the opportunity to enjoy each and every day – sunshine and the gift of light, the birds and bees, and each other. The song also suggests that we have the power to change the world by sharing our compassion and kindness, one smile and gesture at a time. "Love Is Everywhere" is now available through all streaming platforms and digital retailers.
Lauren Spencer-Smith is Flourishing in Official Music Video For "Flowers"
Breaking In A Sequence Release Single "Leave Me Be" + Official Music Video
Alternative hard rock/metal band Breaking In A Sequence released the official video for their single "Leave Me Be"! The single is off of their long awaited new EP Defy the Algorithm that released on April 22nd.
Rock Duo Mobina Galore Share New Single "Whiskey Water"
New single, "Whiskey Water," is a party – a celebration of life, if you will. It's about summer nights with friends you see on the road, drinking wine straight from the bottle and moments that you never want to end. Sometimes these moments are brought on by the pain of losing someone you love when you're miles away from home, but it's your family on the road that helps you through those times to create perfect moments.
BLACK NEGATIVE DOMINATION Unleash New Album Forever Negative
Guttural vocals and ghastly shrieks capable of waking the dead soar above intense, fast guitars in "My Abyss", summoning the portal to the depths below. Intricate melodies across cleaner tones intersperse the black enhancing the sound scaping across the tracks. The melodic introduction of "Forever Negative" delivers a haunting atmosphere before the devilish distortion takes a hold. The instrumentation takes the limelight with the instrumental "Goodbye (Is Forever)", while "I Like It When You Cry" evinces a diabolical sense of malevolence.
ICYMI: KENDY X RELEASES HIGHLY ANTICIPATED DEBUT EP MISPLACED OUT TODAY
Today, Long Beach-raised R&B singer/songwriter Kendy X makes her highly anticipated debut with the release of Misplaced EP out now via Rose Records. An evocative collection of songs that magnetically draws listeners in with her poignant and amative lyrics dazzled with her indomitable sense of confidence, Misplaced celebrates the strength in choosing yourself and forging a path of self-love in the most heaviness of times. The title hints at Kendy X's continued growth on this journey.
S.F. INCORPORATED Release Video for "Dead Skin Mask" (SLAYER Cover)
S.F. INCORPORATED have released a grizzly new video for their cover of SLAYER's "Dead Skin Mask". The song is from Forever Reigning-A Tribute To Slayer which was released on April 29th via Satyrn Studios.
Bryan Carter Releases New Single "Making Love"
TANNA LEONE STARS IN pgLANGS CONVERSE COLLABORATION SHORT FILM
BONES & grayera are 'WITHERED' on new album
Withered is the first full length from BONES in 2022, which, if you're a BONES fan you'll know, that's a longgg time for him to wait to drop an album. The prolific underground king released 5 full length albums in 2021 alone, starting with Burden last January. With production from TeamSESH's grayera, Withered sees BONES taking on more cosmic beats and giving his classic mix of hard hitting rhymes and somber, emo-laden singing. My favorite tracks are "LFG," "EarlGrey" and "Knievel."
[Video Submission] N.B.S. "Never Had"
Out Now ~ MXTX: A Cross-Border Exchange
MXTX was born in the wake of the 2016 U.S. elections with the impetus to repel intolerance, in full alignment with Austin, Texas based Golden Hornet's mission of collaborative creations and adventurous programming with a commitment to justice and innovation. A curated, gender-balanced project involving more than forty DJ-producers and composers from both Texas and Mexico, MXTX's multifaceted and dynamic creative output includes live performances, an open-source audio sample library, and the highly anticipated studio album MXTX: A Cross-Border Exchange (out now on Six Degrees Records). You can learn more about the project through this video –
CDSM Shares Debut EP 'Hell Stairs' on Mothland + EXAG | Read More in Post-Punk, Flood, Ghost Cult, and Psychedelic Baby
As the sun sets on an ever-heating planet, strange synthesizers converse in the distance, punctured by disco rhythms and interjected by saxophone growls, akin to a jukebox of divine sadistic temptations, oozing goth rock-esque melodies that forever haunt you… You have just been exposed to the groovy sonic onslaught of CSDM a.k.a. Celebrity Death Slot Machine, a collective based in Atlanta, Georgia that features current and former members of alternative outfits: Material Girls, Neighbor Lady, Mothers and Rose Hotel.
Listen to Dark Disco Outfit CDSM's "Hell Stairs" EP—Plus Interview
Stream the new 'The Ever Growing Wound' EP from King Yosef
King Yosef is the project of musician, singer & producer Tayves Yosef Pelletier from Portland, OR. His latest release, The Ever Growing Wound EP, is out today. Yosef shows off a more hardcore / metal / industrial direction here, with the primary influence being Nine Inch Nails.
Animal Sun + Dreamers Release New Music Video For "I'm Already Dead"
Indie pop quartet Animal Sun have released the music video for their catchy and hard-hitting collaboration with Dreamers "I'm Already Dead." Produced and co-written by Kenny Carkeet (ex-AWOLNATION) and co-produced by Aaron "Zeus" Zepeda, the track is the second release off of Animal Sun's upcoming sophomore album Generation Waiting, due this Summer. Animal Sun is also currently on a nationwide tour with Kelsy Karter through May 11.
LOS ANGELES BAND JUNIOR VARSITY RETURN WITH NEW SINGLE "SHARE UR FEELINGS"
"Share Ur Feelings" marks the first drop from the group since their 2021 self-titled debut EP, Junior Varsity. Once again, they defy categorization, embodying alternative with organic production and a sticky hook on the song.
HARRY STYLES ANNOUNCES ONE NIGHT ONLY IN NEW YORK
Today, global superstar Harry Styles announced his special ONE NIGHT ONLY IN NEW YORK coming to UBS Arena at Belmont Park on May 20th. All tickets will be available for $25 all-in, including taxes and fees. The special show will celebrate his highly anticipated new album Harry's House, available everywhere the same day on May 20, and will see Harry performing songs from the album for the first time ever.