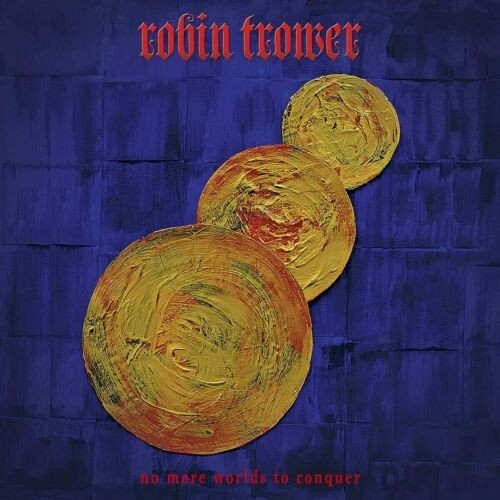 Robin Trower has been a major force in rock guitar since joining Procul Harum in the late 60's. Since the early 1970's he has been touring and recording with his Robin Trower Band. On this album RT handles the guitar and bass, along with Richard Watts on vocals, and Chris Taggart on drums. Additional bass is supplied by Liv and organ by Paddy Milner. This is his 26th solo release.
The Harum was known for it's distinct sound, combining heavier rock with ballads, and incorporating B3 and orchestral accompaniments. Their best known tracks were A Whiter Shade of Pale, Conquistador, and A Salty Dog. RT's early solo work is best known for Bridge of Sighs, and Too Rolling Stoned. Ball of Fire is a slow bluesy paced tune. The title song No More World's to Conquer is a nicely done ballad. Deadly Kiss is a slow haunting offering. Birdsong brings a soft, mellow sound that would be an ideal fit for a movie soundtrack. Losing You picks up the pace a bit as does Waiting for the Rain to Fall.
Wither on the Vine follows the ballad trend. Cloud Against the Sun is an upbeat rocker laced with faster licks. Fire to Ashes returns to the ballad format. The Razor's Edge has an edge with efficiently added effects and fretwork. I Will Always Be Your Shelter is probably the mellowest ballad and the best cut here.
RT has that 70's blues/rock attitude that most of the British acts of that period have carried forward. His use of effects are limited and well placed. No shredding found here, or for that matter required. A nice lesson in reflective, tasteful bluesy guitar work. This release is the perfect, laid back with a glass of wine kind of thing!