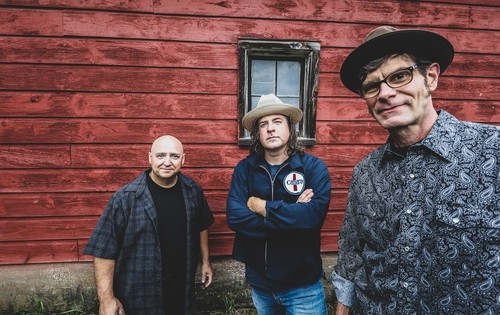 Americana/roots rock/folk trio Warden and Co.'s vocalist/guitarist Seth Warden sat down recently with @skopemag to talk about the band's fantastic new album, "Somewhere" (out now).
@skopemag: Tell us about your new album, "Somewhere."
Seth: "Somewhere" is a collection of songs written over the past two years. This is our first full-length release, so we wanted to capture some musical emotions within the songs we chose to record. We recorded with producer/multi-instrumentalist Chris Carey, and he plays bass guitar and piano on the album, which features me on vocals/guitar, Doug Moody on violin/viola, Brian Melick on drums/percussion, Jim Mastrianni on keyboards, and LOVELLA on vocals for the title track, "Somewhere."
@skopemag: "Somewhere" is an awesome song. What's it about?
Seth: Thank you! It was written after visiting my hometown, LaFargeville, New York. It's a community that gave me a wonderful smalltown childhood, yet it's a place that I desperately needed to escape to chase my dreams of becoming a musician. The song is about reconnecting with people I once knew, many of whom still reside there. The biggest surprise in this song was having my oldest daughter, whose stage name is LOVELLA, step up to the microphone and make her vocal debut. The song took on an entirely new meaning for me at that point.
@skopemag: What is your favorite song on the album?
Seth: One is "Miss Fortune," the first song I wrote in 2021, and I was trying to offer some positivity and inspiration coming off one of the worst years ever. Rather than using "misfortune," I wanted to twist the word into a positive with "Miss Fortune." The song has different rhythmic elements and vocal styles that we hadn't attempted before, so it felt very fresh and unique as we recorded it.
@skopemag: How would you describe your music?
Seth: Warden and Co. is a blend of musical genres that fit comfortably within Americana/folk-rock styles. We were recently compared to the great Traveling Wilburys, and although it's hard to accept a compliment such as this, the blend of voices and genres makes sense musically with what we create.