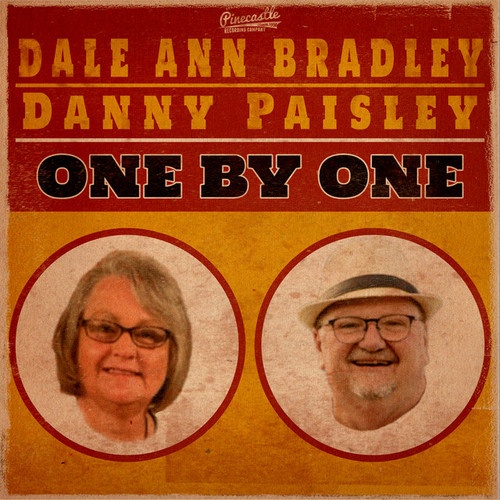 Fans of classic country and western music will undoubtedly be familiar with the latest that Dale Ann Bradley and Danny Paisley have to offer; their collaboration arrives in the form of the single "One By One," a cover of the Kitty Wells and Red Foley duet originally written by Jim Anglin, Jack Anglin, and Johnny Wright, and it pays homage to the undisputed classic with enough contemporary flair to make fans of either retro or modern country tap their foot while they sing along!
For their latest single, Bradley and Paisley work together in perfect harmony, both touting their reputable titles of Female and Male Vocalist of the Year respectively, awarded through the IBMA (International Bluegrass Music Awards). There's plenty to dig into with this new take on "One By One," from the refined harmonies that feature a spotlight on Dale Ann Bradley's vocals to the instrumental composition that pays its debts to the Wells/Foley original, and all of it succeeds with flying colors. There's hardly ever much to improve upon by covering classic tracks, but the country tradition of bringing out the big guns to put a new spin on a track known and beloved by all remains steadfast. Both vocalists get their due by alternating lines to brilliant effect, and the cynically serious lyrics put against a gorgeous strings section and plucky guitar soar all the more through the use of Bradley and Paisley's strong vocal performances.
https://open.spotify.com/track/6VARJfVzHhYJELvE3oZSdx?autoplay=true
"One By One" is a single that has withstood the test of time, and for good reason. Dale Ann Bradley and Danny Paisley honor the original with their cover, giving listeners a more Bluegrass-forward approach to the 1954 song, but seeing how the original peaked at number one on the charts when it was released, there's really no use changing the formula up too much. As the old saying goes, "if it ain't broke…"
Listeners of this new rendition will certainly defend the new cover, as the genre-twist and pitch-perfect vocals from both Bradley and Paisley give enough reason to a remake; there's nothing "broke" here, only further improved upon and tinkered with! The Vocalist of the Year awards for both singers should certainly help put any naysayers and doubts to rest, but the cover simultaneously stands on its own through the help of the performers' sheer talent, as well as the melody's catchiness. "One By One" has been in the public consciousness for about seventy years, and this latest cover only further proves why that's so.
Dale Ann Bradley is using "One By One" as the lead single to bring in her newest album, which is currently untitled but due out later this year, and this choice is a bold one; not only is the song a surefire earworm for anyone who gives it a listen, but it's a perfect showcase of Bradley's vocal prowess and influences. Fans coming to Bradley or Paisley for the first time through "One By One" can know the singers have their best interests at heart; paying tribute to a country classic is a great way to earn goodwill with the community, and making a cover this good only solidifies their place in the modern country genre that much more!
Gwen Waggoner