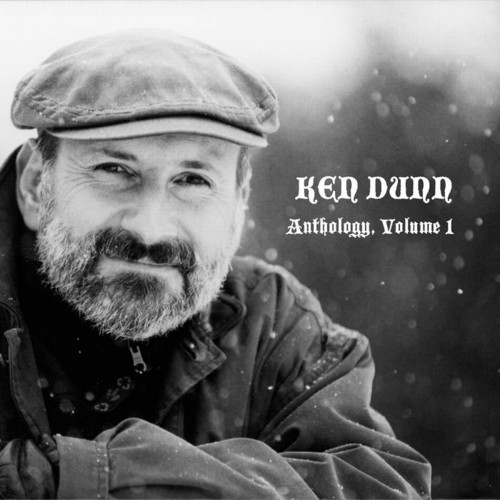 Ken Dunn is a true singer/songwriter with an incredible body of work and this latest release titled 'Anthology, Volume 1' proves that notion. This new album contains 20 songs written and recorded by Ken Dunn over the span of his 25 year music career. All words and music on this record are by Ken Dunn with the exception of track 18, "St. James Infirmary", which is a traditional standard. 'Anthology, Volume 1' features an array of talented guest musicians including: The Good Friday String Quartet, Anna Green and Denny Kennedy just to name a few. This album also includes several previously unreleased, rare and live recordings. There is simply a treasure trove of songs here by Ken Dunn as he carefully chose the best of the best for his new 'Anthology, Volume 1'.
The record starts up with a beautiful arrangement/orchestration on "If You're Lost". One will also hear a terrific melody along with a powerful delivery vocally & lyrically on "If You're Lost". Next on "Fukushima Nightmares", Ken Dunn performs with the utmost conviction and the listener will pick up on excellent instrumentation overall. Track three, "Letter To My Son", offers up melodic chords that are pleasing to the ears. "Letter To My Son" is infused with a real, human touch to the lyrics that will connect with many people all over the world. Next, we hear "Tahlequah (Live)" that bears an emotional performance where Ken is digging deep inside to give an incredible, live set. Track five, "Hold On", offers a catchy tempo/beat along with an appealing sound overall and stellar playing. Bluesy folk will surround your ear drums on "Forsaken By These Blues" where the listener will also pick up on standout lyrics. Moving along, "Laughter In Your Veins" provides superb guitar playing in a song that's musically rich and just a pure joy to listen to. Track eight, "Winds Of Emotion (Live)", is a wonderful tune that blows past you with such finesse. Words come to life and overwhelm all of your senses on "Winds Of Emotion". Ken Dunn performs a personal & reflective number on "Heart Of Mine" that is loaded with passion and is very sincere and genuine in nature. Track 10, "Old Pouring Rain", contains soothing notes that saturate your ear drums giving off a very comforting vibe. "Heart Of Mine" has a powerful sentiment that connects with the audience and add in Ken's peaceful tone & loving messages. On the next song, "Dance of the Winter Fairies", a calming sensation rushes over you putting your mind, body & soul at ease. Track 12, "Arms of Reason", offers a great vocal pairing between Ken Dunn and Anna Green where you will find yourself mesmerized by the melodic voices that are in perfect pitch. Prepare for an enchanting tale and sound on "Mermaid of Avilia (Live)" that is making a big splash with adventurous audio waves crashing into your speakers. Track 14, "Still Believe", has a recognizable beat right off the bat that is simple yet direct and flows along with fluidity. Get ready for another live performance from Ken Dunn on "Hard Yellow Light" where a classic charm is in place here and makes you think of the quiet, countryside. The harmonica is also a nice touch and added bonus on "Hard Yellow Light (Live)". Track 16, "Hills of Strathavon", supplies a mighty presence and is honestly rolling along perfectly. Ken Dunn gives one standout performance on "One Last Question" that really hits you. The witty & touching words cut through like a knife on "One Last Question" and the listener will also experience a catchy percussive element at play here. On track 18, "St. James Infirmary", the harmonica and guitar are shining bright and standing tall as Ken is kicking up dust & dirt for the entire crowd. I was taken a back by a gripping performance with a sweet, sentimental value on "By A Windowsill". Ken Dunn is pouring everything he has into "By A Windowsill" with emotional notes & chords containing much impact. Ken finishes the 20-song set with "Don't Believe (Live)" that touches on important, life matters that speak volumes and relate to many.
I am blown away by Ken Dunn's artistry and the way he can string together a series of words to make up one amazing story. Ken's songwriting abilities are off the charts and he is masterful in his craft. Ken Dunn also has a distinct voice that blends in wonderfully with his style of music that incorporates elements of: folk and Americana. From a musical standpoint, Ken Dunn can do no wrong with his guitar and harmonica playing. Instrumentally, 'Anthology, Volume 1' is top of the line and shows no flaws or cracks throughout the entire album. I also enjoyed the orchestral elements on some tracks that added a nice, classical feel to certain compositions. Ken Dunn and his entire team should be extremely proud of this project because 'Anthology, Volume 1' is a true testament to the fine singer/songwriter that Ken is. True, musical artistry and impressive storytelling sums up 'Anthology, Volume 1' and also proves that Ken Dunn has had one, successful music career that spans over two decades. I look at success not from a money standpoint but from a faith-based mindset where success adds up all the happy moments and great memories in your faithful life. Ken Dunn has definitely succeeded here, in my eyes & ears, because 'Anthology, Volume 1' is filled with plenty of joyous occasions, happy times and good memories. 'Anthology, Volume 1' will stand the test of time for Ken Dunn and for his listeners/fans. The music lives on forever.
By Jimmy Rae (https://skopemag.com/?s=Jimmy+Rae)