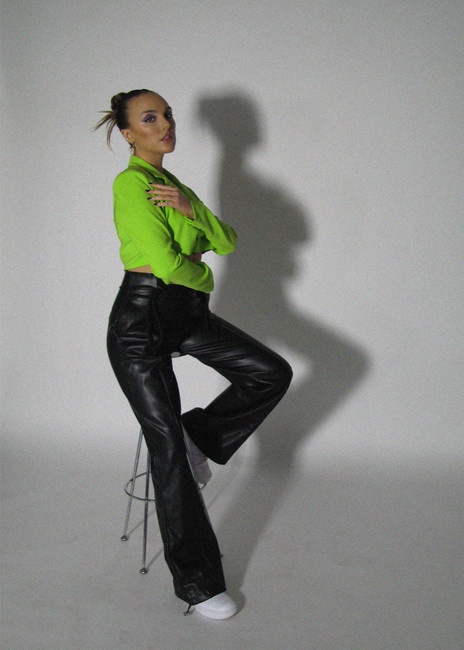 @skopemag news – wednesday – march 30, 2022 @ 12 pm est
@skopemag HQ – http://smarturl.it/skope
New release! Soul-pop songstress Lizzy Paris unveils feel-good and groovy single 'Crash n' Burn'
A feel-good bop with a vintage flair, 'Crash n' Burn' is infused with a groovy rhythm which compliments Lizzy's soothing vocals and sunny disposition. 'Crash n' Burn' is an empowering release for Lizzy, who wants to bring the voices of more black women to pop music.
Confucius MC & Kwake Bass (CoN&KwAkE) announce debut album 'Eyes In The Tower' & release Title Track…
After dropping their debut single 'C.N.S (City Never Stops)' the sublime jazz duo CoN&KwAkE today announce details of their debut album 'Eyes In The Tower' – May 17th and the second
from Native Rebel Recordings – the record label from cultural instigator Shabaka Hutchings of Sons of Kemet, The Comet Is Coming and Shabaka and the Ancestors.
British-Iranian singer/songwriter Farrah is back with her latest velvety track "Freewheeling"
Fresh on the scene from her debut EP, Night Light, Farrah effortlessly blends genres on "Freewheeling". Captivating production lays the foundation for the newcomers raw and vulnerable lyrics as her vocals dance between tones, showcasing her gorgeous range. As the song progresses, 00's inspired drum patterns and other worldly synths build – a sound Farrah is becoming recognised for as she takes influence from her mixed heritage.
Nicki Bluhm new album Avondale Drive out 6/3 and new single
Bluhm's music career began in the Cow Hollow area of San Francisco, where she recorded two solo albums and co-founded Nicki Bluhm and The Gramblers. The band wrote and performed their own music and recorded covers nostalgic to their childhoods, including the Hall and Oates classic "I Can't Go For That." After gaining widespread attention for their "Van Sessions" on YouTube, they toured internationally and recorded two albums as a band.
HER SKIN | NEW ACOUSTIC VIDEO FOR SINGLE 'CONFIDENT' JUST DROPPED
The single is the first track from her forthcoming album 'I Started A Garden' that is unleashed on the world later this year. Originally from Modena – Her Skin is 25 year old singer songwriter Sara Ammendolia.
RENAO REVEALS ' HOLDING MY BREATH'// ANNOUNCES DEBUT EP ' FROM THE SOUTH'// LISTEN HERE
Indian born, London based up and comer Renao today releases his gorgeous new single, Holding My Breath. A longing track inspired by having not seen his Mother in two years due to the Covid pandemic, the lo-fi R&B cut arrives with the announcement of his debut EP, From The South, set for release April 22nd. The track is the latest offering from an artist who picked up over 3 million streams on his debut single, Nobody. Holding My Breath shows a more delicate side to this fast rising newcomer.
MIDWICH CUCKOOS Reveal Video For New Single 'Hourglass' Out Now
The Regrettes Share New Single And Video For "Anxieties (Out Of Time)"
With Further Joy, The Regrettes, consisting of singer and songwriter, Lydia Night, as well as Genessa Gariano (guitar), Brooke Dickson (bass) and Drew Thomsen (drums), have written a manual for living in these times, replete with highly personalized songs about things we're all going through. Night shares, "that phrase, 'further joy,' summarized what it meant to be on the hamster wheel of constantly chasing happiness, but in turn, that's what makes you unhappy. I was stuck in a loop of wanting to be better, wanting to be good, and therefore I couldn't be here. I couldn't be present."
VISUALS // R&B Star PRAIZ Shares 'Love You Better' Visuals
Multi award winning R&B singer, songwriter, and producer Praiz maintains his stature as a beloved curator of high-quality music with the release of his third studio album 'Reckless' and lead single 'Love You Better'.
Extreme Heavy Metal Outfit EVIL INVADERS Reveal New Single "Die For Me" + Music Video
CARMODY releases new single 'Hurricane", new album Imperfect Constellations (featuring Tom Misch, Alfa Mist, Conor Albert + Laura Misch) out 6th July
In matters of healing, we often don't know how much we are carrying until we truly pause to take stock. Carmody has long been using music as a way to uncover her subconscious, examining the complex web of relationships that surround her. In the face of memory and generational grief, Imperfect Constellations is split into four main parts (or 'Constellations') and draws on her own experiences of alternative therapy, entering a world of discovery and recognition.
Watch Beshken's "M.I.A." music video that follows a day in the life of a spearfishing dentist in NYC
Today Beshken is sharing his new video for "M.I.A." which centers around Yuri Krainov, a dentist in NYC who is also a seasoned spearfisherman and was covered by the New York Times in this 2014 article. This video was co-directed by Beshken & Samson Jeter and comes right on the heels of Beshken's sophomore experimental pop LP. Pantomime is out now via MATH Interactive, a multidisciplinary label founded in 2021 by musician ARTHUR.
RLYR ANNOUNCE NEW ALBUM (MEMBERS OF PELICAN, LOCRIAN, BLOODIEST)
The full-length marks a new peak in both songwriting and performance for the trio, which is comprised of some of the most venerated musicians in Chicago's heavy music scene: Steven Hess (Locrian, Cleared), Colin DeKuiper (Bloodiest), and Trevor Shelley de Brauw (Pelican, Chord). From the progressive-post-thrash of album opener "Distructure" to the sweeping, slow-simmering psychedelia of closer "Codeine Horse," RLYR's five songs double down on the band's trademark anthemics, humanizing their expansive song structures via a panoply of indelible melodies, expansive sonics, and intoxicating catharses, defying simple categorization at every turn.
Out Today: Swedish Indie Rock Revivalists Dixies List Share "Drinking In The Kitchen"
Dixies List bound out of their native Stockholm and launch themselves into international eardrums with "Drinking In The Kitchen", a swaggering guitar pop cut that pairs Smiths-esque jangle pop with the frustrated grit that comes from coming of age in an era of pandemic, international conflict, and climate crisis. Singer/guitarist Valle Hedlund explains, "my lyrics are usually based on experiences and observations from my surroundings in the nightlife of Stockholm but as the pandemic broke out and we weren't allowed to roam the streets as usual I had to gather inspiration elsewhere, looking inwards. 'Drinking in the kitchen' is about one of the small at-home gatherings that tried to fill the void the dancefloors left behind."
Miranda Lambert Announces Las Vegas Residency: Velvet Rodeo
On the heels of being crowned Entertainer of the Year at the recent Academy of Country Music Awards, where she holds the record as the most decorated artist in ACM history, Miranda Lambert will now celebrate the next chapter in her storied musical journey with a headlining Las Vegas residency. "Miranda Lambert: Velvet Rodeo The Las Vegas Residency" opens Friday, Sept. 23, 2022 for a run of 24 shows at Zappos Theater at Planet Hollywood Resort & Casino.
Rising Star Paula Jivén Shares Music Video For "Breaking Up With A Friend"
Rising Swedish pop singer/songwriter Paula Jivén has unveiled the official music video for "Breaking Up With A Friend," the latest single from her debut EP The Duality In Me, out this May via Universal Music Sweden. The artfully executed single, which recently premiered with Vogue Scandinavia, speaks to Paula's falling out with her best friend and the subsequent heartache that followed. Meanwhile, the "Breaking Up With A Friend" video displays remnants of her childhood, incorporating snapshots of iconic animated series' from the early to mid-2000s that she grew up watching including Phineas and Ferb and Danny Phantom as well as video games she played like Bolibompa's Drakens Värld.
PRE's Jay Fizzle Sizzles in New "4HOS" Video
Known in Memphis for his locked-in triplets and unapologetic realness, Jay Fizzle has been repping Paper Route Empire for more than half a decade. Today, Jay Fizzle shares the video for "4 HOS," a clip that shows the world how he lives. Produced by PRE's in-house maestro Bandplay, "4HOS" is a showcase for Fizzle's drawly, double-dipping delivery, as he fits his flexes into a clever rhyme scheme: "VVS diamonds my logo, make that stick jump like a pogo/You n****s the popo, guy turn your ass to some dodo/I got my eyes lookin' low-low." In the video, Fizzle throws a function at a South Memphis studio, complete with bud, black lights, and beautiful women. "4 HOS" is the latest release from DonnaFizzle, Jay Fizzle's upcoming project, hitting the streets soon via Paper Route Empire.
Tom Odell Releases New Track "Best Day Of My Life." North American Tour Starts Tomorrow
Ahead of his highly anticipated North American headlining tour that starts tomorrow, Tom Odell has released a stunning new single 'Best Day Of My Life' via independent label, mtheory. The single is accompanied by an equally beautiful official music video, created by line-drawing artist Manshen Lo (Sally Rooney) and produced by Nexus Studios.
Portuguese Rockers Mr. Giant & The Broken Stone Sign With Wormholedeath
Portuguese Alternative Rock Metal band Mr. Giant & The Broken Stone have signed with Wormholedeath a licensing deal for the reissue of their album "Metamorphosis", which is due for re-release on April 29th, 2022.
The band, speaking of the album, stated: "Strong influences from hard rock, alternative and metal, this first album "Metamorphosis" is a contemplative and heavy criticism of the mundane way in which society takes care of its most precious asset: Life." "Famous fate of those who proclaim it, fortunate those who build it. For in the resilience of our being lives the human essence of our heart … Metamorphosis"
Weird Nightmare, the New Project from Alex Edkins of METZ, Shares Anthemic New Single & Official Video for "Lusitania"
On May 20th, Sub Pop will release the debut album from Weird Nightmare, the electrifying new project from METZ guitarist and singer Alex Edkins. Hot on the heels of the album's debut track, "Searching For You," comes this anthemic new single "Lusitania." Edkins says of the song, "'Lusitania' was a big breakthrough for the entire Weird Nightmare album. I realized that, musically, my goal was to make songs that would make people feel good! This idea of waking up from a terrible dream or winter changing into spring. Momentary relief. We all need that feeling right now and music has always been what I turn to most."
THEY HATE CHANGE DROP NEW TRACK FROM FORTHCOMING JAGJAGUWAR DEBUT
Tampa Bay production/rap duo They Hate Change announced their Jagjaguwar debut Finally, New for May 13th earlier this month and today they are back with a new track. "Blatant Localism" spotlights the pair's verbal teamwork, as they trade lines taking aim at style-deficient hypebeast rappers over a pixelated beat, landing on something like turn-of-the-millennium IDM.
JAMAICAN POP STAR CONKARAH RELEASES "MILLONARIO" FEAT. PEDRO CAPÓ
On the release of "Millonario" produced by Patrick Romantik (Enrique Iglesias, Thalía) Conkarah states, "It was such a pleasure working with Pedro and vibing in the studio. We connected immediately and the message of the song came to us naturally and effortlessly. I am very proud to have done this song with such a positive message especially in these times. I'm very grateful for this opportunity and excited to share it with the world."
Rockshots Records – ANNIKEN's New Single "Keep the Light" Pays Homage To Linkin Park's Chester Bennington
Norwegian solo metal artist Anniken will be releasing her debut album "Climb Out of Hell" on May 13, 2022 via Rockshots Records.
DON McLEAN RELEASES NEW MUSIC VIDEO OF HIS CLASSIC SONG "VINCENT (STARRY, STARRY NIGHT)" IN CELEBRATION OF VAN GOGH'S BIRTHDAY TODAY
Van Gogh, born March 30, 1853, is widely thought to have struggled with bipolar disorder or other mental illness, and tragically took his own life in 1890. World Bipolar Day, recognized annually on March 30, is a worldwide awareness initiative that provides a platform for education and discussion. The video release also commemorates the 50th anniversary of the song's rise to No. 2 on Billboard Charts in March of 1972.
Mamalarky (Fire Talk) & Benét (Bayonet) share collaborative single "Will I See U?"
"The first time I met Benét I was in Richmond half asleep on a couch at Alfred's house while the live action Goosebumps series was on, serenading me to sleep," Bennett explains. "I was really tired from tour but I peeped open my eyes and there he was, being all sweet and smiley! Later that night, we played an amazing show together and became fast friends."