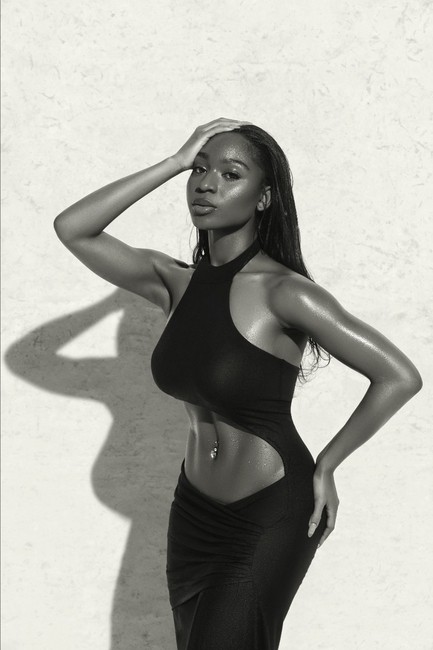 @skopemag news – friday – march 18, 2022 @ 5 pm est
@skopemag HQ – http://smarturl.it/skope
SYD ANNOUNCES SOPHOMORE SOLO ALBUM – OUT APRIL 8
About the album Syd said, "The album is about a relationship I had that ended in my first real broken heart. It almost felt like I joined a club because all of my friends went through similar experiences. It was like a rite of passage. I started writing the album on the relationship when I was in love. You're really getting the whole journey from the beginning to the end. I want people to find it beautiful. It's super vulnerable, sentimental, and it's soft. There's touching moments and a couple of dark moments."
YVNGXCHRIS FLASHES HIS FAST RAPS IN THE CONTEMPLATIVE AND CINEMATIC "EXCUSE ME?"
Bad Bitch Anthem Bubble Pop/Rock
While her classmates were playing with Barbies, Los Angeles-based Bubble Rockstress Alexa Villa was playing on The Warped Tour. She has opened for acts including Hinds, The Darkness, Drake Bell, and Ryan Cabrera to name a few and has honed her craft as the sharp yet charismatic artist she is today.
Feel-good pop-hip hop trio
If you've been waiting for the next unhinged group of young artists who are here to tell you to fight for your right to party, then look no further. .wavrunner (pronounced wavrunner) are Jack Wesley, younger brother JJ and Griff. Jack and Griff met as second graders in Cleveland, USA after realizing they were kindred, mischievous spirits. They first bonded over their shared passion for choice four letter words…. A decade later, Jack and Griff are just as fun-loving and cheeky in their roles as co-lyricists for .wavrunner with Jack handling lead vocals, Griff as co-vocalist and JJ who creates the beats and arrangements. The guys age from 18 to 20 years old, and are chaotic, fun, and unapologetically ambitious.
Chew Magna get philosophical with anthemic new single '4232'
Further teasing their forthcoming self-titled debut album, Manchester's most raucous, riff-fuelled jam band Chew Magna are getting philosophical with '4232' out today!
OUT NOW /// Buckinghamshire four piece BOLLO BOLLO share indie-dream pop single + video – 'Liquid Heaven' /// FFO: Foals, Tame Impala, The Maccabees
Sofia Gillani – Water Run Dry (Single)
SHAKE THE TEMPLE New Official Video "Late Indicator" – Out Today
Shake The Temple have released their third official music video from their self-titled debut album released via Sliptrick Records late last year. The video for the song 'Late Indicator' is a full step sideways from the previous two intense, in your face action mini-movies. Filmed on location in one of Australia's most picturesque landscapes, the quality of this offering, like the previous two videos filmed by Strongman Pictures, is a pleasure to take in.
CHARLIE SIMPSON SHARES THE NEW SINGLE 'ALL THE BEST' FROM THE NEW ALBUM 'HOPE IS A DRUG' WHICH FOLLOWS ON APRIL 15TH
Charlie Simpson today shares his brand new single 'All The Best' ahead of the release of his new solo album 'Hope Is A Drug' on April 15th. It will be his third solo album after the Top 10 hits 'Young Pilgrim' (2011) and 'Long Road Home' (2014). His solo career is the third stage of a varied and remarkable career, which has included a further three Top 3 and fourTop 20 albums split between his time with the chart-conquering, BRIT Award-winning Busted and the critically acclaimed Fightstar.
OUT TODAY: UK outfit Mamas Gun share euphoric soul gem & video 'Good Love'
OUT NOW // Yxng Bane ft DoRoad 'Bruk Down'
NORMANI RELEASES NEW SINGLE 'FAIR' – OUT NOW
Multi-platinum selling, chart topping recording artist Normani returns today with the highly anticipated new single, "Fair". On the HARV-produced track, bass pulsates like a heartbeat between soft keys as her voice echoes with raw feeling. Volleying between high register harmonies and an emotionally charged refrain, she gets confessional on the chorus, "Is it fair that you moved on, 'cause I swear that I haven't." "Fair" was co-written by Normani, Abby Keen, Bernard "HARV" Harvey and Felisha King Harvey.
New Video: Ecorse Creek Orchestra – Heavy Duty Man – (Progressive Rock)
SUBJECTIVE RELEASE BRAND NEW TRACK 'BREAKOUT'
'Breakout', leading with a bouncing 90s rave piano line and pulling in mesmerising vocals from soul singer LaMeduza, surges towards the sunlight and lifts the listener higher and higher throughout its 4 minute runtime. Set to be a live favourite, the track stands out on the record as a nostalgic nod to a previous decade but as with the entire album, incorporates modern influences and techniques to keep it very much future facing.
URFERD Releases Lyric Video for "Avfärd"
CARA HART RELEASES NEW EP 'I HART CARA'
Following the release of her two stand-out singles, 'Mirror', released January 2022, and 'Skin', released in 2021, today – 18th March 2022 – Madrid-born and Los Angeles-based multi-genre tastemaker Cara Hart releases her new EP, 'I HART CARA', out via Kartel Music Group.
IMANBEK, TOMMY CASH, OHGEESY RELEASE 'BABY SHOCK' FT. LOST CAPITAL
Despite just being 21 years old dance producer Imanbek (born Imanbek Zeikenov) has already smashed all possible music charts with his number 1 selling, multi-platinum and Grammy-winning remix of 'Roses' by SAINt JHN, as well as carrying out remixes for the likes of Dua Lipa and collaborating with Wiz Khalifa, David Guetta, Rita Ora and more. "This is a huge experiment for me!" says Imanbek; "I've never produced anything like that before and this one came out as the most aggressive tune so far. Nonetheless I'm very happy with the result, thanks to Tommy, OHGEESY and Lost Capital the song sounds massive and I'm super excited about it!"
Psychedelic Artist ANIQO Unveils BIRTH Album [FFO: Pink Floyd, Cocteau Twins, Sharon van Etten and Nick Cave]
Hector Gachan Releases "Asking For A Friend" Single & Video
Fatherson share new single "Love For Air" | New album "Normal Fears" out 1st April via Easy Life Records
Today, Glaswegian three-piece Fatherson have shared a new single titled "Love For Air". The track is the sixth song to be shared from their first album in over three years, "Normal Fears" (out 1st April via Easy Life Records), which sees the band return, but not as you know them. The album is a lush lesson in letting go. Gorgeous, groove-led singalongs steeped in electronics find the band in a playful mode, putting break-ups, old ways of working and everyday worries behind them to start afresh, sunny side up.
Polyplastic drop rousing new single 'You're Going To Heaven'
Tapping into a charming indie-pop vibe, 'You're Going To Heaven' combines driving synths and grungy guitars with the duo's impassioned vocals. It follows on from 'I See A Dip' and 'Brain Masher', tracks that both debuted at #30 on the FMQB radio chart. All three will feature on Polyplastic's upcoming debut album Medium Complications out 1st April, a record that tosses out musical clichés to marry once-estranged genres and bridge unexpected emotions.
Rising newcomer mustbejohn with Brit-pop influenced "Romance in Great Britain"
IMEN SIAR SHARES HER DEBUT SINGLE 'LONELY PEOPLE' – WATCH THE OFFICIAL VIDEO HERE
Newcomer Imen Siar is proof that greatness can be found in the most unlikely of places. The 23-year-old dreamed of a music career while working in Nando's in South London, her only creative outlet being to post videos of her singing into a mop during breaks from work. Her talent was discovered by the New York label icons + giants, which had just been launched by two influential hitmakers Billy Mann & Benton James, whose previous credits include P!nk, John Legend and Supah Mario.
Vintage Culture drops new single 'Commotion' with Maxi Jazz, Announces EARTH Tour & Coachella Set
Maxi Jazz, the legendary vocalist and co-founder of seminal recording group Faithless, has joined forces with electronic music's fastest rising artist, Vintage Culture, on a new dance classic 'Commotion'. Vintage Culture has also unveiled a sprawling world tour, titled EARTH Tour and Coachella set.
FOZZY Release Anthemic New Single "I STILL BURN" – Landmark Hit "Judas" Reaches Gold Certified
Speaking about the new single, frontman Chris Jericho comments:
"I Still Burn is the story of the dreams, the passion and the fire that lies within all of us to be the absolute best we can be…and to do WHATEVER it takes to achieve the goals that make our dreams come true! The sacrifices, the losses, and the triumphs that we have all experienced make up the lyrical DNA of this song. I Still Burn is Fozzy's mission statement, our life's work and our destiny…and we are so proud to share this message of victory with our Fozzy family!! Plus, Rich's guitar solo fuckin rules!!!"
Jelly Crystal enlists Alice Boman for new single 'Happy Ending'
'Happy Ending' finds the two highly acclaimed Swedish artists coming together on the psychedelic infused ethereal love story of 60s inspired balladry and jazz, featuring Jelly Crystal's contrasting soothing baritone and soaring falsetto alongside Alice Boman's angelic vocals. Recorded live, the unadulterated reverberations within the song further add to its timeless beauty.
Dark alternative innovators GGGOLDDD reveal the title track from their upcoming album This Shame Should Not Be Mine due out April 1st.
Dark alternative act GGGOLDDD have revealed the striking new video for the title track from their upcoming album, This Shame Should Not Be Mine. The video is a sharp commentary on continued victimization by society after someone experiences trauma.
LEIKELI47 DROPS NEW SONG + VIDEO "LL COOL J"
Shape Up serves as the finale to the trilogy that included her debut Wash & Set and the highly lauded 2018 Acrylic. Shape Up takes up many meanings for the LA-based multi-hyphenate; It's 47 as the best version of herself and, in her words, "me finally walking into the confidence I always pretended to have." It represents the manifestation and execution of shaping up mentally, physically, and spiritually. She continues, "I'm happy to say I'm here. It took work, it takes work, and that's what 'Shape Up' is about."