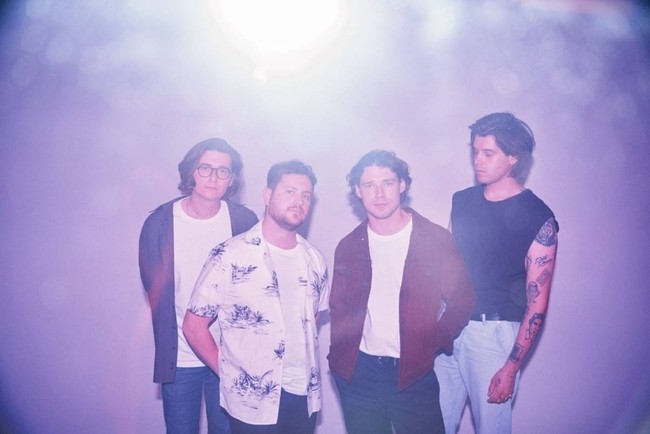 @skopemag news – monday – march 14, 2022 @ 10 am est
@skopemag HQ – http://smarturl.it/skope
ΜΙΝD ERASURE – single "As First Light Never Comes" from album "Connive"
Short Biografy: Mind Erasure formed back in 2007, they have released one demo and one promo before The album "CONNIVE". Through the years many members came and left with more noticeable the founder member Dimitris Garnelis who left the band for personal reasons right after the recording of "CONNIVE" have finished. We have shared the stage with many bands, such as, Rotting Christ, Planet Of Zeus & Temperance.
French Intergalactic stoner-rock band YOJIMBO shared live video single "Battlefield"
2 years and a half after its official inception, French intergalactic stoner-rock band YOJIMBO is about to give birth to its debut EP planned for a digital release on March 26th through all streaming services (Apple Music, Spotify, Deezer, etc.).
Righteou$ – "The Future Is Now"
ECHOES OF DECAY – single "Lunacy's Crescendo" from upcoming EP "Delirium Of Madness"
Echoes Of Decay were formed in December 2017 in Thessaloniki with the aim of composing original material and exploring new musical paths. The main influences of the band is the atmospheric Doom / Death scene of the 90's but also the atmospheric, dark and experimental sound regardless of the label. In December 2019, the self-released debut album "Dive Into Darkness" was released. The band is currently preparing to release the EP entitled " Delirium Of Madness ". The release date is 15/04/2022.
SPHERIC UNIVERSE EXPERIENCE release single and video "Legacy"
Fresh from announcing their first album for UPRISING! Records, French progressive metallers SPHERIC UNIVERSE EXPERIENCE release the first single from the upcoming album "Back Home".
"Legacy" is a song that clearly shows the quartet back to their most progressive metal roots after some heavier experimentation in their last releases. It is a track full of hope, foreshowing a bit of the concept that will be the backbone of the band's upcoming full-length.
STREET FIGHTER release debut single "Queen Of The Night"
"Queen Of The Night", the debut song of the new Danish heavy rock band STREET FIGHTER, is out now. Street Fighter is a project started by Michael H. Andersen (Withering Surface, Thorium), with producer and multi-instrumentist Marco Angioni (Meridian, ex-Reece). "Queen Of The Night" displays all the fire power of Street Fighter, featuring the amazing guest vocals of Diamon Head's Rasmus Bom Andersen.
Check Out LOCUST GROVE Official Music Video for "Worth My Time;" Debut LP, 'Battle of Locust,' Out June 3, 2022!
Oklahoma City, OK based Hard Rock band LOCUST GROVE has released the official music video for their new single, "Worth My Time." Featuring the band performing in Oklahoma City, OK with 3130 Studios by Clark Deal, with the model shots by Alex Heider from Atlanta, GA, "Worth My Time" is the first single off of the band's upcoming, debut LP, Battle of Locust.
CRS (Aka Cirrosis) unexpectedly release a new single!
The mexican groove death metal band CRS, also known as Cirrosis, presents a new single in spanish "El enemigo siempre he sido yo". The pioneer band of the technical brutal genre in Mexico, formed in 1991, release this single along a promo videoclip, just a few months after they announced the addition as official member of the virtuoso bassist Kello Gonzalez (Parazit, Nata).
CRS strengthens their well-known and indisputable sound quality and attention to detail, that easily place them on the international map, but also it evidences that their strength is composition. Quite original, powerful and intense riffs with structures that, although they are melodic and clear, presents syncopated and very technical rhythms, an explosion of sounds that please the ear and at the same time arouse the fury that only good metal makes. There is no abuse of classic resources in the song but they add sounds that aren´t so common these days, like a distorted bass solo by Kello.
Dark Order: Australian Thrash Metaller's Released Lyric Video for Operation Condor
Sydney-based Thrash Metal outfit DARK ORDER have announced plans to release their forth studio album titled 'FALL OF THE HOLOCENE' in January 2023 via Battlegod Productions.
The band just released a lyric video Operation Condor of the previous studio album 'Cold War of the Condor' as a lead up to the release of the new album. Also the band plans a live action video clip for the the first aggressive single to be released by the end of the year.
Swiss Instrumental Post-Progressive Metallers The Kompressor Experiment unveiled new music video "Epigenesis"
About two years after releasing its last record with the EP 'KMPXP', Swiss instrumental post-prog metallers The Kompressor Experiment announced the upcoming release of their next album called 'Ebb & Flow' and planned on April 2022 (CD/LP/Digital) through Sunday Fog Records.
Artist: Rico Cocchi – Track: Ghost
Ghost is a high energy song dripping with confidence. Rico effortlessly blends together rap with electric guitar sounds. You'll hear him talk about his new life full of fun and abundance in this professionally mixed certified anthem.
Garage rock crusaders SONS are back with a vengeance on seething new single 'Nothing'!
Amps up to 11, phasers set to stun and off they go! SONS are back with a furious and insanely catchy slab of rock & roll. A pulsating staccato guitarriff, drums getting a serious beating and singer Robin Borghgraef spitting his lyrics into the mic as if to get rid of a foul stench in his mouth. "Nothing ain't wrong / Nothing ain't real / Nothing inside me makes me feel now / I feel like going all blind / I feel like falling behind now" It's clear that the last couple of years left its mark on the gentlemen from Melsele (North of Flanders, near Antwerp). "Nothing deals with feeling numb and emotionless. Dealing with a lack of impulses by searching for a kick or a rush", the singer/guitarist explains. SONS tackle this by fashionably trashing a house in the wonderful video for the single. It's full throttle rock & roll fun and much needed after this 2-year standstill.