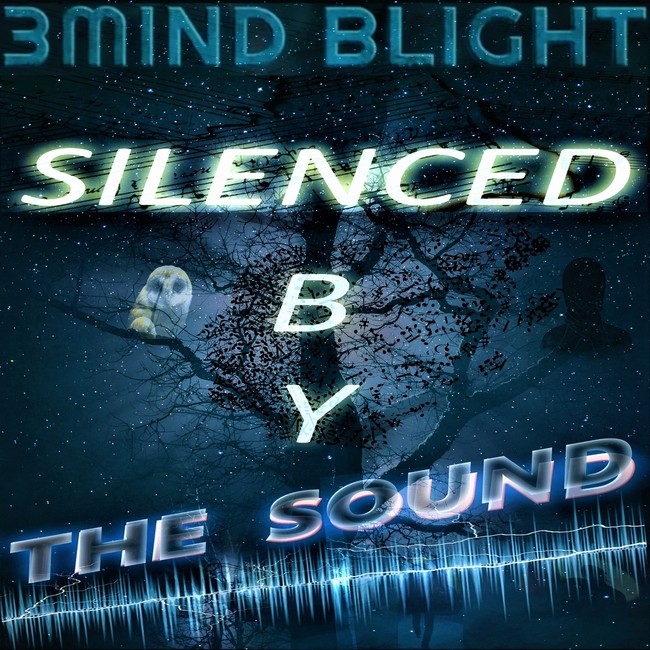 3Mind Blight is a one man show who is a former producer turned solo artist. 3Mind Blight is from Oklahoma and brings 15 years experience to the table as a music producer and as of 2018 is now embarking on an exciting solo career. 3Mind Blight is an international, award-winning artist, musician, producer and songwriter in Metal, Rock, Orchestral, Hip-Hop, Rap, Pop, and Acoustic Singer Songwriter. 3Mind Blight's latest single is titled "Silenced By The Sound" and hopes that the audience is WoWed by the overall listening experience. With a wide mixture of styles included on "Silenced By The Sound", this song is sure to satisfy whether you're a hard core rocker or grunged-out, alternative person.
As soon as you hit Play, one will pick up on a gritty, organic sound that hits you head on. "Silenced By The Sound" is raw in texture and unfiltered offering the listener a deeper meaning behind the lyrics. 3Mind Blight gives the audience a strong delivery vocally with very deep vocal tones in place. This track offers a slowed-down tempo but packs a BIG punch with a powerful performance being displayed.
3Mind Blight sings and plays with pure purpose on "Silenced By The Sound" and that is to hook the listeners in with personal feelings and direct material. Vocally, 3Mind Blight demands your attention and musically he pours it on to the point where you will have no choice but to stop what you're doing and listen closely. "Silenced By The Sound" just may silence the critics but one thing is for certain and that is that 3Mind Blight will grab your attention from beginning to end. 3Mind Blight is a convincing artist that will leave you "Silenced By The Sound"…End of story.
https://twitter.com/3mindblight
https://3mindblight.bandcamp.com/
https://open.spotify.com/track/0KXz1NrXob1USzdDU8um2l
By Jimmy Rae (https://skopemag.com/?s=Jimmy+Rae)