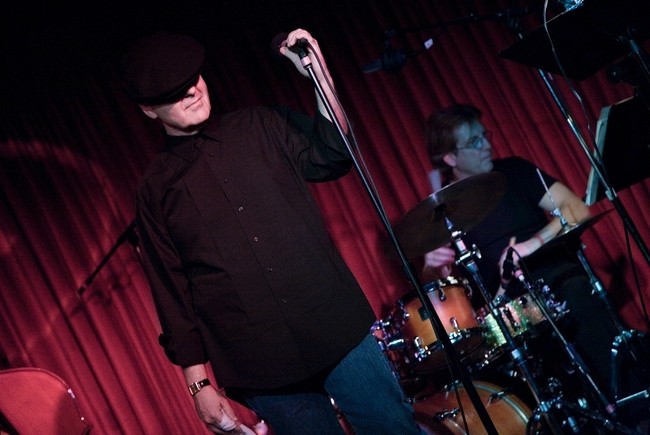 by Nick Christophers
It is without a doubt that artist Michael Tinholme has come full circle when it comes to life in general. Michael had gone from living with his parents to living on the street and then rising above both. His mother was a dance teacher, and his father was an officer in the US Army. They both were huge music fans – that open the door for Michael into the beauty of music. Not to leave out of course that his grandfather owned a record store and even played with legend Hank Williams.
It was only a matter of time before Michael himself would be jamming with a band. His mother introduced him to tap dancing when he was around four years old. By the time he was six he took up piano and voice lessons and when he turned ten was immersed in the drums and sang in the church choir. It seemed at this point that Michael was for sure going to pursue a musical career. Living in Los Angeles he took up his first gig at age twelve. He was often found at the club Four Muses that was run by the Jim and Mary Jenkins. They always inspired Michael to keep at it that he will succeed.
Michael would come in contact with another artist by the name of Scatman Crothers who became an even bigger inspiration than his parents. He even had the opportunity to perform with him. Crothers offered Michael advise that would bare fruit down the line. One of the disciplines Crothers thought Michael should tackle was acting. Hence, his parents soon had Michael under the management of agent Dirwood Kirby Jr. This opened doors for him to act with Cabrillo Playhouse and The Laguna Moulton Theatre. Michael was very eclectic in his love for music from Rock (The Beatles, Stones, and Bowie), The Blues (BB King, Muddy Waters and Eric Clapton) to Country (Hank Williams, Dolly Parton, Patsy Cline, Tammy Wynette, Chet Atkins).
"I was captured by Scatman. He had the ability to control an audience. If the audience was raucous, he could bring it down to where you could almost hear a pin drop. Where every eye was on him. And if the audience was flat, he could bring them to a frenzy at will. Scatman came into my life at a rocky time. He was a friend to me for almost a year and a half before he moved on to greater stardom."
At this time Michael made a drastic move and left his home at age fifteen. It was a difficult road for him as he was sometimes out of work and ending up on the street or in shelters. He soon left that life behind him and was able to put a band together and began booking gigs. Even though he was soon in contract with record labels the trauma of the street caused him to leave the music scene.
Michael dabbled in many different businesses, but the musical bug was nagging at him. The tables began to turn in his favor when he was introduced to Tom Flower who was a famous bass player/producer for Ray Charles. Their connection in 2007 would catapult their working together for years to come. He released his first project "The House of Jazz," Co-Produced by Tom Fowler and Dennis Moody and conducted by Bruce Fowler.
Michael has worked with some amazing talent over the years. Artists like Mike Garson, who has worked with David Bowie, one of the fifteen songs they recorded together was submitted for a Grammy. Another was Steve Lukather who he recorded the John Lennon's "Happy Christmas War is Over". Others were Randy Becker, Brandon Fields, Gary Novak, Mike Miller, Edwin Livingston, Billie Steinway and many more.
Only recently did Michael release a heartfelt EP entitled "It's Christmas Time in the City". For Michael it was a labor of love as every track on the CD represented a perfect Christmas season that he wished he had known as a child. In 2022 he is looking to release new music with some great fellow musicians. There are a few releases in the pipeline like the "Lady Stardust" featuring Mike Garson, Brandon Fields and Band of Legends then the single "Georgia" as a tribute to Tom Fowler and Ray Charles. In addition, there will be some Country and Rock music as well.
Lastly, in June Michael is looking to hit the road and perform again live. He is also looking to perform his Christmas CD in the UK and is also thrilled to be working with Quite Great PR that are also from the UK.